6 Questions to Ask Your Obstetrician About Vaginal Delivery vs. C-Section
Was this helpful?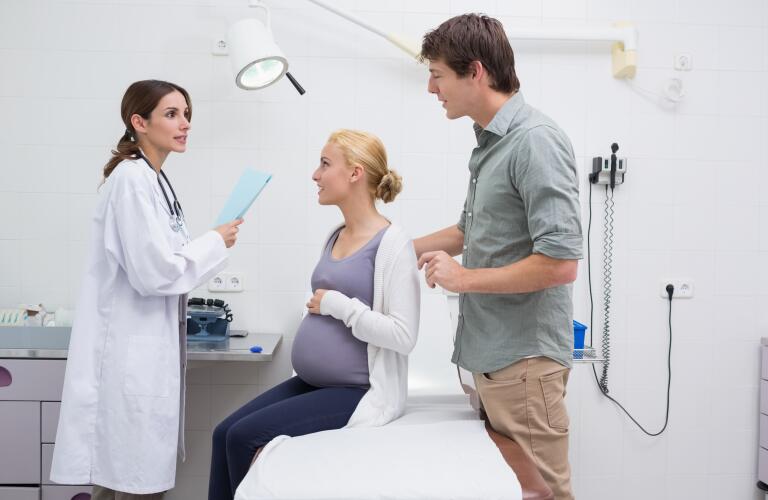 Whether you're pregnant or considering having a baby, you have probably imagined what it will be like welcoming your baby to this world. A key decision for that big day will be whether you give birth vaginally or undergo a cesarean delivery, or C-section.
C-section deliveries have become much more common in the United States, up from 5% in 1970 to nearly one-third (32%) of all births today. However, some experts are questioning whether the procedure may be used too frequently, unnecessarily putting women and their babies at increased risk for complications.
As you make plans for your child's birth, talk with your obstetrician about vaginal birth versus C-section. When you both understand your preferences, you can work together toward a safe and healthy delivery. Start by asking these key questions:
Childbirth carries some level of risk—for both vaginal and cesarean delivery methods. Vaginal delivery risks include maternal blood loss, infection, tearing of the perineum (the tissue between the vagina and anus), and fetal respiratory complications.
During delivery, your doctor may perform an episiotomy—an incision in the perineum—to increase the size of the vaginal opening and prevent significant tearing. Some women experience pain while the episiotomy site heals; pain with sex in the first few months after delivery is also a potential complication.
Despite these risks, obstetricians recommend vaginal delivery for low-risk pregnancies because the risk of complications with vaginal delivery is significantly lower compared to cesarean delivery.
Because a cesarean delivery is a surgical procedure, it has the same risks associated with any surgery, including blood loss, blood clots, wound infection, and problems related to anesthesia. Women who have C-sections are also at increased risk for endometritis, an inflammation of the lining of the uterus. The risk of fetal breathing complications is higher for cesarean delivery compared to vaginal delivery.
Recovery from a C-section takes longer than from vaginal delivery, and your hospital stay will be longer. Women who have a cesarean delivery also have a greater than 90% chance of having a C-section for future births, placing those deliveries at higher risk for complications.
There are cases when a C-section is unquestionably necessary to protect the life of the mother, the baby, or both.
If you're pregnant with twins (or more!), your doctor will likely suggest a cesarean if your labor starts too soon or if the babies are not in good position for vaginal delivery. The same is true of a single baby that's showing a breech presentation. That's when the baby is "upside down" in the womb and would pass through the birth canal feet- or bottom-first. A breech vaginal delivery is more difficult than the head down position and can put the baby in distress. Conditions such as placenta previa, in which the placenta blocks the cervix, also typically require a C-section.
Your doctor may suggest a C-section if your labor is not progressing well, if there are concerns about the baby's heart rate or position with the umbilical cord, or if you have pre-existing conditions like high blood pressure or diabetes. Ask your doctor whether your medical history makes you more likely to undergo a C-section.
Make sure you understand your doctor's point of view on when he or she will suggest a C-section, and under what circumstances you have the option to say no.
The Department of Health and Human Services has set a national target C-section rate of 23.9% for low-risk births by 2020. If your hospital's rate is above that, your chance of having a C-section may be higher than at a hospital below that target number.
Because C-section rates can vary dramatically across hospitals, consider choosing your hospital first, then finding an obstetrician who delivers at that hospital. If your preferred doctor is affiliated with a hospital that has high C-section rate and this concerns you, ask about efforts the hospital is making to safely reduce cesarean deliveries.
It may be an awkward topic to discuss, but knowing this information allows you to consider whether your doctor may have a financial incentive to perform a C-section.
Cesarean delivery is typically more expensive than vaginal delivery, making the doctor's reimbursement rate higher as well. Research shows in cases where doctors get paid by delivery (rather than a flat salary), they may be less patient with a slowly progressing vaginal birth.
To remove potential financial incentives, organizations like the California Maternal Quality Care Collaborative are working with hospitals to change payment structures. By raising the question with your own doctor, you can be aware of all factors that may be in play when discussing a C-section.
In addition to nurses and obstetricians, many women find it helpful to add a doula to their labor and delivery team. While doctors and nurses focus primarily on the delivery and health of the baby, doulas dedicate themselves solely to the well-being of the mother.
Research shows having the support of a doula, during both pregnancy and labor, can reduce the likelihood of a C-section delivery. This may be because a doula can act as an advocate on your behalf, working with you and your doctor to meet your personal preferences when possible.
If you decide to use a doula, it's important for that person to begin working with your doctor as early as possible. This will allow both providers to have a mutual understanding of your individual pregnancy and a strong partnership when delivery day arrives.
Your labor and delivery will be one of the biggest health events of your life. By having an open and honest conversation with your doctor about vaginal delivery versus C-section delivery, you'll be better prepared to make an informed, confident decision during your labor and delivery. You and your labor and delivery team have the same goal: safely welcoming a healthy new baby into your family.
Was this helpful?