What to Expect at Physical Therapy
Medically Reviewed By William C. Lloyd III, MD, FACS
Was this helpful?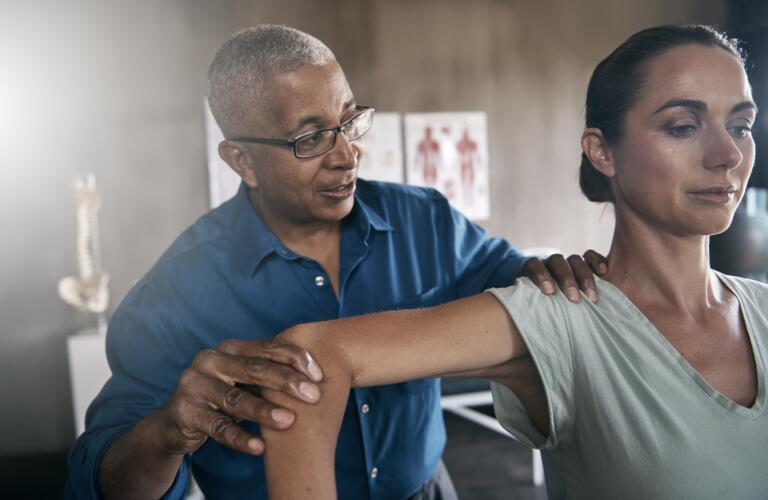 Physical therapy (PT) is part of a treatment plan for many people dealing with an injury or illness. The goal is to help you move better so you can do what you need to do day-to-day.
During PT, you'll work with physical therapists. They're licensed healthcare providers. They use exercise and other techniques to help you recover from a health condition that's limiting your movement or your health and wellness.
Physical therapy is not one-size-fits-all. What you'll do in PT will depend on the type of health condition you have. Your overall health and fitness will make a difference, too. You may get therapy a few times a week or a few times a month. People recovering from an injury or surgery may have PT for a set number of weeks or months. Those who have a long-term condition may have it for years.
Physical therapy happens in many places. You might start while you're in the hospital and change location as your condition improves. Some people have physical therapy at home. Places that offer PT include:
Physical therapists' offices

Outpatient clinics

Workplaces and schools

Fitness centers

Nursing homes

Rehabilitation centers
Your physical therapist will get to know you and your condition during your first visit, which may last about an hour. The therapist will probably ask many questions and do a complete evaluation. The therapist may:
Ask about your medical history.

Ask about your lifestyle.

Ask how your condition affects your day-to-day life.

Do a physical exam.

Test and measure your strength and movement.

Watch you walk or do other activities.

Talk with you about what you want to get from treatment.
The therapist will then make a plan to fit your needs and goals. The plan may include PT sessions with him or her as well as exercises for you to do at home.
Goals of treatment may include:
Maintain or improve your physical ability.

Restore abilities you've lost.

Reduce pain.

Learn how to use your abilities in the best ways.

Prevent future problems and injury.

Improve your quality of life.
There are many type of physical therapy treatments. Yours will depend on your evaluation. Common types of treatment include:
Doing exercises to increase range of movement

Doing exercises to make you stronger

Having a therapist move your body

Learning to use aids such as crutches, braces or splints

Using heat or cold treatments

Getting massage treatment

Getting electrical stimulation

Exercising in a pool or tub

Using exercise or movement machines

Getting sound wave treatments (ultrasound)

Getting balance training
Your therapist will monitor your progress over time. He or she will adjust your plan as you reach treatment goals or your needs change. Routine appointments typically last 30 to 60 minutes depending on the treatments you have. You will most likely be given a printed sheet of exercises, stretches, and strength training to perform at home, on your own time.
At each visit, be prepared to share how you are feeling, how the "homework" is going, and questions or concerns you may have. The more open and forthcoming you are about your treatment, the better your chances of success.

Was this helpful?