5 Questions LGBTQ+ Patients Should Ask Their OB/GYN
Was this helpful?
Building a meaningful relationship with your OB/GYN is key to keeping up with recommended health screenings and maintaining your overall health. Whether it's a routine exam or hormone therapy, meeting with your OB/GYN should be a welcoming, affirming experience.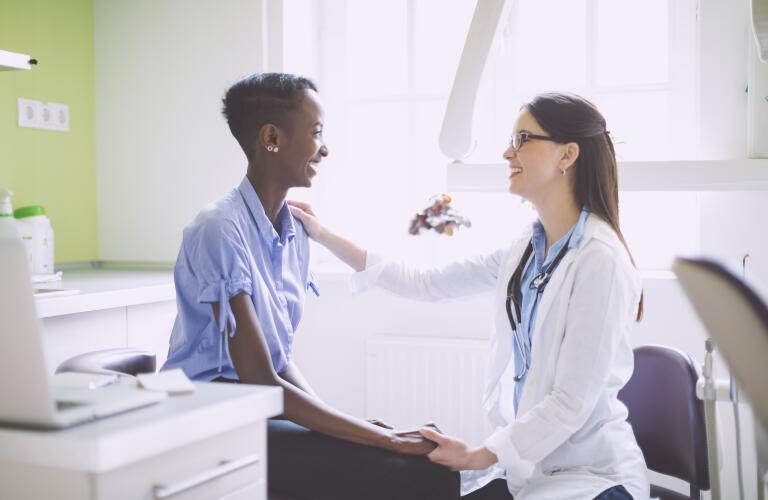 As a patient, you should feel encouraged to ask questions and to be as thorough and transparent as possible to ensure that your health needs are met. This includes sharing information about:
Your identities: name, pronouns, sexual orientation, gender identity, race, and ethnicity
Your sexual, emotional, and physical attractions
Sexual histories, practices, and activities: identities of partner(s), sexual devices, forms of protection, and pregnancy options
A recent survey from the Center for American Progress found that in 2020, one in six LGBTQ+ people delayed or skipped annual preventative care screenings due to discrimination in healthcare settings. Your long-term health is very important, so it's worth taking the time to research and compare OB/GYNs before booking an appointment.
Fortunately, making informed decisions about your OB/GYN care has never been easier. With patient reviews and hospital quality ratings, Healthgrades allows you to learn how much patients trust their OB/GYN, how much time they spend with their patients, and how well they answer questions.
There are also a growing number of resources specifically designed to help LGBTQ+ patients overcome barriers to adequate healthcare, such as OutCare Health's national directory of LGBTQ+ culturally competent physicians. For more information on finding affirming OB/GYN care in your community, visit OutCare's OutList.
Once you've selected an OB/GYN, keep reading to learn the must-ask questions to raise during your appointment.
All medications have potential side effects and interactions with other medications. Therefore, it is very important to be transparent about the medications you are currently taking, including gender-affirming hormones like estrogen and testosterone.
Ask your OB/GYN how your medications may affect your reproductive system and find out if side effects include burning, itching, dryness, bleeding, lower sex drive, and/or anorgasmia (the inability to achieve an orgasm).
Some underrepresented individuals, including LGBTQ+ people, may have higher risks for certain cancers and diseases due to a lack of access to adequate care. Many LGBTQ+ patients encounter discrimination when seeking care, leading to infrequent healthcare visits and less preventive screenings.
According to a recent survey, 67 percent of LGBTQ+ patients say their doctor failed to discuss routine cancer checks during their appointment, including cervical cancer screenings. Be sure to ask your OB/GYN about routine visits and screenings for cancers, diseases, and sexually transmitted infections (STIs).
If you are sexually active, your OB/GYN should discuss STIs and ask you multiple questions about your current and past sexual activity. Be prepared to talk to your OB/GYN about your partner(s)' identities and anatomies.
If you are trying to get pregnant or have future plans to add a family member, you should discuss pregnancy options with your OB/GYN and let your physician know about your past, current, and future gender affirmation plans.
If you are looking to prevent pregnancy, ask your physician about short- and long-term prevention options in order to find a contraceptive solution that meets your health needs. If you have partner(s), consider bringing them to your appointment and/or conveying their questions and perspectives to your physician.
Some LGBTQ+ individuals may not feel comfortable with physical exams. Prior to any examination, ask your OB/GYN about ways to feel more relaxed, including medication and non-medication solutions. You should not have to sacrifice comfort for care, so don't be afraid to let your physician know what works best for you.
Remember: you are your own best advocate when it comes to your healthcare. Becoming an active participant in your OB/GYN care journey is imperative to maintaining your long-term health, and that starts with asking the right questions.
Was this helpful?