Types of Tongue Ulcers and How to Find Relief
Was this helpful?
Tongue ulcers are open sores on the tongue. In mild cases, over-the-counter (OTC) treatments may help to alleviate the pain of tongue ulcers. If symptoms do not improve, it may be time to see a doctor. Tongue ulcers can develop from something as simple as insufficient dental hygiene or as serious as oral cancer. When tongue sores appear, it is often possible to treat them at home until they go away. At the same time, monitor for any additional symptoms that could indicate a more serious underlying condition.
This article will discuss tongue ulcers, including types and possible causes. It will also cover how to find relief from tongue ulcer pain and when to see a doctor.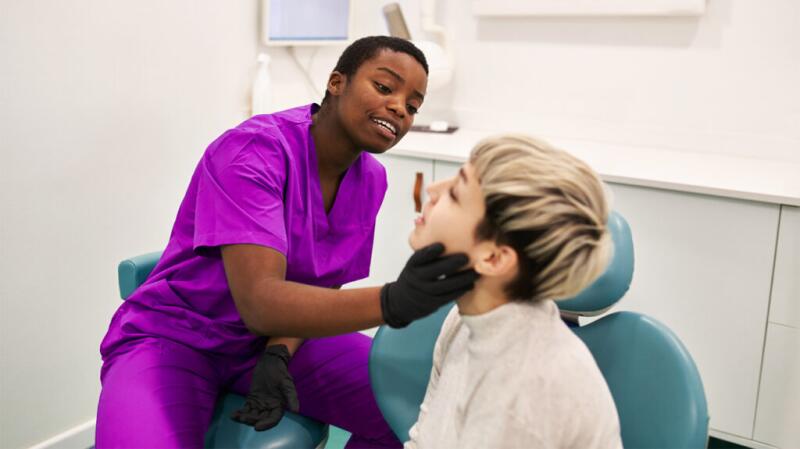 There are several types of tongue ulcers that may develop for different reasons:
Aphthous ulcers
(canker sores) are the most common type of tongue ulcer. Canker sores are small lesions with a white or yellow center that appear on the tongue, gums, or inside the cheeks. They can be uncomfortable or painful, and it may take around 10–14 days for them to completely heal.
Candida is a typical fungus that lives in your mouth. However, if it grows out of control or spreads within the body, it could lead to an infection known as candidiasis (thrush). With thrush, there are typically white, cheesy-looking patches inside the mouth. Under those, there are red, inflamed patches of tissue or blisters. Thrush requires medical treatment from a doctor.
Cuts, burns, or injuries in the mouth
If you bite your tongue, drink a very hot beverage, or bite into hard candies, you could experience cuts, burns, or blisters. This type of sore typically heals on its own after a few days.
Side effects from cancer treatment
Cancer treatments — including chemotherapy, immunotherapy, and radiation — can damage cells in the mouth and cause tongue ulcers. Additional oral side effects can include other types of mouth sores, dry mouth, and changes in taste or smell. Your cancer care team can help you manage these symptoms so you can still get the hydration and nutrition you need during your treatment.
In rare cases, a pinkish-red sore on the tongue can be a symptom of tongue cancer. Cancerous sores may bleed easily if you touch or bite them. They also do not heal or improve on their own. See a doctor right away if you notice this type of sore.
Tongue ulcers may accompany other symptoms, which vary depending on the underlying disease, disorder, or condition.
Oral symptoms that may occur along with tongue ulcers
Tongue ulcers may accompany other symptoms affecting the mouth, including:
bleeding or bruising
difficulty speaking
pain while eating or chewing
mouth pain
ulcers in other parts of the mouth
Other symptoms that may occur along with tongue ulcers
Tongue ulcers may accompany symptoms related to other body systems or conditions, such as from infection, including:
Symptoms that might indicate a serious condition
In some cases, tongue ulcers may occur with other symptoms that might indicate a serious condition and should be evaluated immediately in an emergency setting. Seek immediate medical care for tongue ulcers that occur along with other serious symptoms, including:
high fever, above 101ºF (38ºC)
sudden swelling of the tongue or throat
Tongue ulcers arise from a variety of conditions, including viral infection, injury to the tongue, or even oral cancer. Treating the underlying cause of tongue ulcers may help to resolve the sores. In some cases, improving oral hygiene will cause tongue ulcers to resolve.
Infectious causes of tongue ulcers
Tongue ulcers may be caused by various types of infections, including:
gingivostomatitis, a viral or bacterial mouth infection
herpes simplex infection
oral lichen planus, an immune system disease that can increase the risk of oral cancer
oral thrush, a superficial infection on the surface of the tongue caused by the fungus Candida
Disease causes of tongue ulcers
Tongue ulcers can also be associated with certain diseases, including:
Other causes of tongue ulcers
Tongue ulcers can also be caused by a variety of other conditions, including:
burns
leukoplakia, which is chronic irritation of the tongue
erythroplakia, a red patch in the mouth that bleeds easily and has a high risk of becoming cancerous
insufficient oral hygiene
tongue biting
tongue injury
Serious or life threatening causes of tongue ulcers
In some cases, tongue ulcers may be a symptom of a serious or life threatening condition that should be evaluated immediately in an emergency setting. These include oral cancer and serious infections.
For most tongue ulcers, you can try home care tips, including:
rinsing your mouth with salt water
rinsing your mouth with antimicrobial or saline mouthwash
OTC corticosteroid lozenges
OTC medications that may numb the pain
If your tongue ulcers do not respond to home care, you may need professional treatment. Contact your doctor or another healthcare professional if you experience symptoms, including:
ulcers that last longer than 3 weeks
ulcers that keep recurring
ulcers that grow in size or form in the back of the throat
ulcers that start to bleed
pain so intense you have difficulty eating
Questions for diagnosing the cause of tongue ulcers
To diagnose the cause of your tongue ulcers, your doctor or licensed healthcare professional will ask you several questions related to your tongue ulcers including:
How long have you been experiencing tongue ulcers?
Are your tongue ulcers painful?
Do you chew on the inside of your mouth or frequently eat foods that might irritate your tongue?
Do you use chewing tobacco or chew betel nuts?
Do you have any other symptoms?
What is your oral hygiene routine?
What medications are you taking?
Medical treatments for tongue ulcers
If OTC and home remedies are not effective or if your tongue ulcers are more severe, your doctor or dentist may prescribe one of the following:
steroids administered through tablets or a spray
prescription strength medications to numb the pain
prescription strength mouthwash
You may be able to prevent or reduce tongue ulcers by following certain tips, including:
maintaining good oral hygiene, including brushing your teeth with a soft-bristled toothbrush and flossing regularly
avoiding chewing gum
avoiding hard, acidic, or spicy foods
visiting your dentist for regular checkups
Other questions people often ask about tongue ulcers include:
Are ulcers on the tongue serious?
In most cases, tongue ulcers are not serious. However, if you have a tongue ulcer that lasts longer than 3 weeks, does not respond to home treatment, and starts to bleed or become more painful, contact your doctor or dentist.
What does a cancerous tongue look like?
Cancer on the tongue may first appear as pinkish-red sores that may become red, white, or dark. They may bleed easily if touched.
Are mouth ulcers caused by stress?
Some evidence suggests that higher stress levels can trigger mouth ulcers.
While uncomfortable, tongue ulcers usually are not serious. Most respond to OTC treatments to address symptoms such as discomfort or slight pain. However, if a tongue ulcer does not improve with home care, becomes more painful, or starts to bleed, this could indicate a more serious condition.
If you do experience these symptoms or you have cause for concern, contact your doctor or dentist.
Was this helpful?