Dental Cleanings: 6 Things Your Hygienist Does
Was this helpful?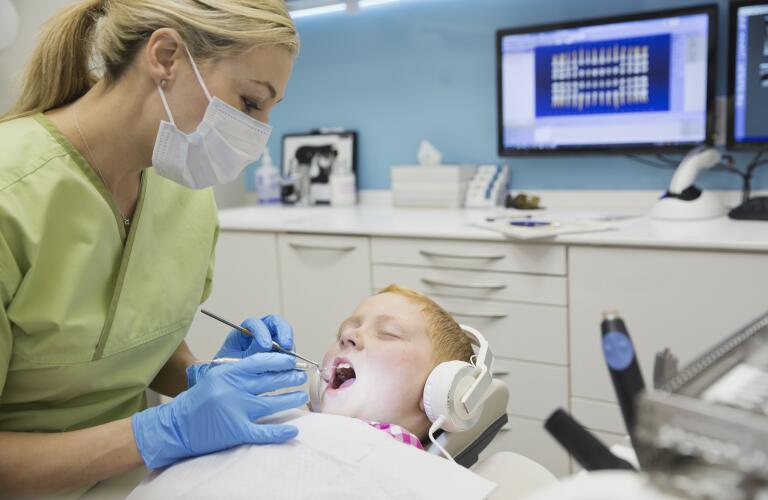 Before the dentist examines your teeth, the hygienist gets them shiny clean and polished. The whirring and scraping you hear are part of the process of keeping your teeth healthy.
But what exactly is the hygienist doing while you're in the chair? Here are six things a dental hygienist does during a dental cleaning:
Your hygienist cleans your teeth with special tools you don't have at home. He or she uses a brush and special teeth cleaning paste to polish your teeth and make them shiny. This also removes food and other particles stuck on or between your teeth. It can sometimes remove certain stains and film on your teeth.
Plaque is a sticky substance that contains bacteria. It can build up on your teeth, especially the areas between teeth and on the backs of your teeth. Your hygienist cleans and scrapes away stuck-on, hardened plaque—or tartar—during your dental cleaning. Plaque buildup allows bacteria to eat away at the enamel on teeth, which can cause tooth decay.
Gum disease is caused by infection in the gums. You can lose your teeth if it's not treated. Your hygienist carefully checks your teeth for warning signs of gum disease. For instance, the hygienist looks to see if your gums are pulling away—or receding—from the root of your teeth. Your hygienist also looks for symptoms, such as bleeding gums, swelling, redness, and any permanent teeth that seem loose. By spotting gum disease early, your hygienist can help stop the condition from getting worse and prevent tooth loss.
Your hygienist can offer a few treatments to help strengthen your teeth and protect against cavities. These include special fluoride rinses and fluoride topical treatments applied to your teeth. They can help stop cavities from forming. This treatment may be helpful for children and adults.
Hygienists can take X-rays that show your teeth and the bones that support them. X-rays will reveal any changes that are happening in your mouth. Using the X-rays, your hygienist and dentist can spot tooth decay or other issues that may need treatment to prevent cavities, tooth loss, and other problems.
One of your hygienist's most important jobs is taking the time to talk to you about properly caring for your teeth. The hygienist can show you proper brushing technique. You'll discuss how often you should brush and what type brush and toothpaste you should use. Your hygienist can show you how to floss correctly, too. Your hygienist can also recommend dietary changes, such as avoiding sticky, sugary or chewy foods that may harm your teeth. You can ask about any problems you have, such as tooth pain or dry mouth. Your hygienist also might talk to you about medications that can affect your teeth, such as those that can cause dry mouth.
Your hygienist is a great resource when it comes to learning how to care for your teeth and ensure a healthy, bright smile. Use the time to ask questions about what you can do at home for a healthier mouth and a smooth dental visit.
Was this helpful?