Caring for Your Mouth and Gums with Dentures
Was this helpful?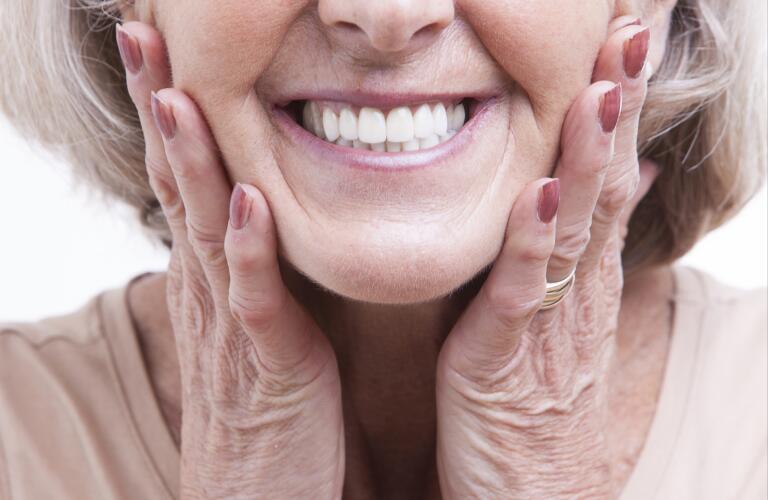 It can take some time to get used to wearing dentures. At first, they may feel loose while your cheek and tongue muscles become accustomed to keeping them in place. You may also have some soreness or minor irritation in your mouth, or an increase in saliva. These will eventually go away.
Whether you wear full or partial dentures, there is more to caring for them than brushing and soaking the dentures themselves. It's also important to pay special attention to your mouth and gums to prevent irritation, sores and other problems.
You can avoid these common denture problems by practicing good oral and dental hygiene.
Gum disease, or gingivitis, can develop when plaque builds up along and under the gum line. This plaque can make your gums tender and more likely to bleed, and lead to infections.
Stomatitis, also called candida or thrush, is a yeast/fungus that can develop in people who wear dentures, and causes an infection in the mouth. You may have red areas under your dentures or red, sore areas at the corners of your mouth. If left untreated, it may lead to poorly fitting dentures.
Here are some steps you can take to help prevent these common denture problems and keep your mouth and gums healthy:
After removing your dentures, gently brush your tongue, gums, cheeks and the roof of your mouth with a soft-bristled brush (or gauze) each day. This will help remove plaque and stimulate circulation in your tissues. It can also help reduce the risk of irritation and bad breath.

Rinse your mouth with lukewarm salt water to help clean your gums.

Eat a well-balanced, nutritious diet to help keep your body and mouth healthy.

Don't smoke. This can increase the growth of yeast in your mouth and the risk for infections and gum disease.

Give your mouth a rest. It's important to remove dentures at night to give your gums and mouth a rest. Never leave dentures in your mouth for 24 hours at a time.

See your dentist every six months for a checkup and if you have any mouth problems. You should also visit your dentist if your dentures become loose, which can cause irritation, sores and infection.
Was this helpful?