6 Steps to Clean Dentures
Was this helpful?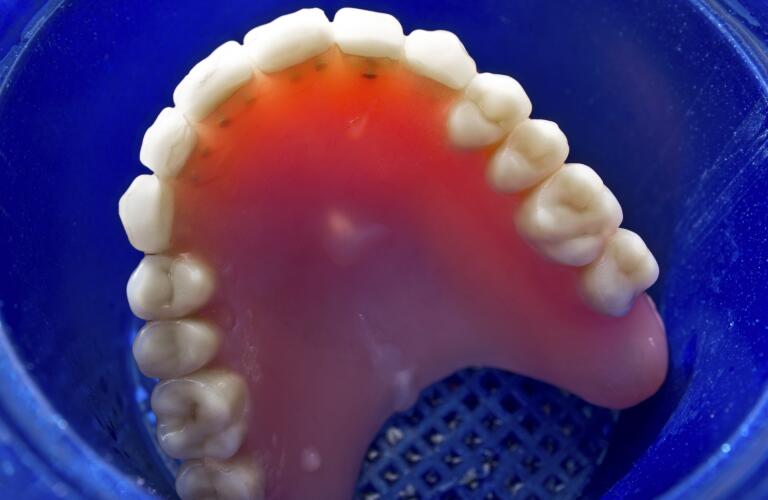 Whether you wear full dentures or partials, proper care will help keep them clean, stain-free and long-lasting. Here are some tips to help you keep your dentures looking their best.
Since dentures can break easily, it's a good idea to put down a towel or fill the bathroom sink with water before cleaning your dentures. Handle them gently so you don't bend or damage the plastic or attachments.
Rinse your dentures under warm (not hot) water to remove food particles.
Plaque and bacteria can form on dentures. It's important to clean your dentures daily by brushing and soaking them. Daily brushing removes food particles, bacteria and plaque, and helps keep your dentures stain-free. What should you use to clean your dentures?
Use a moist, soft-bristled toothbrush or denture brush and denture cleanser. A denture brush is designed to clean all areas of the denture. If you use denture adhesive, clean the grooves that fit against your gums to remove any remaining adhesive.

Use a denture cleaner or gel. Regular toothpaste, especially whitening toothpaste, is too harsh for cleaning dentures. Some denture wearers use a mild hand or dishwashing soap. But avoid harsh products like vinegar, bleach, or baking soda that can damage or scratch dentures. Scratches can harbor bacteria growth. Ask your dentist to suggest a good denture cleanser.
Dentures need to remain moist to keep their shape and prevent them from drying out. Soak them overnight in warm water or a denture-soaking solution. Denture soaking cleaners are tablets that you drop into warm water creating an effervescent (fizzy) solution. You can soak your dentures in the solution for a few minutes or overnight, depending on the product instructions.
Don't soak dentures with metal attachments in solutions containing bleach or chlorine. Bleach or chlorine can damage dentures and tarnish and corrode the metal.
Ask your dentist to recommend a good denture care solution. Look for products with the American Dental Association Seal of Acceptance. Here's a complete List of ADA Accepted Denture Cleansers.
Be sure to rinse your dentures before putting them back in your mouth, especially if using a denture-soaking solution. And never chew, swallow or gargle with denture cleansers, which can contain harmful chemicals.
It's important to see your dentist regularly for professional cleanings and to have your dentures examined for proper fit. Your dentist can also check the inside of your mouth to make sure there are no concerns.
See your dentist right away if your dentures become loose. Poor fitting denture can cause irritation and lead to sores and infections.
Was this helpful?