Is a Nerve Block Right for Me?
Medically Reviewed By William C. Lloyd III, MD, FACS
Was this helpful?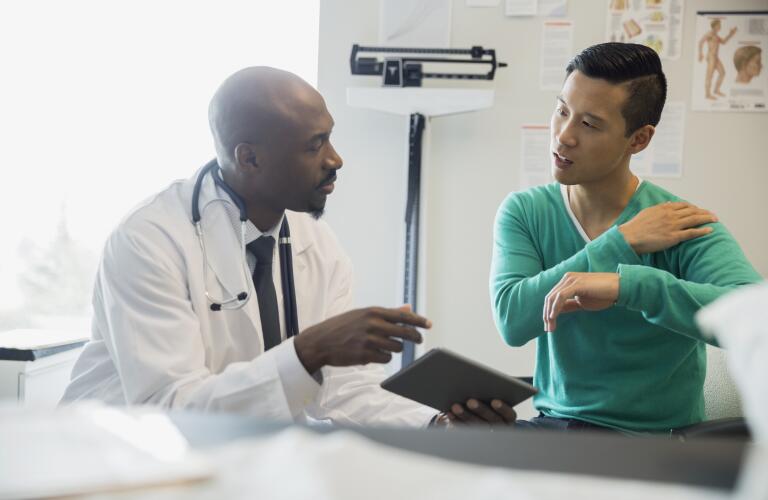 A variety of treatments are available to help relieve chronic pain, including nerve blocks. If you have chronic pain, you might be wondering if a nerve block is the right option for you. A nerve block is an injection of medicine—usually a numbing agent (anesthetic) or a drug to reduce inflammation—given near a single nerve or group of nerves that is causing pain. Nerve blocks provide temporary pain relief, so the effects wear off over time, typically after 1 to 2 weeks.
Your doctor may suggest a nerve block to help relieve pain in the back, neck, buttocks, legs, and arms. This pain may be caused by the following conditions:
Headaches including cluster headaches and migraines that do not respond to standard treatment

Injuries that affect nerves

Neuralgias including long-term pain after shingles (post-herpetic neuralgia) and shooting pain in the lower face and jaw (trigeminal neuralgia)

Pain syndromes including phantom limb pain and complex regional pain syndrome, which is chronic pain condition that can affect any area of the body

Pancreatic cancer or inflammation of the pancreas

Peripheral neuropathy including diabetic neuropathy

Spinal stenosis, a narrowing of the spaces in the spine
There is more to nerve blocks than providing temporary pain relief. You might also be a candidate for the procedure to help your doctor figure out the source or cause of your pain. That's because how your body responds to the injection provides valuable information. In addition, you might receive a nerve block to enable damaged nerves to heal.
During a nerve block procedure, your doctor may use imaging guidance, such as CT (computed tomography), to help guide the needle to the exact right spot. So be sure to tell your doctor if you might be pregnant, if you are taking blood thinner medications, or if you are allergic to contrast dye.
Finding the right pain management treatments can be tricky. Start by having a conversation with your doctor or a pain management specialist. Learning more about nerve blocks can help you determine if this type of treatment is the best course for you.
A nerve block is a treatment option for people who have chronic pain.
Nerve blocks can provide temporary pain relief and help your doctor pinpoint the cause of your pain.
Have a conversation with your doctor to find out if a nerve block is the best treatment option for you.
Was this helpful?