Does Penis Enlargement Work?
Medically Reviewed By William C. Lloyd III, MD, FACS
Was this helpful?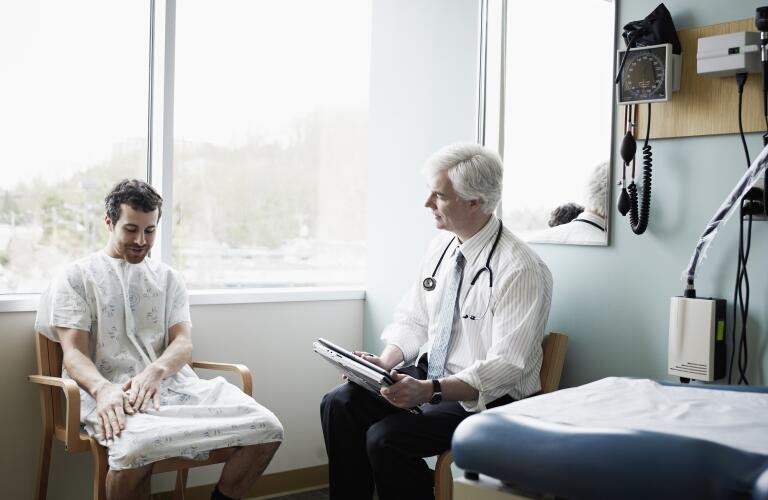 Many men wish they were better endowed—as many as 45%, according to a 2006 survey. Some turn to a variety of penis-enlargement gadgets, therapies, and even surgical procedures in their quest for greater length and girth. But do any of these penis-enlargement methods work? What do they cost—both in money and safety?
The average penis at rest is about 3.6 inches long and 3.7 inches in circumference; when erect, it's 5.2 inches and 4.6 inches around, based on 2015 research using measurements from 15,000 men worldwide. Men who have penises that fall in these typical ranges may nonetheless feel inadequate. Other men may perceive their penises as smaller than they actually are (a type of body dysmorphic disorder).
Men with such misperceptions—as well as those with a milder condition called small penis anxiety—are more likely than men without these disorders to pursue penis elongation surgeries, research shows. Other reasons men get these procedures include penile injuries, birth defects, or such conditions as micro-penis (penises smaller than 3 inches when erect) that can impede normal functioning.
Some of the surgical procedures available include:

Penis lengthening via ligament transection. Price: $15,000 to $25,000. The most common type of penis lengthening surgery involves the surgeon cutting the suspensory ligament attaching the penis to the pubic bone. This causes the penis to drop, making it look about a half-inch to three-fourths of an inch longer when soft. Potential risks include infection, scarring, loss of sensation, and loss of function. Also, the erect penis won't point as high due to cutting the supportive ligament, which may make sex uncomfortable.
Penis enlargement, also referred to as girth surgery. Price: $15,000 to $20,000. Silicone implants are inserted under the skin of the penis, just as silicone breast implants are used for women. On average, men reportedly gain 1.5 to 2 inches in girth, either flaccid or erect, from this procedure, which is considered cosmetic and not covered by insurance.
Liposuction. Price: $4,500 to $6,500. Men with large stomachs can have fat below the abdomen removed, which can make their penises look larger. However, if the man puts on weight again, the effect is lost. Also, liposuction carries risks, including numbness, infection, and reaction to anesthetics.
Filler injections. Some plastic surgeons inject material, such as fats from another part of the man's body, tissue from cadavers, or chemicals like hyaluronic acid into the penis to make it thicker. Penis injections cost several hundred dollars.
The American Urological Association warns that neither surgical augmentation of the penis nor fat-based injections have been proven to be effective or safe. In 2017, a Swedish man died after an injection of fat-based filler in his penis entered a vein, causing a fatal embolism. In 2019, a 65-year-old died of a heart attack during a penis-enlargement procedure in Paris.
Products that claim to make your penis bigger include lotions, pills, pumps, weights and traction devices—none of which have scientific support; nor are they endorsed by reputable medical organizations. Some have been known to cause damage to your penis.
Here's what to know about these approaches:

Pills, supplements and lotions: These are usually made with vitamins, minerals, herbs or hormones that manufacturers promise will cause growth. However, none have been proven to work. The U.S. Food and Drug Administration does not regulate dietary supplements, so be cautious in using them. An analysis by the University of Maryland found some contained traces of lead, pesticides, E.coli, and animal feces. Scientific endorsements or user testimonials have been found to be largely fictional, with false statistics and faked before-and-after pictures.
Vacuum pumps: With these devices, a tube is placed over your penis and air is then pumped out, creating a vacuum. The vacuum causes blood to be drawn into your penis, making it swell and appear larger. The effect, however, is temporary. If overdone, the penis can be damaged, leading to erectile problems.
Jelqing: This is an exercise in which you use a hand over hand motion with your thumb and index finger to push blood from the base to the tip of your penis. The procedure's effectiveness has not been proven, and it can lead to scar formation, pain and disfigurement.
Traction: A small, extending frame is attached to your penis, which is then gradually pulled in an attempt to lengthen it. Some small studies have shown increases in length of about a half-inch. However, more rigorous studies are necessary to judge its effectiveness.
Weights: Another way to stretch your penis and theoretically make it longer is to place weights on it when it's soft. However, this has been found to be ineffective and potentially harmful.
A California urologist announced in December 2019 that he had begun enrolling men in a six-month study (dubbed the P-LONG Study) that would test penis-lengthening procedures. Participants would receive monthly injections of platelet-rich plasma to spur tissue growth, plus daily use of stretching and vacuum devices. Results are not yet available.
Researchers from the University of Washington and the University of California in 2019 reviewed a variety of penis augmentation measures, including traction, injection and reconstructive procedures, and found complications ranging from penile fibrosis (scar tissue) to sexual dysfunction, device infection, and death. The researchers said they believed the complication rate was underreported, and called for more rigorous research with accurate reporting of complications. For now, they said, such penile procedures should be considered experimental.
Your physician is your best resource when it comes to any concerns you may have regarding your penis size. If your size is normal but you remain distressed, you may find benefit in seeing a counselor. Therapy may help provide reassurance and a more realistic perspective.

Was this helpful?