Saline Vs. Silicone Breast Implants: What to Know
Was this helpful?
With breast reconstruction surgery, there are two types of breast implants used by surgeons: saline implants and silicone implants. The type of filling your implant uses really comes down to preference, but there are certain risks associated with both.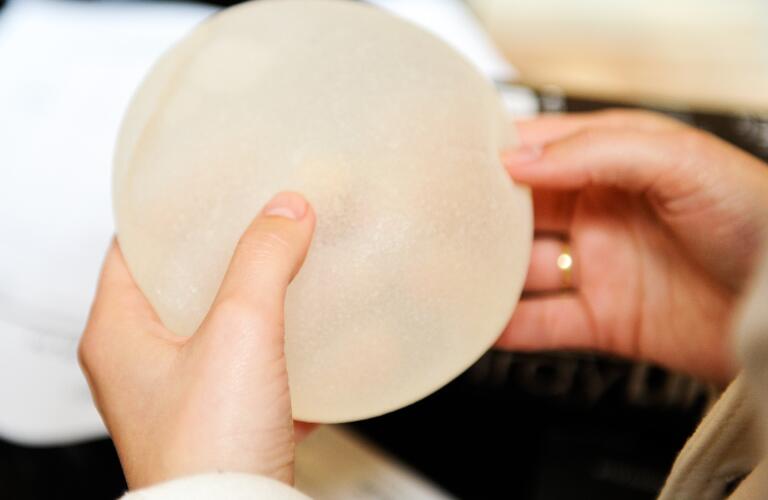 Breast reconstruction surgery helps many people achieve an appearance and feel that's as close to a natural breast as possible. Although your surgeon can use your own tissue to rebuild your breast, called "flap" or autologous reconstruction, you can also choose between one of two types of artificial implants: saline or silicone. Differences in size, shape, and projection may all influence your decision on which type of implant is best for you.
If you're considering breast reconstruction surgery, it's worth exploring the differences in saline vs. silicone breast implants. Your doctor will work with you to help you select an implant that's best for your body type and surgery goals. Be sure to ask your doctor any questions you may have while in the process of choosing implants for your procedure.
Breast reconstruction using implants is generally offered to people who have enough tissue to be able to surround and support the implant. Surgeons use either saline or silicone implants to restore the look, feel, and symmetry of the breasts to as close to normal as possible. All implants have an outer silicone shell, but the inside filling can be different depending on your preferences.
Saline breast implants are filled with sterile salt water. The implant isn't filled prior to your procedure — instead, your surgeon will place the implant inside your body, and then fill it with sterile salt water once it's in place. In some cases, saline implants can be filled and adjusted using a port with a small tube connected to the implant itself. The port allows doctors to add or remove saline fluid from the implant after your initial breast reconstruction surgery is complete.
Saline implants may feel firmer compared to silicone implants. If you have very thin skin on your chest, it may be possible to see any wrinkles or folds in the implant itself. In rare cases, a saline implant may rupture. If this happens, the body simply absorbs the salt water, but the affected breast will look deflated, and you might need further surgery to restore the look of the breast.
Unlike saline implants, silicone implants are already filled before a surgeon places them inside your body, which means your surgeon needs to make a bigger incision to place the implant. This type of implant contains silicone gel, which tends to feel and look more like real breast tissue. The surface of a silicone implant may be smooth or textured — but keep in mind that research suggests textured implants increase your risk of a rare type of cancer of the immune system.
It's also possible for silicone implants to rupture. Many surgeons recommend follow-up imaging tests, such as ultrasound or magnetic resonance imaging (MRI), on a regular basis to monitor implants for signs of rupture. It can be difficult to determine if silicone implants have ruptured, since they tend to maintain their shape. However, a ruptured implant may cause changes in breast size and shape, as well as increased pain, firmness, and swelling. There's also the risk of silicone leaking out of the implant and spreading into your body.
A newer type of silicone implant, known as a "gummy bear" implant or highly cohesive implant, will keep its shape even if it ruptures. They're generally more firm compared to traditional silicone implants. Gummy bear implants are also less likely to rupture, but it's still possible.
There are many factors to consider when choosing which type of breast implant is best for you, such as:
the total cost of surgery using saline vs. silicone implants
the cost of necessary follow-up tests like MRI to monitor silicone implants
your desired breast size, feel, and symmetry
whether you're willing to have surgery later to remove or replace an implant
There's no right or wrong answer when it comes to choosing an implant. Take the time to explore both options and discuss each with your doctor. Your doctor can help you select the right type of implant based on your preferences, surgery goals, overall health, and the type of follow-up care you'll need.
Was this helpful?