How Telehealth Can Help Women Considering Breast Reconstruction
Was this helpful?
Breast reconstruction is a procedure to restore the size and shape of your breasts after breast cancer surgery. Telehealth appointments with a breast reconstruction surgeon can help you in many aspects of the journey, whether it's deciding on whether or not to have the procedure, or having follow-up meetings to check on your recovery post-surgery.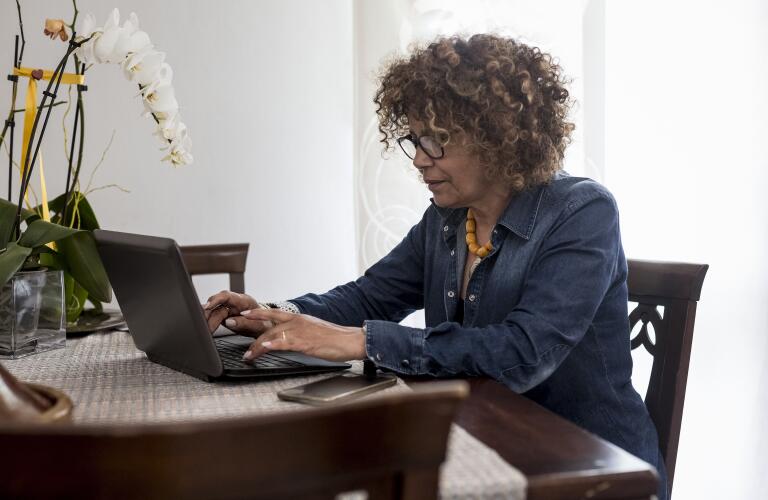 Surgery to remove part or all of the breast is almost always part of breast cancer treatment. Some women decide to have breast reconstruction surgery afterward to recreate the shape and size of their breasts. If you're considering this procedure, telehealth can help you decide the best course of action.
Many medical practices added telehealth visits to keep their patients safe during the COVID-19 pandemic. Telehealth lets you meet with your breast reconstruction surgeon remotely, using technologies like your smartphone, tablet, or computer.
Seeing a doctor virtually could play a role in your decision to have a breast reconstruction procedure. If you do decide to go forward with the procedure, telehealth visits can also help you with the recovery process.
Up to 60% of women don't have breast reconstruction surgery after their cancer treatment. Some choose not to have the procedure. Others miss out on this surgery because they don't know the procedure exists, they live far from a surgery center, or their insurance won't cover the cost – although it's important to know that most insurers are required by law to cover breast reconstruction at any time after mastectomy or lumpectomy.
Telehealth can help you overcome these and other barriers to reconstruction surgery. It offers a way for your breast reconstruction surgeon to reach you if you live far away, explain the procedure to you, and help you deal with any logistical or insurance issues related to your procedure.
As part of your online breast reconstruction appointment, your breast reconstruction surgeon might help you choose between the two types of breast reconstruction surgery:
Implant reconstruction: During this procedure, the surgeon places an implant filled with salt water (saline) or silicone gel into the breast.
Flap reconstruction: This procedure, also known as autologous reconstruction, uses tissue from your belly, thigh, or another part of your body to rebuild your breast.
Your breast reconstruction surgeon will help you decide between these procedures based on factors like your health, breast size, the location of your cancer, and your preferences.
Breast reconstruction telehealth has some advantages over in-person visits. For one thing, it's more convenient. Remote visits can eliminate the need to drive a long distance to your surgeon's office, take time off from work, or hire childcare.
Telehealth is just as effective for some types of appointments as in-person visits. Your breast reconstruction surgeon can explain the surgery to you remotely. After the procedure, the surgeon can examine you through the camera in your computer or phone to look for any complications or problems with wound healing.
People who've used breast construction telehealth visits generally like it. In one study, women who had breast reconstruction surgery were happy with their healthcare team and felt well-informed during the process when they used telehealth.
A breast reconstruction telehealth appointment can be helpful for:
meeting with your breast reconstruction surgeon before the procedure and learning what to expect
getting a second opinion from another breast reconstruction surgeon
following up with your surgeon to check on your recovery after surgery
A telehealth appointment can help you make the decision to have breast reconstruction surgery, and provide you with more convenient access to your doctor after the procedure. Although telehealth is becoming available in more places, not all breast reconstruction surgeons today offer this service. Ask your surgeon if you can schedule your visit remotely, and what to expect during your appointment.
Was this helpful?