4 Tips for Black Women Considering Breast Reconstruction
Was this helpful?
After surgery to remove breast cancer, you may feel both triumphant and vulnerable. Breast reconstruction rebuilds your breast and can help you complete your recovery without neglecting the emotional toll of undergoing a mastectomy. Black women are less likely than white women to undergo breast reconstruction, due to a variety of factors. If you're considering breast reconstruction, learn your options, check your insurance, discuss the risks, and choose your medical team carefully to effectively manage your recovery.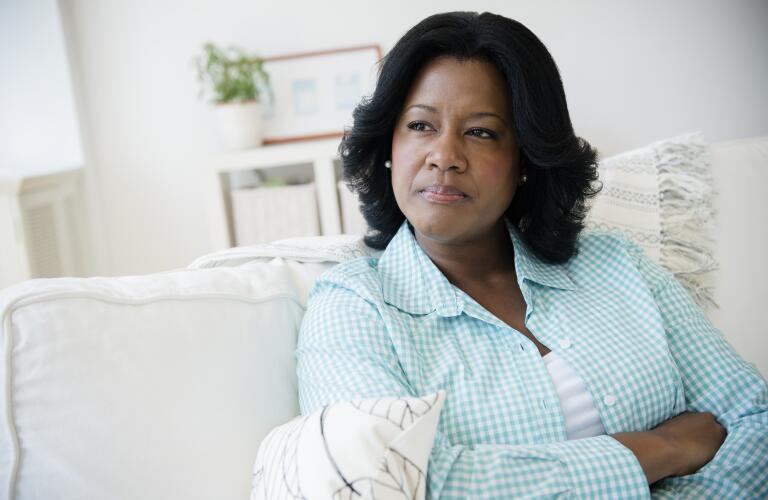 Other than non-melanoma skin cancers, breast cancer is the most common cancer affecting women around the world. It accounts for one-fourth of new cancer cases every year. More than 57% of women with breast cancer undergo a mastectomy, which is surgery to remove a breast, and more than half have both breasts removed. Despite the high prevalence of mastectomies in breast cancer patients, there are disparities in breast reconstruction rates. While almost half of white women receive breast reconstruction, just 35% of Black women do. If you're a Black woman who's considering breast reconstruction surgery, educate yourself about the options, look into the risks, understand your insurance coverage, and connect with the right medical team.
An oncologic breast surgeon will perform your mastectomy, but a plastic surgeon is best qualified to perform a breast reconstruction. However, oncologists don't always refer mastectomy patients to plastic surgeons, despite data that indicates women who undergo breast reconstruction experience an improved quality of life. A 2007 study suggests breast surgeons are less likely to refer African American women to plastic surgeons for breast reconstruction compared to women of other races. As a result, Black women treating breast cancer and those who have undergone mastectomy often have to find information about plastic surgery options on their own. You'll want to look for a plastic surgeon with experience and training in breast reconstruction, who can educate you about the details.
There are two different types of breast reconstruction available to most women: autologous tissue or implants. Your chosen method of treatment depends on your personal health history, your insurance, and your treatment needs.
When someone has autologous tissue, or "flap," breast reconstruction, a surgeon uses tissue from another part of their body to form the shape of one or both reconstructed breasts. Since the new breast mound isn't made from synthetic materials, this type of reconstruction should last for the rest of your life. Research indicates that, when they do have breast reconstruction surgery, Black women choose autologous tissue more often than white women. Recovery is often longer and sometimes more painful for people who receive autologous tissue reconstruction, as you must recover from not only the breast reconstruction procedure, but also the removal of tissue from another area of your body.
Unlike autologous tissue reconstruction, implants are usually made using silicone shells filled with either saline or silicone gel. After several years, synthetic implants like these may have to be replaced. They also carry a risk of rupture, which can have a serious impact on your health, including an increased risk for some types of cancer. Their safety profile has improved significantly in recent years, and for many women, they are a beneficial option, but discuss any concerns you may have with your surgeon.
You may benefit from reaching out to a cancer organization in your community for more information about breast reconstruction. You may also be able to connect with another person who has faced the same treatment decisions. The American Cancer Society's Reach to Recovery program can match you with a volunteer who has experienced a similar type of breast cancer, stage, and treatment. By connecting with someone who had to make the same choices you're considering, you can feel better informed and more empowered to move forward.
Any major surgery, including breast reconstruction, carries all sorts of risks, including infection, bleeding, and more. One factor that Black women and other people with darker skin tones need to consider is whether or not they're at risk for keloids.
Keloids are lesions made up of excess scar tissue that grows after an injury. They can also form from surgical incisions, piercings, and other cuts that cause trauma to the skin. People with darker skin tones are 15 times more likely to develop keloids than people with lighter skin.
These risks make keloids a serious consideration for Black women considering breast reconstruction surgery. Discuss your risk with your surgeon to determine if you need alternative treatment options to reduce your risk for keloids after surgery.
Research indicates that the disparities between white women and Black women for breast reconstruction are also linked to healthcare access. The Women's Health and Cancer Rights Act (WHCRA), passed in 1998, requires most group insurance plans that cover mastectomies to also cover breast reconstruction. Coverage is also required for Medicare, although Medicaid coverage can vary by state. However, Black people are less likely to have health insurance than white people. Without insurance coverage, the costs of breast reconstruction can be a barrier to treatment. If you don't have insurance, consider turning to health insurance navigators in your community who can help you find an affordable plan. If you do have insurance, check with your insurance provider to see if or to what extent they cover breast reconstruction before you make a decision.
Implicit bias has influence over just about every facet of healthcare. Black women and people in other marginalized groups may contend with its impact throughout their care, especially if they have a doctor who isn't culturally competent. A culturally competent doctor will have training and experience in understanding the nuances of how one's racial or cultural background can influence their health and how they navigate the healthcare system.
Getting high quality care after a cancer diagnosis shouldn't be difficult, and it's often easier to access culturally competent care when your doctor looks like you. If you're a Black woman with breast cancer, check out Huedco.com or Blackdoctor.org to find a medical team you're comfortable with. They should make it easy for you to make choices about breast reconstruction and other aspects of your care.
Facing the decision to undergo breast reconstruction after mastectomy can be daunting, but you're not alone on this journey. You'll set yourself up for success if you connect with the right healthcare team, understand your options, weigh the risks, and become informed about the financial and insurance factors involved.
Was this helpful?