What to Expect with Lung Transplant
Was this helpful?
A lung transplant is typically performed on people with severe lung disease. Individuals must meet certain criteria to be eligible for a lung transplant. A lung transplant is an operation to remove a diseased or damaged lung and replace it with a healthy lung from a donor. Donors are usually deceased individuals. However, a healthy lung can sometimes be taken from a living person.
This article will discuss the types of lung transplants, risks, preparation, and recovery.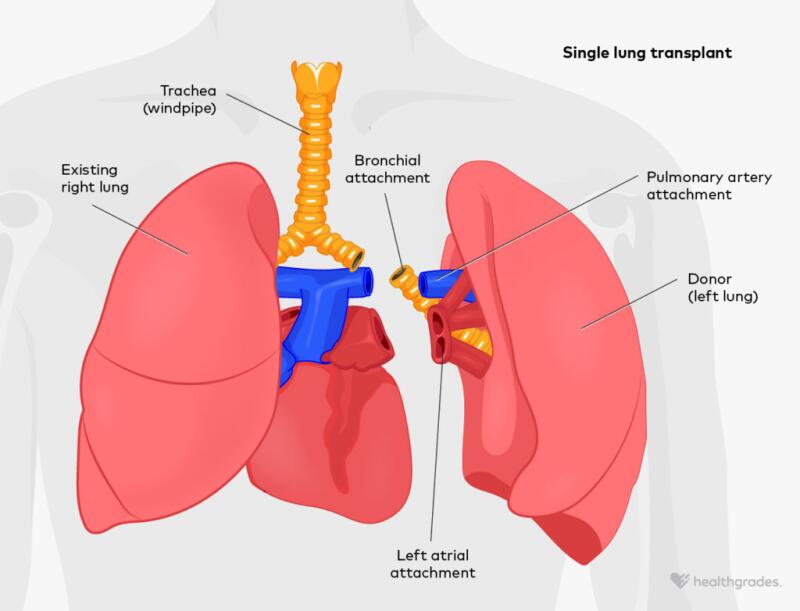 There are several types of lung transplants depending on the needs of the individual. The types include:
Single lung transplant: This is often for people with fibrotic lung disease, such as pulmonary fibrosis. Single lung transplantation may be considered in people with a small chest or in cases where the need is urgent.
Bilateral (double) lung transplant: Both lungs are replaced. This option is usually for people with cystic fibrosis, chronic obstructive pulmonary disease (COPD), or pulmonary hypertension.
Heart and lung transplant: The individual receives a heart and two lungs. It is usually for people with congenital conditions or in cases where a lung condition has caused significant heart disease.
According to the American Thoracic Society (ATS), most children who need a lung transplant will have a bilateral lung transplant.
A lung transplant is a type of treatment for several conditions affecting the lungs. It may be the only option for children and adults who have tried other treatments that either do not work or stop working. Some conditions that might necessitate the need for a lung transplant include:
COPD
cystic fibrosis
pulmonary hypertension
According to the ATS, you and your doctor may consider a lung transplant when your anticipated life expectancy is 1–2 years without a transplant or when your symptoms are limiting your quality of life.
The most common risk of a lung transplant is rejection of the donor lung (and heart, if you have a heart-lung transplant). Rejection happens when your body recognizes the new lung as a foreign substance and reacts to eliminate it. This is a normal immune system response.
To prevent rejection, you will receive medication called an immune suppressant. It dampens your body's immune response. You will receive these medications by IV as you recover in the hospital. Your care team will determine the correct dose. The goal is the lowest dose of medication necessary to prevent rejection while minimizing its side effects.
When you are well enough to leave the hospital, your doctor will prescribe the medication in pill form. You need to take this medication for the rest of your life to prevent your body from rejecting the transplanted lung.
Because these medications suppress your immune system, you are more prone to infection. If you develop a bacterial infection, your care team will administer IV antibiotics.
The NHS reports that 9 out of 10 people survive a lung transplant, most surviving for at least a year after surgery. The 5-year survival rate is about 50%, with many people living 10 years or more.
A study by the International Society for Heart and Lung Transplantation found that bilateral lung transplants had better long-term survival than unilateral, or single lung transplant. Additionally, people receiving lung transplants for cystic fibrosis had longer survival times than other conditions.
Survival rate refers to the number of people who are still alive for a specific length of time after a particular diagnosis.
For example: A 5-year survival rate of 50% of people means that half of the people are still alive 5 years after their diagnosis.
It is important to remember that these figures are estimates and are based on previous medical studies. Talk with your doctor about the outlook for your specific condition.
Individuals who need a lung transplant must meet certain criteria to determine eligibility. At the University of California San Francisco Medical Center, you must:
be physiologically 60 years of age or younger for a double lung transplant and 65 years or younger for a single lung transplant (meaning you could be older than 65, but your physical condition is similar to that of someone younger than 65)
have a life expectancy of 18–24 months
have no other life threatening health conditions
be in compliance with taking all medications and following medical recommendations
demonstrate emotional stability
have a good support system
If you and your doctor think it is time to consider a lung transplant, they will refer you to a lung transplant center. The center gives you a Lung Allocation Score. This score determines your place on the United Network for Organ Sharing (UNOS) waiting list. Your age, disease type, severity, and organ function determine your position.
What disqualifies you from getting a lung transplant?
Several factors may prevent you from getting a lung transplant, such as:
tobacco or drug misuse or abuse
inability or unwillingness to comply with medical recommendations such as doctor appointments
serious diseases of major organ(s), such as kidney, heart, or liver
serious current infection such as tuberculosis or an unstable chronic infection such as hepatitis B
current or recent history of cancer with a chance of spreading to the lungs
significantly underweight or overweight
unstable psychiatric problems that would likely affect your commitment to post-transplant treatments
Some of these factors are modifiable or may change with time, altering your eligibility for a transplant.
Lung transplant surgery takes about 6–8 hours, but you will likely be in the operating room longer. You will be under general anesthesia and have a breathing tube down your throat. You will also have a urinary catheter to drain urine from your bladder.
For a single lung transplant, the surgeon makes an incision on the side of the diseased lung, about 6 inches below your armpit. They remove the lung through this incision and attach the new lung.
For a double lung transplant, the incision is across your lower chest.
The surgeon connects the new lung(s) to your pulmonary artery and veins.
You may need to be on a cardiopulmonary bypass, or heart-lung machine. This adds oxygen, removes carbon dioxide, and circulates your blood throughout your body during the operation. When the new lung is working properly, the surgeon takes you off the bypass machine and closes the incision.
After the surgery, you will be in the intensive care unit (ICU) for close monitoring. According to the ATS, you may be in the ICU for 3–5 days, with a total hospital stay of 2–3 weeks.
You will initially have several tubes in your chest to drain excess fluid. You may be on a ventilator to help with breathing.
For pain relief, you may have an epidural, a type of anesthesia in the spinal fluid.
You will receive IV immune suppressants and antibiotics.
After you leave the hospital, you will contact your doctor regularly for checkups. Your doctor will explain the frequency and the types of tests you need. In general, these include:
Depending on test results, the interval between visits will increase from weeks to months as your condition improves.
You will stay on lower doses of immune suppressants to prevent and treat lung rejection.
It takes 3–6 months to fully recover from a lung transplant, says NHS. During the first 6 weeks after surgery, you should not lift anything heavy or exercise strenuously.
You may want to have a family member or other caregiver stay with you at home for the first few weeks after the surgery to assist you with activities of daily living.
You should be able to drive in 4–6 weeks and return to work in about 3 months or longer for more strenuous occupations.
It is important to take part in a pulmonary rehabilitation program. This will strengthen your new lung and help you adjust to life after lung transplant.
Nick Villalobos, M.D., reviewed the following questions.
When is it too late for a lung transplant?
It is generally too late for a lung transplant when the lung condition has progressed to a point where the transplant will not extend life or improve one's quality of life. The decision to proceed with a lung transplant is a shared one between the physician, the transplant team following the test results, and the patient.
Who is the longest-living lung transplant patient?
The longest-living lung transplant patient is Howell Graham, who received a lung transplant for cystic fibrosis in 1990 at the age of 28.
A lung transplant replaces a diseased lung with a healthy donor lung. People with certain life-limiting respiratory conditions may be candidates for a lung transplant. The lung transplant 5-year survival rate is about 50%, with many people living much longer.
Was this helpful?