Targeting the EGFR Exon 20 Insertion Mutations When Treating Non-Small Cell Lung Cancer
Was this helpful?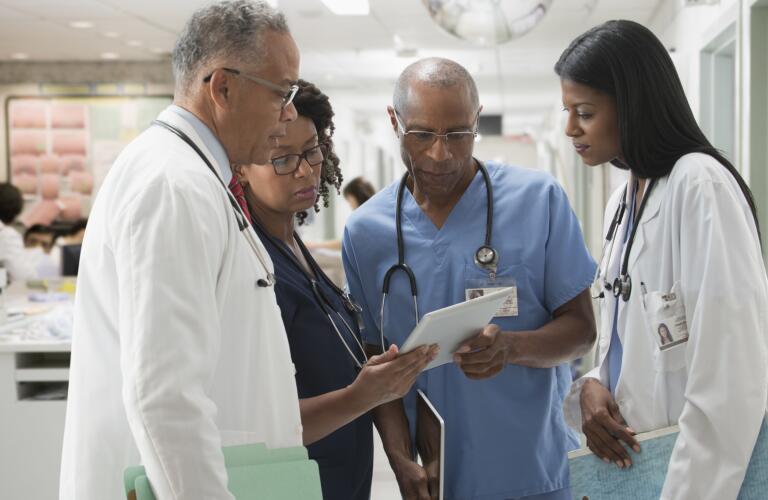 Many people with lung cancer, particularly a type of non-small cell lung cancer called adenocarcinoma, have a mutation (or change) in their EGFR gene. EGFR, short for epidermal growth factor receptor, is a protein that normally helps your cells grow. When the EGFR gene is mutated in your lung cells, it can cause them to grow out of control and become cancerous.
Researchers have discovered that there are different kinds of EGFR mutations. One relatively uncommon mutation, called the EGFR exon 20 insertion mutation, has been challenging to treat because it hasn't responded as well to existing lung cancer treatments. But recently, new drugs have been approved for this particular mutation, providing more options than previously available.
After you've been diagnosed with non-small cell lung cancer, further testing may be performed to check for the presence of the EGFR mutation. Tissue from your tumor or a sample of your blood can be examined to identify mutations in your cancer cells. Some tests can specifically identify what kind of EGFR mutation, if any, is present, including the EGFR exon 20 insertion mutation.
In general, the EGFR exon 20 insertion mutation is more prevalent in:
People diagnosed with adenocarcinoma
Women
Non-smokers
Younger individuals
In addition to EGFR, there are several other known mutations associated with lung cancer. You will likely be screened for other mutations at the same time to help your doctor select the best treatment for you.
People with the most common types of EGFR mutations tend to do well with a class of drugs known as tyrosine kinase inhibitors, but this is not the case for individuals who have the EGFR exon 20 insertion mutation. Instead, this group is often treated with platinum-based chemotherapy, such as cisplatin and carboplatin. Immune checkpoint inhibitors, a form of immunotherapy, may also be used. These drugs help the immune system recognize and attack cancer cells.
Two new treatments were recently approved specifically for lung cancer with the EGFR exon 20 insertion mutation. They are targeted therapies, meaning they "target" and block specific changes in cancer cells that help them grow and spread. If you have stage 3 or 4 non-small cell lung cancer that has progressed during or after chemotherapy, you may be a candidate for one of the following:
Amivantamab-vmjw (Rybrevent): This is a man-made version of an antibody produced by your immune system. It targets both EGFR and MET (another protein involved in cell growth). It's given as an IV infusion once a week or every two weeks.
Mobocertinib (Exkivity): This is taken as a pill once a day. By blocking EGFR, it slows the growth of lung cancer.
Though major advancements have been made, researchers continue to study new potential targeted therapies for treating all types and stages of lung cancer. Different combinations of existing drugs are also being trialed to look for better and longer responses to treatment. If you have questions about your type of lung cancer and which treatments are recommended for you, reach out to your doctor for guidance.
Was this helpful?