Medications Used to Treat Stage 4 Lung Cancer
Was this helpful?
Though radiation and surgery may be needed in some cases, metastatic lung cancer is usually treated with a variety of systemic medications.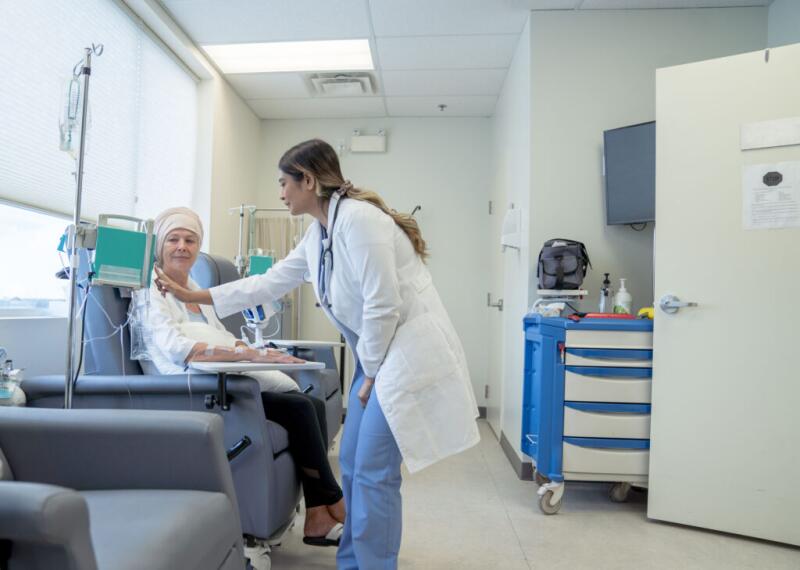 Non-small cell lung cancer (NSCLC) is the most common type of lung cancer, accounting for approximately 85-90% of cases. Stage 4, or metastatic, NSCLC refers to lung cancer that has spread beyond the chest to areas such as the brain or bones.
Though there isn't a cure for stage 4 NSCLC, several therapies are available to help you live longer, reduce your symptoms, and improve your quality of life. When making treatment decisions, your doctor will consider the location of your cancer, whether specific genetic mutations are present in your cancer cells, your overall health, and your preferences. Lung cancer that is widespread typically requires systemic medications, meaning treatments that travel through your bloodstream to reach cancer cells throughout the body.
Chemotherapy, often called "chemo," is a type of medication typically infused into a vein in a doctor's office or hospital. Chemotherapy is given in cycles, alternating treatment periods with a few weeks of recovery. These drugs attack fast-growing cancer cells by stopping them from growing and dividing.
Chemotherapy may be given as a first-line treatment for stage 4 NSCLC or used for lung cancer that progresses after initial treatment. It may be given alone or in addition to immunotherapy. Platinum-based chemotherapy drugs, such as cisplatin (Platinol) or carboplatin (Paraplatin), are commonly used and may be combined with other forms of chemotherapy.
Chemotherapy can also affect healthy cells, so it may not be appropriate for people with underlying health conditions or who wouldn't tolerate side effects well. Potential side effects include:
increased risk of infection
fatigue
easy bruising or bleeding
hair loss
nausea and vomiting
diarrhea or constipation
Targeted therapy is part of a growing cancer treatment modality, sometimes called precision medicine. Lung cancer cells have mutations, or changes, in their genes that allow them to grow out of control. Targeted treatments "target" these specific gene changes, interfering with cancer cells' ability to grow and spread. Compared to chemotherapy, targeted therapy is less likely to harm healthy cells in your body.
Your tumor or blood will be tested for certain gene mutations to find out if you are a candidate for a targeted treatment. For example, you may receive one of these targeted drugs if you have the associated cancer cell abnormality:
osimertinib (Tagrisso) for the epidermal growth factor receptor (EGFR) mutation
alectinib (Alecensa) for anaplastic lymphoma kinase (ALK) gene fusion
crizotinib (Xalkori), entrectinib (Rozlytrek), or ceritinib (Zykadia) for the ROS1 gene mutation
selpercatinib (Retevmo) or pralsetinib (Gavreto) for the RET gene mutation
capmatinib (Tabrecta) or tepotinib (Tepmetko) for the MET gene mutation
larotrectinib (Vitrakvi) or entrectinib (Rozlytrek) for the neurotrophic tyrosine kinase (NTRK) gene fusion
sotorasib (Lumakras) for changes in the KRAS G12C gene
Targeted therapy for NSCLC is usually taken by mouth daily. Side effects differ based on the drug you are taking. Some examples include skin problems, fatigue, nausea, or vomiting.
What if your tumor has no genetic mutations to make you eligible for a targeted treatment? You will likely be treated with immunotherapy instead.
In addition to checking your lung cancer cells for gene mutations, it can also be examined for the presence of a protein called programmed cell death ligand (PD-L1). If PD-L1 is found in more than 50% of your cancer cells, you may be treated with immunotherapy alone. If you have less than 50% PD-L1 or rapidly progressing lung cancer, your doctor may recommend starting your treatment with immunotherapy plus chemotherapy.
Immunotherapy drugs used for stage 4 NSCLC are a type of monoclonal antibody known as checkpoint inhibitors. Cancer cells can escape an attack by the immune system by "turning it off" with a protein called a checkpoint protein. Checkpoint inhibitors block these proteins, allowing the immune system to "turn back on" and destroy cancer cells.
Examples of immunotherapy drugs include:
atezolizumab (Tecentriq)
cemiplimab (Libtayo)
durvalumab (Imfinzi)
pembrolizumab (Keytruda)
nivolumab (Opdivo)
ipilimumab (Yervoy)
Side effects from immunotherapy include skin reactions, weight changes, diarrhea, and flu-like symptoms.
Most people with stage 4 lung cancer can expect to undergo several different treatments during the course of their disease. Cancer medications, like targeted therapies, can sometimes lose effectiveness over time, necessitating the switch to another one. Treatment depends on many factors, and not everyone has the specific biomarkers needed for these drugs to effectively treat their cancer. However, new treatments are continuously being developed and studied, and you may be a suitable candidate for cutting-edge therapy. Talk to your doctor or your healthcare team about what treatment options are available to you.
Was this helpful?