Lung Cancer Risk in Black Men
Was this helpful?
Black men are at high risk of developing lung cancer, but some may not be aware of important risk factors, such as family history and smoking. Due to racial disparities in healthcare, the Black community may experience additional barriers when seeking care, but Black people can learn to advocate for themselves and be proactive about the prevention of lung cancer.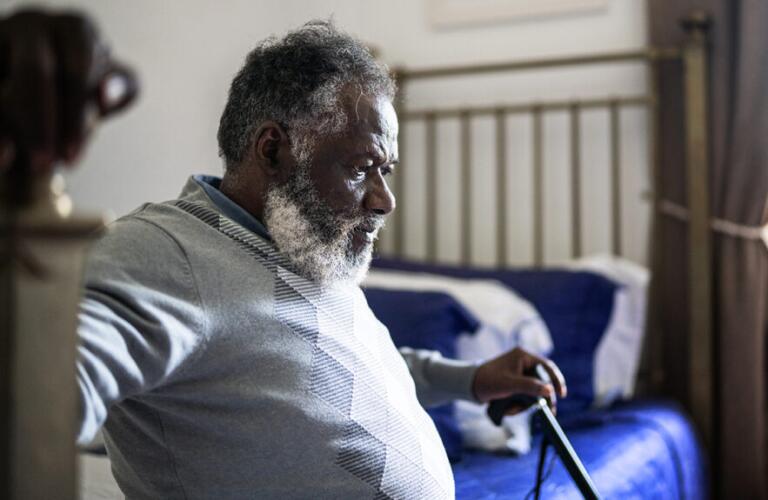 According to the Centers for Disease Control and Prevention (CDC), cancer is the second leading cause of death in the United States and lung cancer is the number one cause of cancer-related deaths. The CDC reports nearly 140,000 people died from lung cancer in 2019 and almost 75,000 of those were men. Although incidence rates of lung cancer have been dropping, Black men may be unaware of their risk and how they can be proactive about prevention.
According to the American Cancer Society, Black men have the highest incidence of cancer and the highest incidence of lung cancer in the U.S. The American Lung Association suggests 1 in 16 Black men will be diagnosed with lung cancer in their lifetime, and they have the highest risk of death from lung cancer.
A 2018 review suggests Black people are disproportionately affected by lung cancer in comparison to other racial groups. Due to racial disparities in healthcare, Black women and men are less likely than white people to receive an early diagnosis; identifying and treating lung cancer at early stages can improve survival rates. Also, the Black community experiences obstacles when seeking treatment, which can lead to lower survival rates.
More research is needed to determine the role of genetics in lung cancer risk and survival. A 2019 study suggests the association with lung cancer in Black men increases with their degree of West African ancestry. However, researchers didn't find a similar association for Black women, and the association wasn't as strong when factors such as income and education were taken into account..
The incidence of lung cancer among Black men is affected by high rates of smoking within the Black community. Research suggests smoking prevalence among Black people is 18.3%, and 21.8% specifically for Black men.
Black people who smoke are less likely than white or Hispanic people to successfully kick the habit, which can lead to a longer cumulative history of smoking and contribute to cancer risk. Although these numbers may be high, they can be a motivation for Black people who smoke to find resources that help them quit. Every person is different and some people may try a variety of techniques until they find one that empowers them to quit smoking. If you're looking to stop smoking, reach out to your doctor or community health center. They can direct you to an evidence-based smoking cessation program that can guide you every step of the way. Although smoking is the biggest risk factor for lung cancer, other elements can contribute to your risk of developing lung cancer, such as:
family history of lung cancer or other pulmonary conditions
history of radiation therapy to the chest (for other cancers)
drinking water contaminated with arsenic or radon
The American Cancer Society reports the incidence of lung cancer among Black men has considerably dropped, and the gap between Black and white people has narrowed. Some experts suggest educational campaigns about smoking cessation have created awareness among the Black community over the last few decades.
Being aware of potential risk factors can help you take actionable steps to reduce the risk of developing lung cancer. Talk with your doctor about specific risks, family history, and lifestyle changes that will empower your health and well-being.
Was this helpful?