How Biomarker Tests Inform Your Lung Cancer Treatment Plan
Was this helpful?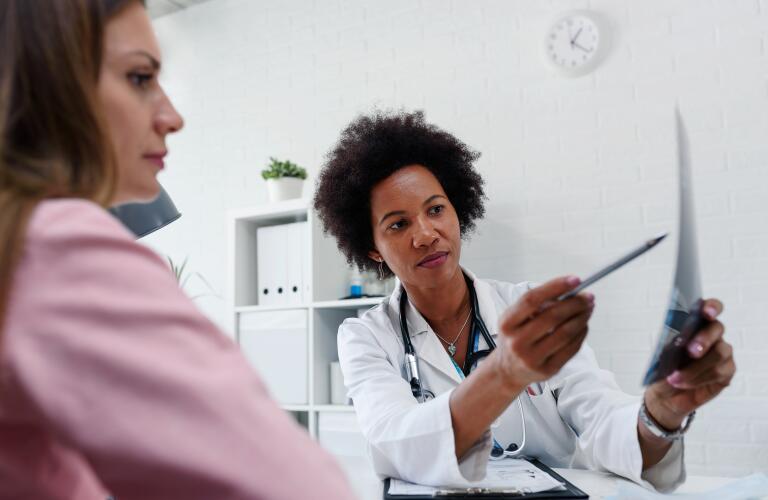 If you're diagnosed with cancer, you want your oncologist to choose the best possible treatment for your specific kind of cancer. That's the goal of biomarker testing in cancer treatment. This type of testing uncovers details about the makeup of your specific tumor that can help guide treatment choices. Some treatments work on particular genetic mutations in someone with cancer, so having this knowledge can make a big difference.
Biomarker testing is often applied to tumor tissue like breast cancer, colorectal cancer, and non-small cell lung cancer. Since non-small cell lung cancer accounts for 84% of all lung cancers, that means it could be useful in a significant number of lung cancer cases. The knowledge gleaned from biomarker testing can help your doctor determine which targeted lung cancer treatment may give you the best chance at defeating lung cancer–and which treatments may be less effective.
One of the benefits of lung cancer biomarker testing is the ability to uncover abnormalities in your tumor that can guide the choice of targeted treatment. For example, there are FDA-approved treatments for these biomarkers:
Epidermal growth factor receptor (EGFR) mutation
ROS1 rearrangement
BRAF V600E mutation
Anaplastic lymphoma kinase (ALK) gene rearrangement
MET amplification or MET exon 14 skipping
NTRK fusion
RET rearrangements
If the test reveals one of those biomarkers, you could potentially begin treatment with a drug that targets your very specific mutation. For example, if you have a mutation known as an EGFR exon 20 insertion mutation, you might be able to take amivantamab (Rybrevant), which was approved by the FDA in May 2021. Or if you have a mutation that leads to MET exon 14 skipping, you might be a candidate for capmatinib (Tabrecta) , which is a mesenchymal-epithelial transition (MET) kinase inhibitor that was granted accelerated approval by the FDA in 2020.
However, this biomarker testing has another advantage when it comes to parsing targeted treatments: it can also uncover the presence of a biomarker that might inhibit a particular treatment. That way, you don't bother undergoing treatment with a therapy that won't work for you.
It's possible comprehensive biomarker testing won't uncover any mutations with a targeted treatment that's ready and waiting for you. But with biomarker testing, the tissue sample can also be analyzed for a protein called PD-L1. In fact, the American Lung Association advises that everyone who's newly diagnosed with lung cancer have their PD-L1 levels tested.
PD-L1 is a protein that sometimes interacts with PD-1, a receptor that's often found on the surface of immune cells. If your tumor expresses a high level of the PD-L1 protein, you may respond well to a type of immunotherapy agent known as an immune checkpoint inhibitor. Depending on your levels of PD-L1, your doctor might also suggest adding chemotherapy to the mix.
When your biomarker tests come back, the results should provide a much better understanding of your tumor. But that doesn't mean that you're eligible for one of the FDA-approved treatments. And perhaps immunotherapy isn't the first choice, either. The good news is biomarker testing can also reveal some mutations for which there are ongoing clinical trials. You might be eligible for one of them and have the opportunity to receive targeted treatment that's not yet widely available.
Was this helpful?