Advances in Treating Stage 1 and Stage 2 Lung Cancer
Was this helpful?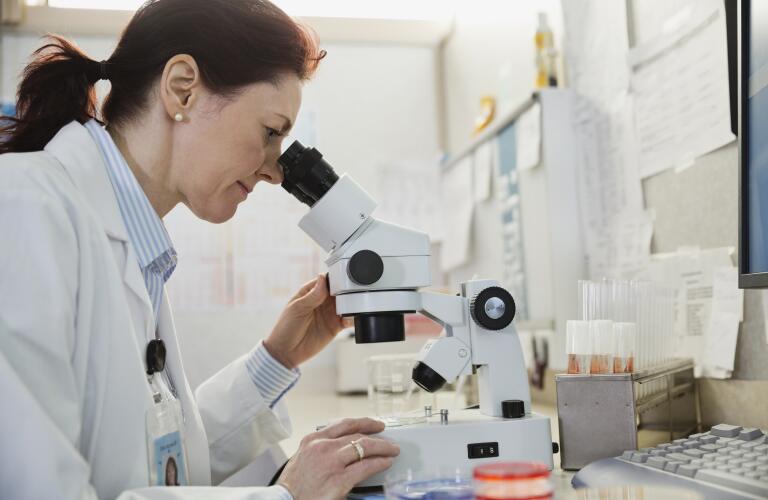 Non-small cell lung cancer (NSCLC) is the most common type of lung cancer in the U.S. After diagnosis, cases of NSCLC are given a stage from 1 to 4; this describes the extent of cancer in the body and informs treatment decisions. For example, stage 1 NSCLC indicates lung cancer has not spread outside the lung tissues, while stage 4 indicates lung cancer has spread to distant parts of the body.
Though lung cancer remains challenging to treat, there have been many encouraging developments in recent years. Here, we'll focus on recent progress in treating stage 1 and 2 lung cancer.
If you've been diagnosed with stage 1 NSCLC, surgery to remove the tumor may be all you need. People with stage 2 lung cancer also typically undergo surgery, which may be followed by additional chemotherapy or radiation to destroy any cancer cells that were left behind. Surgery can be intimidating, but recent advances allow for less invasive, yet still effective, procedures. Video-assisted thoracoscopic surgery (VATS) is being used with increasing frequency for surgical management of early lung cancer. This method uses special operating equipment, including a tiny camera, and smaller incisions than traditional "open" surgery to access the lungs. When compared to "open" surgery and performed on the appropriate patient, studies have shown VATS leads to:
Similar overall survival and cancer-free survival rates
Shorter hospital stays
Less pain
Fewer post-surgery complications
Fewer hospital readmissions
For individuals who aren't eligible for surgery or who don't want to undergo surgery, stereotactic ablative radiotherapy (SABR) may be an option for treating some cases of stage 1 and 2 lung cancer. SABR, also sometimes called stereotactic body radiation therapy (SBRT), is a type of radiation treatment. Using advanced imaging technology, it can precisely target the tumor with a high dose of radiation without affecting nearby healthy tissues. It's non-invasive and can be performed during a short outpatient visit without the need for a hospital stay.
SABR has been so successful in treating some cases of early lung cancer that it's now being studied as an alternative even for patients who are eligible for surgery.
Immunotherapy and targeted therapy have emerged as exciting, newer cancer treatment options. Immunotherapy works with your body's own immune system to fight cancer. Targeted therapies are designed to identify and attack certain parts of cancer cells that help them grow and spread.
Immunotherapy and targeted therapy are frequently used for advanced forms of lung cancer, but research is proving them to be useful in earlier stages of lung cancer as well. Some examples include:
Atezolizumab (Tecentriq): This immunotherapy drug was recently approved for treating some cases of stage 2 lung cancer after surgery and chemotherapy. It works by helping your immune system recognize and fight cancer cells.
Osimertinib (Tagrisso): This targeted therapy drug was also recently approved for treating early-stage lung cancer that has a particular mutation on a protein called epidermal growth factor receptor (EGFR). EGFR is involved in cancer cell growth; blocking it helps to stop cancer cells from dividing and multiplying. It's also used after surgery.
It's likely that other types of immunotherapies and targeted therapies will be expanded for use in early-stage lung cancer in the future.
When lung cancer is detected early before it has spread, it has the greatest chance of successful treatment. However, lung cancer generally doesn't cause symptoms until it is advanced, and most cases of lung cancer are diagnosed at a later stage.
To help combat this, people who are at higher risk of developing lung cancer are now recommended to undergo a yearly screening exam with a test called a low-dose computed tomography (CT) scan. This includes individuals who:
Are 50 to 80 years old
Have a 20-pack year history of smoking (number of packs a day smoked x number of years as a smoker)
Currently smoke or have quit within the last 15 years
A low-dose CT scan is quick and painless. It's a useful tool to help detect lung cancer earlier when it's most treatable. False positives are possible, which could lead to additional tests or procedures, so if you're a candidate for low-dose CT, be sure to talk to your doctor about the benefits and risks of this screening.
If you or a loved one have been diagnosed with stage 1 or 2 non-small cell lung cancer, be sure to explore all your options with your doctor. With earlier detection and new advances in lung cancer treatments, there's reason to be hopeful.
Was this helpful?