What to Expect with a Telehealth Appointment for IBS with Constipation
Was this helpful?
Telehealth appointments let you visit your gastroenterologist from home or another location using technologies like your mobile phone, tablet, or computer. These virtual visits are a convenient way for your doctor to follow up with your symptoms and update your treatment plan. A telehealth appointment for IBS with constipation will be similar to an in-person appointment, especially if you prepare in advance.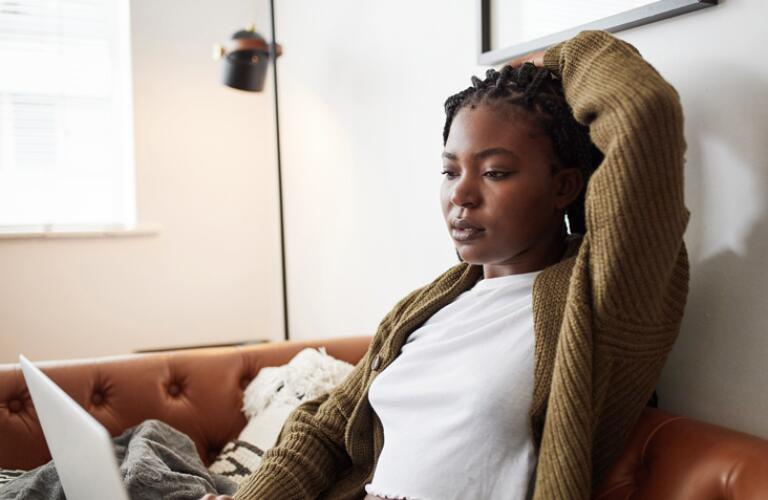 Irritable bowel syndrome with constipation (IBS-C) causes belly pain, difficulty with bowel movements, gas, and bloating — symptoms that can be difficult to talk about, even with your doctor. Telehealth, also called telemedicine, is a way for you to visit your doctor from home using your computer, mobile phone, tablet, or other device. Online gastroenterologist visits are often more convenient than in-person visits. And they can help you avoid some of the embarrassment that might otherwise stop you from getting the constipation treatment you need.
If you don't live close to your doctor, using telehealth for constipation is also a more convenient way to get treatment. You may not have to take time off from work or hire childcare. And regular remote monitoring helps you stay on top of IBS by letting your doctor monitor your symptoms and treat any problems when they arise.
If you've never had a constipation telehealth appointment, there are a few things you should know before your visit.
While you can't get a colonoscopy or other imaging test virtually, there is a lot you can do during a constipation telehealth appointment. The camera on your computer or mobile phone lets you and your doctor talk face to face, just like you would during an in-person visit.
During a constipation telehealth appointment, your doctor can:
discuss the results of your lab tests or imaging scans
ask about your symptoms and how you're managing them
go over your medications and make any necessary changes
schedule you for tests or procedures
recommend constipation treatments you haven't tried
schedule your next appointment
Before your first online gastroenterologist visit, you'll have to set up the technology that you'll use for the appointment. The doctor's office will let you know what apps or other software to download, and what link you'll use to access the visit.
Make sure that your computer, phone, or tablet is in a quiet spot where you won't be interrupted. Check the speed of your internet connection. Shutting down any other programs you have running on the device will improve the connection speed and picture quality.
Test out your camera and microphone ahead of time. And practice signing in 10 minutes or so before your appointment time.
Make sure you have everything you need for your visit, including vital signs like your temperature, blood pressure, or weight, if your gastroenterologist has requested this data. Have your prescription bottles with you in case the gastroenterologist asks about the names or doses of medications you take.
Also, have a list of questions ready. The doctor has a limited amount of time to spend with you, and you want to make sure that all your important questions are answered before the visit ends.
Most private health insurance plans expanded coverage for telehealth visits during the COVID-19 pandemic. Even if your visit is covered, you may be responsible for a copay or deductible.
It's always a good idea to call your insurance company before your online gastroenterologist appointment. Ask how much of the visit cost your plan will cover, and how much of it you will be responsible for paying out of pocket.
Privacy can be a big concern whenever you share personal information over the internet. Most doctors use secure patient portals and encryption during calls and video chats to protect their patients' privacy. You can protect yourself further by making the call from a private location where no one can hear you. Use a secure Wi-Fi connection if possible.
It could take time for you to get used to the technology and processes involved in virtual doctor visits. But once you've had a few online gastroenterologist appointments, you might start to prefer the convenience of meeting with your doctor at home. And you may find that seeing your doctor remotely helps you better manage symptoms of IBS-C.
Was this helpful?