Treatments for IBS With Constipation
Medically Reviewed By William C. Lloyd III, MD, FACS
Was this helpful?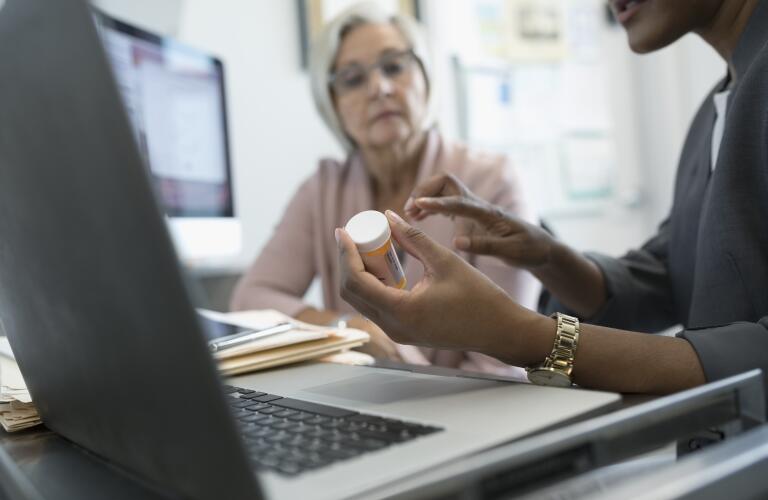 Few sensations are more uncomfortable than constipation. When you have irritable bowel syndrome with constipation (IBS-C), the feeling lingers for three months or more, and it often returns. When their condition is active, most people with IBS-C have three or fewer bowel movements per week.
Fortunately, many treatments can move waste through your system more effectively and make you feel better.
As with any other type of constipation, fiber remains a mainstay of treatment. This tough plant stimulates motion in your gut. Fiber also changes the consistency of your stool so it's easier to pass.
Talk with your doctor about the right amount of fiber for you. Many adults are advised to consume 21 to 38 grams daily. If your intake falls short, increase gradually—by about 2 to 3 grams per day—to prevent gas or other troublesome symptoms. You can get fiber from many foods, but in some cases, your doctor may recommend a supplement.
Avoiding certain foods that trigger IBS could also improve your digestion. Common culprits include high-fat foods, milk products, alcoholic or caffeinated drinks, artificial sweeteners, and foods that cause gas, such as beans or cabbage. Everyone's bowels respond differently, though, so try keeping a food diary and noting what foods make you feel the worst.
Your doctor may recommend an over-the-counter (OTC) drug or write you a prescription for one or more medications to help relieve your IBS. Depending on your medical history and specific symptoms, this may include drugs that act as laxatives, stool softeners, or motility agents to get your intestines moving again.
The U.S. Food and Drug Administration (FDA) has approved treatments for IBS with constipation, including lubiprostone (Amitiza), which decreases abdominal pain and discomfort. While using this medicine, you may find your stool feels softer and you have to strain less to pass it. Another medication, linaclotide (Linzess), blocks pain signals in your intestines. It may also increase the number of successful trips you take to the bathroom.
Scientists suspect that signals between the gut and the brain may underlie some cases of IBS. Certain treatments aim to alter these messages. Antidepressants, including those known as selective serotonin reuptake inhibitors (SSRIs), relieve abdominal pain, get things moving in your gut, and help you feel better overall.
Other medications can reduce painful muscle spasms in your gastrointestinal tract. These include hyoscyamine (Levsin) and dicyclomine (Bentyl).
Often, IBS-C goes hand in hand with conditions like anxiety, panic and depression. Stress can trigger both psychological and physical symptoms in people with any of these conditions. So, your doctor may advise therapies that treat these feelings, as well.
Cognitive behavioral therapy, a type of therapy that identifies patterns of thinking and behavior and then tries to change them, may teach you ways to cope with stress or help reduce your anxiety about IBS-C symptoms. Other types of counseling may delve more deeply into emotions, conflicts, and their relationship to your symptoms.
For some people, traditional therapies don't provide complete relief. You might consider trying complementary or alternative therapies—treatments that don't fit into the mainstream of Western medicine.
Some involve taking supplements such as probiotics, herbal medicines, or oils. Several small studies support the use of acupuncture to relieve symptoms. Mind-body therapies, including hypnosis and relaxation techniques, may work to relax the digestive system in similar ways to antispasmodic or antidepressant medications.
Though you may not need a prescription, alternative treatments have benefits and risks just like traditional therapies. Make sure you talk with your doctor before trying them. He or she may even be able to refer you to reputable practitioners or otherwise coordinate your care.
In addition to altering your diet, you may be able to take other steps in your daily life that make you feel better. Getting enough sleep, managing stress, and exercising regularly can improve your overall quality of life and reduce your symptoms.
Was this helpful?