How Exercise Relieves IBS Symptoms
Was this helpful?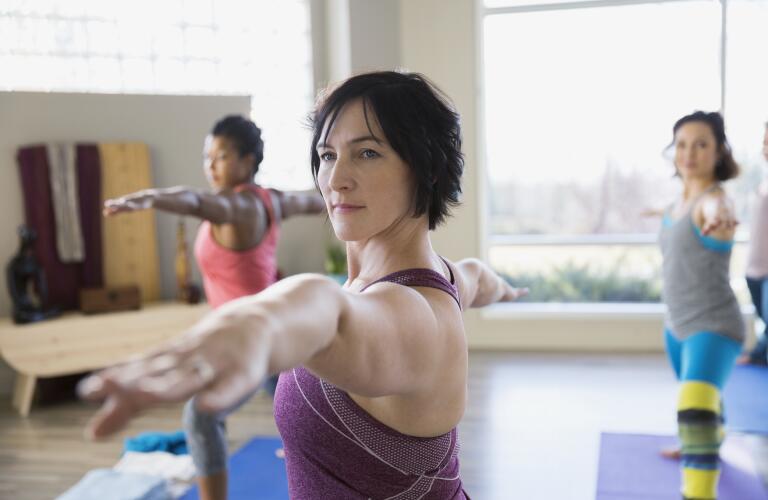 Advice that's commonly given to people with irritable bowel syndrome, or IBS, is to eat a healthy diet, usually one that's high in fiber and low in fat. In addition to boosting your consumption of whole grains and fresh fruits and veggies and drinking plenty of fluids, you might also want to head to the gym.
A study in the American Journal of Gastroenterology suggested exercise can relieve some GI symptoms in patients with IBS. As a functional gastrointestinal disorder, IBS is actually a group of symptoms, including abdominal cramping, that occur regularly—and it can vary. Some people have IBS with constipation, others have IBS with diarrhea, and others have a combination. But exercise may be able to help people with any of them.
Here are a few reasons to use exercise to feel better and maybe even relieve some of your symptoms:
Stress doesn't cause IBS to develop, but if you already have it, stress can trigger the onset of symptoms. Your colon may already be super sensitive to even small amounts of stress, which can cause spasms and discomfort. IBS symptoms can also cause stress in people who have to cope with them. Some people call this delicate relationship the "brain-gut" connection.
Fortunately, you can reduce the levels of your body's stress hormones—cortisol and adrenaline—by engaging in some good old-fashioned sweaty aerobic exercise. Beyond elevating your mood, vigorous exercise can also loosen up tight muscles and decrease those feelings of anxiety and tension by encouraging your body to produce endorphins.
Ready to say goodbye to those dark circles under your eyes? Many people with IBS experience sleep problems—in some cases, their abdominal pain keeps them from getting enough restful sleep. Some research also suggests people with IBS may experience some alterations in the function of their central nervous system that affect their sleeping patterns. In the American Journal of Gastroenterology study, the people who exercised reported that they slept better and had more energy.
Wondering where you put your car keys or if you took your medicine—again? Research shows that exercise is good for your brain as well as your body—it can improve your memory and your mood. In fact, the part of the brain that controls memory and thinking tends to be larger in people who exercise than in people who don't.
That uncomfortable feeling of being stopped up may have deterred you from walking, cycling, swimming or lifting weights. But a recent study in the United Kingdom found that study participants who exercised reported improved constipation symptoms. It might be worth a try, especially since exercise didn't have a negative impact on the participants.
While some experts call for more research to discover more about the specific effects that exercise may have on IBS symptoms, it's still worthwhile to make exercise part of your routine. Consider carving out 30-40 minutes for some moderate intensity exercise most days of the week—or even go for 15-20 minutes of more intense activity. Add in some balance exercise and strength-training, and you'll be healthier overall. You might also want to try yoga, which can help create a sense of relaxation and make you feel calmer, which also decreases stress.
Was this helpful?