Chronic Constipation in Black Women: 8 Tips to Find Relief
Was this helpful?
Chronic constipation can affect your quality of life in many ways. Black women may be more likely than others to have constipation, and it's important to seek help. By connecting with the right doctor, tracking your symptoms, and making lifestyle changes, you can take control of chronic constipation.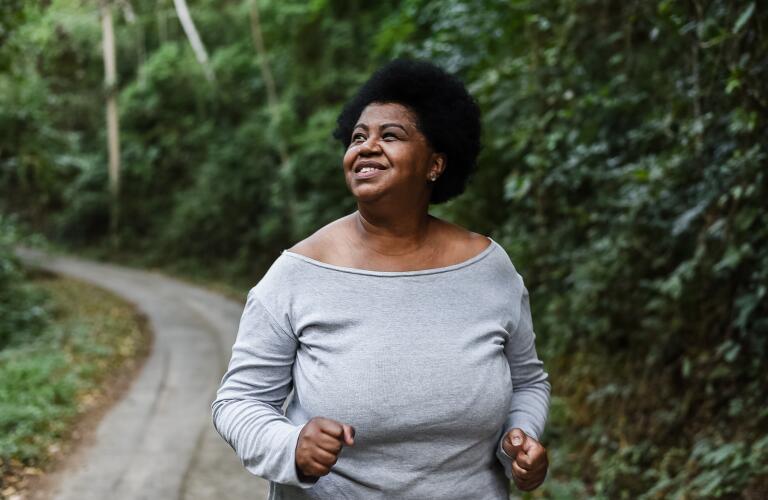 Constipation symptoms like hard or lumpy stools, gas, and painful or difficult bowel movements can significantly impact your day-to-day life. If you're experiencing these symptoms for a prolonged period of time, you may receive a diagnosis of chronic idiopathic constipation (CIC), which means your doctor isn't sure of the underlying cause. Or, you may receive a diagnosis of irritable bowel syndrome with constipation (IBS-C), which is similar to CIC, but symptoms can also include bloating, abdominal pain, and nausea.
A 1990 study suggests Black people, particularly Black women, have fewer bowel movements and more frequent episodes of constipation compared to white people. Although treatment and lifestyle changes can greatly improve constipation symptoms, research indicates that 3 out of 5 Americans with constipation don't discuss their symptoms with a healthcare professional. Women are more likely than men to have IBS-C but tend to seek treatment for chronic constipation less often.
However, chronic constipation isn't just a minor annoyance, and symptoms shouldn't be ignored or accepted. A 2017 study suggests CIC significantly lowers quality of life for middle-aged Black people. Constipation is also one of the primary symptoms of colorectal cancer, which affects African Americans at higher rates than people of other races, so it's important to consult with a doctor about possible causes. If you're experiencing any form of chronic constipation, there are steps you can take to manage your condition and feel better.
Keep a journal of symptoms. Keep track of the foods you eat, your exercise habits, and medications you take, as they may be key to the timing and success of bowel movements. Studies suggest that using a fitness tracker can help you better manage constipation.
Dietary changes, like an increase in fiber intake, may be required to treat your constipation. Good sources of fiber include beans, fresh fruit, and whole-grain products. Drinking plenty of water is also important in managing chronic constipation. Foods to avoid include fast food and processed food products.
You may want to consult a dietitian or nutritionist with experience helping people with constipation. They can create meal plans that fit within your schedule and budget.
Exercise is not only good for your health overall, it can help relieve symptoms of chronic constipation. Basic cardio exercises like running or swimming can improve symptoms. For lower impact, you can also try pelvic floor exercises and yoga.
Black people may face barriers to quality care due to a variety of factors, many of which stem from systemic racism and implicit bias. Finding a doctor you trust is crucial as you work together to manage your constipation. If you feel more comfortable with a doctor of color, use resources like Black in Gastro or Blackdoctor.org to find a Black gastroenterologist or a culturally competent healthcare professional, who can provide care to people with diverse backgrounds and can meet the cultural needs of those in their care.
Once you find the right doctor, let go of the stigma or potential for embarrassment when talking to your doctor about constipation. A healthcare professional can help you make the right decisions when it comes to treatment.
There are several different OTC medications you can try, including fiber supplements, such as methylcellulose (Citruce) or psyllium (Metamucil). Or you can try a stool softener like docusate (Colace). If lifestyle change and OTC medications are not improving your symptoms, talk to a doctor about prescription treatments.
Trying to force a bowel movement can cause further issues internally and can cause extreme discomfort or pain. Straining can cause hemorrhoids or tearing of the anal tissue.
If you're looking for additional help or prefer not to take medications, look into receiving cognitive behavioral therapy (CBT) to help manage stress and anxiety that can be associated with constipation. CBT is a form of talk therapy that can help restructure thought patterns and identify the feelings associated with those thoughts. Studies suggest incorporating CBT can help with lack of productivity and absenteeism as a result of IBS-C.
Remember that you're worth the effort and time it will take to receive treatment. Relief may not happen overnight, and it may require changes that can be difficult. However, it's important to remember that your health and quality of life matter. The key to living a full life is taking care of your health.
Was this helpful?