RSV Vaccine: Preventing Respiratory Syncytial Virus
Was this helpful?
RSV, or respiratory syncytial virus, is a common infection causing a mild, cold-like illness. However, it can be serious for infants and other groups. Researchers are close to developing an RSV vaccine. Here is what to know about RSV and vaccine development. Also, learn how you can prevent the spread of RSV and what passive preventive immunization means.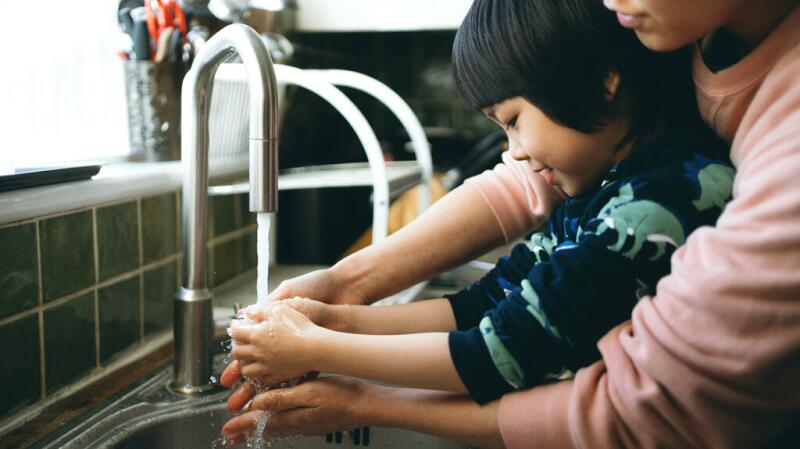 Currently, there is no vaccine available to prevent RSV. However, several promising candidates are on the near horizon. For adults, late phase 3 clinical trials are underway. In these trials, large numbers of people are tested as a final step to ensure safety and effectiveness before a vaccine can be approved.
Some of these vaccines may also be appropriate for protecting infants and children. These vaccines could be available by 2023. Researchers also are in the late stages of testing a vaccine that could be given to pregnant women to protect their infants.
These new vaccines are undergoing rigorous testing for safety and effectiveness. These are different from an initial attempt 50 years ago that had a tragic outcome.
The new vaccines take advantage of technology developed over the last half century. They include some mRNA vaccines, similar to one of the COVID-19 vaccines.
Nearly 58,000 children under age 5 are hospitalized in the United States with RSV each year. In addition, there may be as many as 500 deaths per year associated with RSV in this age group. RSV is the number one cause of bronchiolitis, which is inflammation of the small airways, and pneumonia in infants under one year old.
Among adults, those hospitalized with RSV is estimated at 177,000, with 14,000 deaths per year. Some experts believe the actual number of deaths in both groups is higher. This is in part due to a low rate of testing for the virus.
Those who could benefit from the protection of an RSV vaccine include:
infants younger than 6 months
people who have weakened immune systems
people who have chronic diseases
people 65 or older
Almost every child contracts RSV before they reach 2 years of age. Most cases are mild. However, an RSV vaccine could protect high risk children from severe or life threatening illness.
Even if you have had RSV, you do not develop immunity, and you can be reinfected.
RSV is highly contagious, and outbreaks often occur during colder months. Like many viruses, RSV can spread through droplets that are expelled into the air by coughing or sneezing.
The virus can also be transmitted by touching an unclean surface and then touching your face or eyes. This may be the most common form of transmission. The virus can survive for up to 6 hours on a hard surface and about 30 minutes on unclean hands.
Preventing the spread of RSV follows the same recommendations as other viruses:
Wash hands frequently and thoroughly.
Wipe down frequently touched surfaces such as doorknobs or electronic devices.
Keep from touching your face, where the virus often enters through the eyes or nose.
Stay away from individuals if you or they may be infected, whether or not they show symptoms.
Doctors can prescribe a medication called palivizumab (Synagis) to help prevent severe RSV in high risk children. Palivizumab is not a vaccine in the traditional sense of triggering your body to build immunity. However, it does lower the risk of serious lung infection. This kind of approach is called "passive preventive immunization."
The American Academy of Pediatrics issued a statement in August of 2022 saying that it "continues to support the use of palivizumab in eligible infants in any region experiencing rates of RSV activity […] similar to a typical fall-winter season."
A recent study reported that palivizumab was safe and effective in older adults as well. Researchers also are testing other medications to treat RSV.
Multiple vaccines for RSV are in the pipeline, in late stage clinical trials. The FDA may approve vaccines for children and older adults within the next year. In addition, a vaccine given during pregnancy to help prevent RSV in newborns is in late stage trials.
RSV, or syncytial respiratory virus, is a very common and very contagious infection that causes mild illness in most people. However, RSV can be dangerous to infants and people with chronic health conditions or weakened immune systems, or who are over the age of 65.
A variety of vaccines to prevent RSV are in late stages of development and testing. There is evidence that palivizumab, a passive immunization medication, may prevent severe RSV in infants.
A vaccine that could be given during pregnancy to prevent RSV in newborns is also being tested.
Vaccines for RSV can prevent serious infections in very young infants as well as certain adults. The vaccines may become available within the next 12 months.
Was this helpful?