Can COVID-19 Cause High Blood Pressure?
According to some recent research, COVID-19 may cause high blood pressure. Impacts of the pandemic in general may also lead to high blood pressure in some people. This article describes the link between COVID-19 and high blood pressure. This article also explains how COVID-19 can lead to the development of high blood pressure.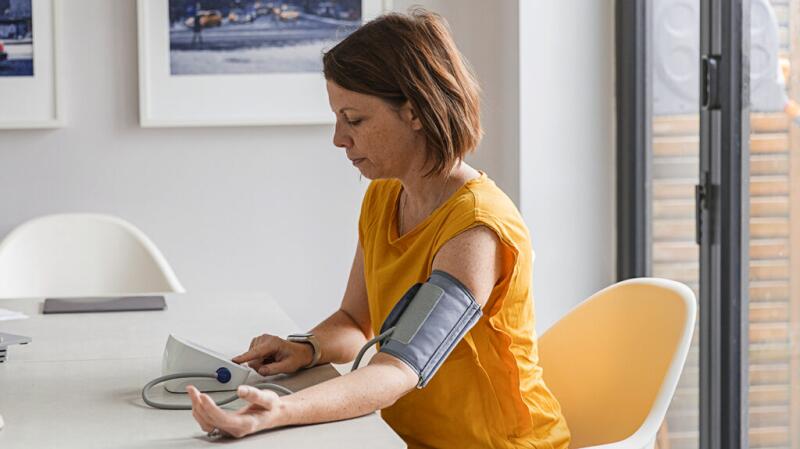 A 2022 study finds that COVID-19 increases systolic and diastolic blood pressure and may cause new-onset high blood pressure.
The researchers pointed out that the angiotensin converting enzyme (ACE) 2 increases the risk of developing a complication called hypertensive crisis.
Can long COVID cause high blood pressure?
Anonymous
There really is not a lot of reliable data we can use to answer this so we really do not know for sure. The best we can say right now is that stiffening of the arteries due to inflammation might lead to elevated blood pressure in the 30 days following a diagnosis of COVID-19, and persistently elevated blood pressure in "long COVID" might be due to interference with enzymes in the kidney.
Meredith Goodwin M.D., FAAFP Answers represent the opinions of our medical experts. All content is strictly informational and should not be considered medical advice.
The COVID pandemic has had a big impact on mental health, and stress is a known contributor to high blood pressure. The World Health Organization (WHO) reports a 25% increase in the global prevalence of anxiety and depression in the first year of the pandemic.
Some mental health impacts of the pandemic include an increase in:
feelings of loneliness and isolation, from staying indoors
the likelihood of developing post-traumatic stress disorder (PTSD)
the risk of developing mental illnesses, such as anxiety disorders and depression, due to prolonged distress
substance misuse disorders
the numbers of relapsed psychosis, due to disruptions in mental health services
If you feel depressed or anxious about the COVID-19 pandemic, seek help from your doctor or a mental health professional immediately.
Read about when to contact a doctor for anxiety and panic attacks.
If someone you know is at immediate risk of harming themselves or others, or at risk of suicide:
Ask the question, "Are you considering suicide?" even if it is tough.
Listen without judgment.
Call 911 or your local emergency number.
Stay with them until emergency services arrive.
Try to remove any weapons, medications, or other potentially harmful items.
If you or someone you know is having suicidal thoughts, contact the National Suicide Prevention Lifeline:
Call 988
Chat with the lifeline
This service is available 24-7.
The pandemic has caused people to undergo many lifestyle changes. Some of these can also cause high blood pressure. These changes include excessive weight gain and lack of physical exercise.
Weight gain due to the pandemic can be linked to the following:
The body's response to stress: When a person feels threatened or anxious, the body releases cortisol. This increases appetite and slows metabolism, leading to weight gain.
A lack of exercise: During quarantine, people may stay indoors for long periods. This slows down the body's metabolism, and the body begins to burn fewer calories. Exercise is linked to lower blood pressure.
During the pandemic, some people may have started or increased their use of nicotine and alcohol products, which can also raise blood pressure.
People with high blood pressure are more at risk of infections and other complications. Untreated high blood pressure increases the risk of complications.
Complications of high blood pressure include:
stroke
heart failure
kidney damage
aneurysm, a bulge in an artery
preterm labor in pregnancy
Learn more about the potential complications of high blood pressure.
There are several ways to bring your blood pressure down. However, the first step is to have your doctor check your blood pressure. If it is high, they will recommend lifestyle changes and medications to lower it.
Lifestyle management of high blood pressure includes a collection of habits, such as:
Eating a healthy diet: Ensure that you eat plenty of fruits and vegetables, whole grains, and lean proteins like chicken or fish.
Getting regular exercise: Your doctor may recommend 30 minutes of moderate exercise daily or 20 minutes of vigorous exercise three times per week.
Limiting salt intake: The American Heart Association recommends limiting salt intake to less than 2,300 mg per day. If you have high blood pressure, talk with your doctor about how much salt you should consume.
Quitting smoking: Smoking cigarettes can raise the risk for heart disease and stroke. Smoking causes narrowing of the arteries that carry oxygen-rich blood from the heart muscle to other parts of the body. This insufficient blood flow is known as ischemia.
Limiting alcohol consumption: Alcohol is a diuretic, which means it increases the amount of urine the body produces. This can lead to dehydration and increased blood pressure. In addition, excessive alcohol consumption can cause the kidneys to lose their ability to remove excess sodium from the body. Being hypertensive can cause serious health problems like kidney failure.
Learn more about ways to lower blood pressure.
Medication is also a common way of bringing blood pressure down. Your doctor may prescribe one of these types of blood pressure medications:
Learn more about blood pressure medications.
Some research has suggested that COVID-19 can cause high blood pressure, as well as other complications. People with high blood pressure can develop infections and other complications, such as kidney damage.
The mental health impacts of the pandemic can include anxiety and depression, increased suicidal behaviors, and increased feelings of loneliness and isolation, among others. Stress can also lead to higher blood pressure.
If you experience symptoms of high blood pressure, such as severe headaches, shortness of breath, and visual changes, seek medical treatment immediately. Untreated high blood pressure can result in complications such as heart failure and kidney damage.