How to Get the Most Out of a Virtual Doctor Visit for Hidradenitis Suppurativa
Was this helpful?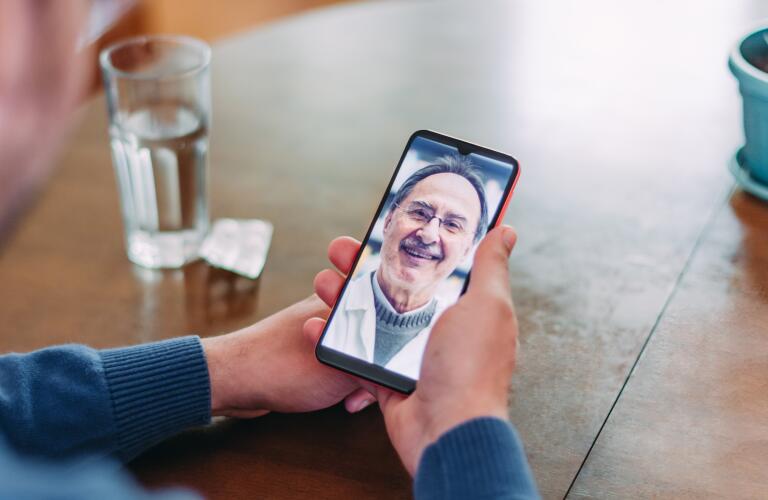 If you live with hidradenitis suppurativa (HS), you know how important regular contact with your doctor is to effectively managing the condition. Traditionally, you'd have to go into your doctor's office to discuss your symptoms, ask questions, or get prescription refills. But now, more doctors are turning to telehealth to provide the same top-quality medical services—just not in person. A telehealth appointment may be conducted over video chat, phone call, email, or even text message; however, most providers prefer video or phone calls so they can interact with you in real time.
Telehealth may be especially important if you have HS and currently take certain biological medications. These types of drugs are known to inhibit the immune system, making infections more likely. Telehealth helps fill the gap between needing to see your doctor and protecting yourself from infectious diseases.
If your doctor offers telehealth, you may be curious about this approach to treatment. Fortunately, it's easy to understand the benefits of telehealth and prepare for your virtual doctor visit.
If you live with hidradenitis suppurativa, you may wonder if you'll receive the same quality of care from your doctor over telehealth as you would during an in-office appointment. Fear not—research shows that telehealth may actually improve communication with your care team and provide you with better and more convenient access to care. During a virtual appointment, you still see your own licensed doctor that you've already established a provider-patient relationship with. You still get the same level of care you're used to, and your doctor can recommend seeing you in person if necessary.
Telehealth appointments also cut down on your travel to and from your doctor's office. There's no need to sit in a waiting room with other patients, which can be especially important if you take medications that suppress your immune system. And you may even save money—a telehealth appointment may be less expensive compared to a traditional consultation with your doctor. Plus, more insurance companies and governmental programs like Medicare pay for some or all of the services provided via telehealth.
If you've decided to try telehealth for HS, you can take several steps to prepare so that you get the most out of your appointment:
Fill out your forms. Your doctor may request that you fill out certain forms you'd usually complete in the waiting room of their Filling these out and returning them before your appointment helps ensure your doctor has the most up-to-date information about your condition and concerns.
Send in any pictures. An online dermatologist may request that you take pictures of any areas of skin affected by HS. These pictures are used to track your response to treatment and determine whether more intensive treatment is needed. Be sure your doctor has any information documenting your condition so they can review it before your consultation.
Check your equipment. If you're using a smartphone, tablet, or computer and an internet connection, it's best to make sure all your equipment is in working order before your appointment. Also, be sure the room has good lighting in case the doctor needs to perform a visual inspection of any lesions.
Get set up. Even though you're staying home for your appointment, try setting up in an area that ensures privacy and quiet. This may mean briefly isolating yourself in a home office or spare room, especially if you have family members who are also present in your home. It's important to conduct the session in a setting that allows you to focus completely on your doctor without interruption or distraction.
Write it down. Since virtual doctor visits are very similar to in-person appointments, it can be helpful to keep a pen and paper handy to write down your doctor's suggestions and advice. Taking your own notes can help you remember the information and gives you something to refer back to if you have questions.
Using telehealth for hidradenitis suppurativa makes it possible to continue your treatment routine in the comfort and privacy of your own home. You can make the most out of telehealth by taking steps to prepare for your consultation. If you have questions about your doctor's telehealth services, contact their office to learn more about this option for treatment.
Was this helpful?