What to Expect With a Telehealth Appointment for Hepatitis C
Was this helpful?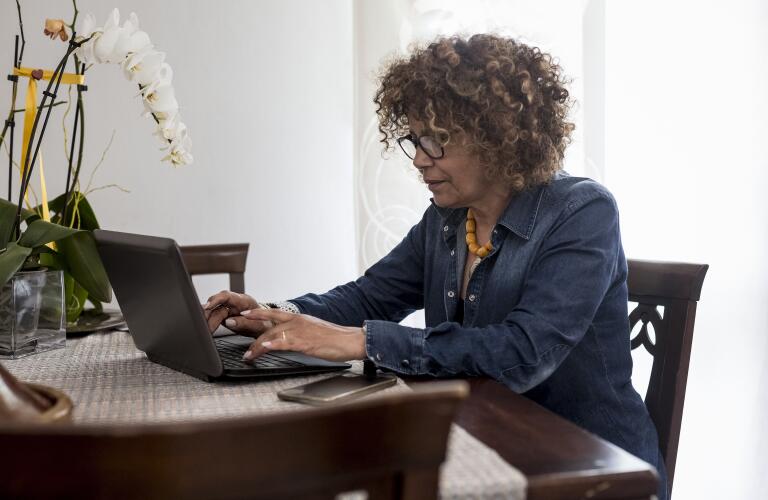 Hepatitis C is a virus carried by more than 3 million people in the United States. It's the most common bloodborne pathogen in our country, meaning it's spread through contact with the blood of an infected person. Hepatitis C causes inflammation in your liver and has the potential to result in significant liver damage. Fortunately, in recent years, new and effective treatments have been developed, often curing hep C completely.
If you've been diagnosed with hepatitis C, you'll probably be under the care of a specialist, such as a hepatologist or gastroenterologist, to monitor your condition and manage your treatment plan. But if it's not easy to make it into a specialist's office, telehealth (also called telemedicine) may be an option to explore. Rather than travel to see your doctor, you may meet with your liver doctor online from the comfort of your own home.

It's normal to have questions if you are new to telehealth, and you may wonder what a virtual doctor's visit will be like. The good news? Telehealth appointments are generally easy to navigate and can feel remarkably similar to an in-person visit.

You'll schedule a telehealth appointment with your doctor for a particular date and time, just like you would a normal appointment. Videoconferencing is usually preferred, allowing you and your doctor to see and speak with one another in real time, so you'll need a smartphone, tablet, or computer with a camera and microphone. Your doctor's office should let you know if you'll need to download a specific app or program to access your video visit.

Prior to your appointment, you may need to register or fill out waivers or patient information forms online. Make sure to write down any questions you have for your doctor in advance so you don't forget, and have a pen and paper handy to take notes during your call.

Virtual doctor's visits can be very helpful for managing chronic diseases like hepatitis C. During your appointment, you and your online liver doctor can discuss:
Changes in your health or symptoms: Hepatitis C may not cause any symptoms for several years, until signs of liver damage develop. Let your doctor know if you experience signs of liver disease, such as bleeding or bruising easily, yellowish skin or eyes, dark urine, or swelling in your abdomen or legs. Your doctor can gain insight by performing a visual assessment as well.
Your treatment plan: One or more antiviral medications are commonly used to treat hepatitis C. Most are well tolerated, but your doctor will monitor you for side effects and your response to treatment. Your doctor can fill prescriptions and send them to your pharmacy.
Results of recent blood work or testing: If you've had blood drawn, a liver biopsy, or imaging tests to examine the extent of liver scarring or liver damage, your doctor can share the findings with you.
How to maximize your liver health and safety: Lifestyle changes, such as avoiding alcohol and certain medications, can be reviewed. Your doctor can talk to you about ways to keep others safe since it's possible to pass hepatitis C through your blood.
Any questions you may have: This is the time to bring up any of your concerns. Jot them down before your appointment, so you don't forget.
What to do next: Telehealth has its limitations, so if you need a physical examination, further testing, surgery, or need to be seen urgently, your doctor will let you know.
Telehealth is more than just virtual visits. There are a number of ways telehealth can be incorporated in the management of hep C. From something complex, such as using devices to monitor your condition between appointments, to something simple, like sending text messages to remind you to take your medication as directed, the goal of telehealth is to improve outcomes—and so far, it looks promising. It's reasonable to anticipate you'll encounter it with increasing frequency, both for hepatitis C and other health conditions.
Was this helpful?