Know The Signs: What Liver Disease Looks Like in Hepatitis C
Was this helpful?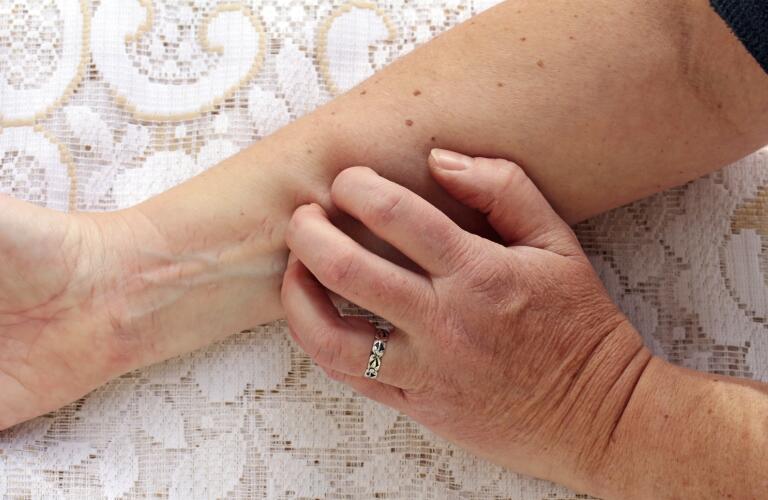 As many as 80% of people with hepatitis C have no symptoms of liver disease until it has started to progress—a process that can take decades.
While getting tested for hepatitis C if you are at risk is the best way to stay ahead of the disease, knowing the early and late-stage warning signs of liver damage also makes sense.
Your liver is tasked with a lot of important jobs from cleaning your blood to turning all that you eat and drink into energy and nutrients that your body can use. When it becomes infected with hepatitis C, the symptoms will affect all systems and organs related to the liver's many functions.
Some people will develop symptoms within two weeks to six months after being infected by the hepatitis C virus. This is called an "acute" infection.
Exposure can take place through contact with infected blood or needles. This can happen on the job or recreationally.
In general, early signs of hepatitis C are flu-like, mild and fairly nonspecific, meaning that they can be caused by a laundry list of other illnesses and infections. They include:
sore muscles
nausea
itchy skin
yellow discoloration of the skin and whites of the eyes (jaundice)
For most people, acute hepatitis C infection will lead to chronic or long-term infection.
If you notice any of these symptoms and think you may have been exposed to hepatitis C, contact your doctor. A blood test can help determine if these symptoms are, in fact, a result of hepatitis C.
It can take as long as 15 years for symptoms of hepatitis C liver disease to emerge. The damage to your liver starts off as a slow, simmering inflammation that, over time, can progress to scarring (cirrhosis), liver failure, liver cancer, and the need for a liver transplant. Hepatitis C is the leading cause of cirrhosis and liver cancer and the most common reason for liver transplantation in the United States.
Symptoms of end-stage liver disease are far less innocuous than the early signs of an acute infection. They may include:
easy bleeding or bruising
persistent or recurring jaundice
intense itching
Swelling in your abdomen and legs due to fluid buildup, liver cancer, and problems with concentration and memory may also occur.
If you develop cirrhosis, your liver can fail. Other signs of cirrhosis are bleeding of the digestive tract caused by enlarged veins in the esophagus connecting the throat and stomach. Another consequence of cirrhosis is brain and nervous system damage due to the buildup of toxins in your blood, which occurs when the failing liver can no longer clean and detoxify your blood.
If you develop any of these symptoms, contact your doctor. If your blood test is positive for hepatitis C infection, he or she may need to perform liver biopsies to evaluate how much the hepatitis C virus has affected your liver. The degree to which your liver is affected by hepatitis C is an important driver in treatment decisions.
The good news is that today hepatitis C is curable. Knowing what to look for can help you and your doctor diagnose it early, and potentially stave off some of the end-stage symptoms.
Was this helpful?