How Telehealth Can Help People With Hepatitis C
Was this helpful?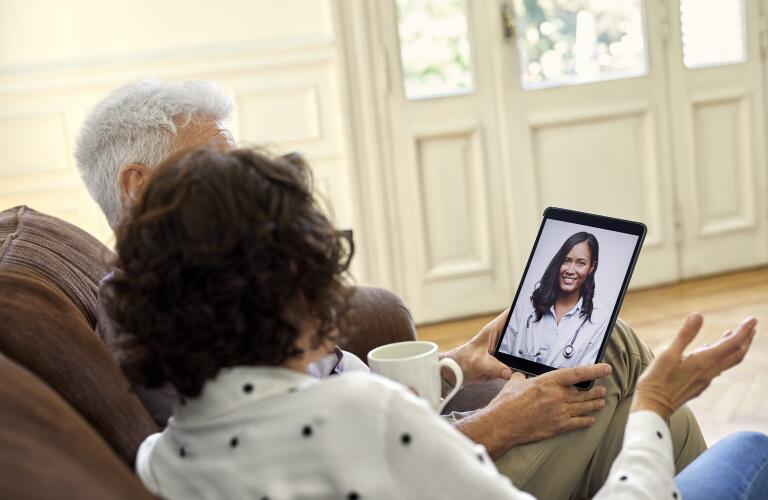 Hepatitis C is a chronic liver disease caused by an infection with the hepatitis C virus. It's treatable, and often curable, but it requires regular doctor's appointments and adherence to your treatment plan. For some people, this may not be easy.
Enter, telehealth. Telehealth, also called telemedicine, refers to the delivery of healthcare remotely through the use of technology and telecommunications. Though it's been pushed to the forefront due to the COVID-19 pandemic, it's been around for some time. In fact, studies have shown telehealth can be very beneficial when it comes to managing chronic diseases like hep C. Here's what you need to know.

Many people with hepatitis C are under the care of a specialist, like a hepatologist or a gastroenterologist. But depending on where you live, access to a specialist may be limited. Other factors, like difficulty with transportation or getting time off work, can also make it hard to get the care you need.

Fortunately, telehealth allows you to meet with an online liver doctor from the comfort of your own home. Using a mobile device or computer, you can speak to, and often see, your doctor in real time. Just like an in-person appointment, a telemedicine visit provides you the opportunity to discuss your symptoms, review your treatment plan, and address any concerns.

Through these virtual doctor's visits. some obstacles to care can be eliminated, enabling specialists to reach a larger group of people. Using telehealth for hep C has also been associated with high patient satisfaction and outcomes that are comparable to in-person visits.

If your hep C doctor recommends you try a telehealth appointment, take some time before your call to get ready. Write down any questions you have about your hepatitis C management, along with any symptoms you've been experiencing. Gather your existing medications to refer to if your doctor asks about them, and make sure you download any videoconferencing apps you need before your appointment time. Find a quiet, private space in your home where you won't be distracted, and ensure your computer, smartphone, or tablet is charged so your call can go off without a hitch. Your doctor won't be able to give you a physical exam, of course, but in many ways, your telehealth appointment for hep C will be similar to an in-person appointment.

Since the bulk of your time will be spent between doctor's appointments, the responsibility falls on you to stick with your treatment plan—and telehealth can help. Possible uses include:
Getting text reminders to take your medication on time
Using your phone to track your daily activity and provide incentives for meeting your goals
Utilizing phone support from a nurse or another health care provider to encourage healthy lifestyle changes, like avoiding alcohol or improving your nutrition
Accessing educational materials online to increase your knowledge of the disease
Telehealth is still a growing area of medicine. As technology continues to advance, there will likely be more application of telehealth to hepatitis C disease management. If you're interested in learning more about incorporating telehealth into your care, talk to your doctor.
Was this helpful?