Are You at Risk for Hepatitis C?
Was this helpful?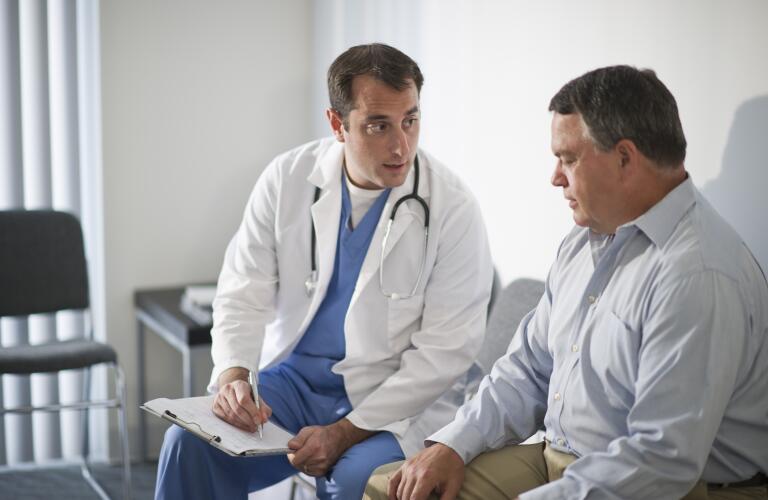 Hepatitis C, or HCV, is a virus that causes inflammation of the liver. It's primarily transmitted through contact with infected blood or blood products. Less commonly, it can be transmitted through other avenues, including sexual contact.
Hepatitis C infection starts with an acute phase that is often asymptomatic—symptoms may appear several months after exposure to the virus. Some people spontaneously clear the virus from their bodies after their acute infection, while others recover with the help of antiviral medications. But most others go on to develop a chronic infection. The Centers for Disease Control and Prevention (CDC) reports an infection becomes chronic in 75-85% of cases of hep C.
Because a chronic infection can cause serious long-term damage to the liver, including scarring of the liver and even liver failure, it's important to know if you fall into any of the populations that are at elevated risk for hep C infection.
If you were born between 1945 and 1965, the CDC recommends you get tested. Why? Because Baby Boomers have one of the highest rates of HCV infection in the U.S. In fact, more than 75% of adults with HCV in the U.S. are Baby Boomers.
According to the CDC, the transmission rate of HCV was highest between the 1960s and 1980s—the time when many Baby Boomers were young adults and perhaps engaging in potentially risky behaviors such as drug use and unprotected sex, as well as the time before widespread blood screening began.
Hepatitis C is spread through contact with infected blood. If you have ever injected drugs and shared drug paraphernalia with someone who was infected, it's possible you were exposed. Even if you only injected one time many years ago, you still need to be tested.
People with hemophilia don't have enough of a certain substance that allows their blood to clot normally, increasing their risk for major bleeding episodes. As a result, they need clotting factor replacement therapy to prevent them from bleeding or even treat bleeding after it starts. People who received therapy prior to 1987 are at increased risk for HCV infection because better, safer methods of developing clotting factor concentrates had not yet been developed.
Similarly, more advanced methods of testing of blood donors were implemented in 1992, and the blood supply was more carefully screened from that point onward. That means that people who received blood transfusions or solid organ transplants prior to 1992 are also at increased risk.
Anyone with HIV who doesn't know their HCV status should get tested. That's because HIV and HCV are often transmitted the same way—through blood exposure or sexual contact—and it's not uncommon for a person to be "coinfected." In fact, about one-quarter of people with HIV in the U.S. also have hepatitis C. HIV infection triples the risk of developing serious liver disease from HCV.
Others at elevated risk for contracting hep C include:
People receiving dialysis treatment for a long period of time. These people may have been exposed to infection in the healthcare setting when they were receiving dialysis.

Children born to mothers with HCV. The CDC recommends that babies born to HCV-infected mothers be tested after 18 months of age so the test won't inadvertently pick up on any remaining maternal antibodies.

Healthcare workers with known exposure to hep C. Needlestick injuries are a primary method of transmission of the virus in a healthcare setting.

People who have had sex with someone who's infected with hep C. Hep C is usually transmitted through blood-to-blood contact, but sexual transmission is also a possibility.

It's a good idea to know if you're at increased risk for hep C because it might impact your overall liver function, future treatment options and your overall health. Long-term hep C can cause cirrhosis, which is scarring of the liver. It can even cause damage serious enough to possibly warrant a liver transplant. So when in doubt, err on the side of getting tested.

Was this helpful?