Ventricular Fibrillation
(VFib)
Was this helpful?
Ventricular fibrillation (VFib) is a heart arrhythmia. It affects the ventricles — the lower chambers of the heart. VFib leads to sudden collapse and cardiac arrest. Death can occur within minutes. People may or may not have warning signs that a cardiac episode is about to happen. Treatment requires immediate cardiopulmonary resuscitation (CPR) and defibrillation.
This article reviews VFib, including the symptoms, causes, and treatments. It also discusses the differences between VFib, atrial fibrillation (AFib), and heart attack.
VFib is a ventricular arrhythmia. It affects the lower chambers of the heart. These chambers receive blood from the atria — the upper chambers. They are then responsible for pumping blood out of the heart to the lungs and body.
In a normal heart rhythm, electrical signals spread from the upper chambers to the lower ones. This keeps the beating of the upper and lower chambers in sync.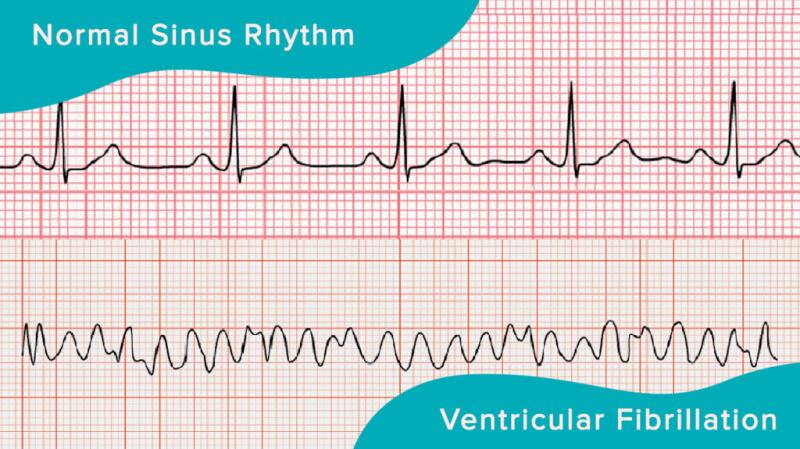 VFib is the most serious of the heart rhythm disorders. It occurs when abnormal electrical signals cause the ventricles to quiver instead of beating as usual. Normally, a resting heart rate is 60–100 beats per minute (bpm). In VFib, the ventricular rate is at least 300 times per minute or more.
This fast quivering is called fibrillation. It prevents the ventricles from being able to contract and pump blood. Circulation effectively stops, leading to cardiac arrest.
VFib is a medical emergency. It can lead to sudden cardiac death within minutes.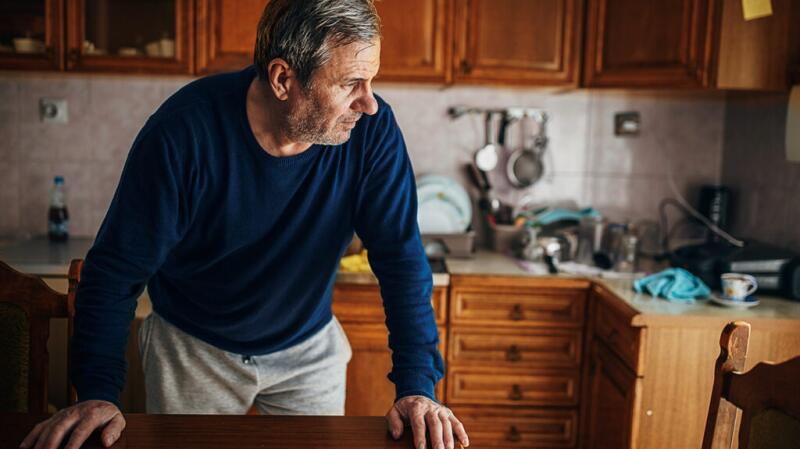 The most common symptom of VFib is sudden collapse and cardiac arrest. Signs of cardiac arrest include:
gasping or not breathing at all
experiencing a loss of responsiveness or consciousness
having no pulse
Some people have warning signs before VFib starts. People with known heart disease may have worsening symptoms. Others may have symptoms like a heart attack. Possible warning signs include:
difficulty breathing
increased swelling in the lower extremities
shortness of breath
VFib occurs when electrical activity in the ventricles is erratic and lacks coordination. This causes the heart muscle in the ventricles to quiver instead of beating. The quivering does not have enough force or organization to be useful. Blood circulation stops as a result.
Most people who develop VFib have an underlying heart problem. These underlying heart problems may include:
cardiomyopathy, which is heart muscle disease
congenital heart problems, such as Brugada syndrome and long QT syndrome
disorders of the aorta
heart attack
hyperkalemia, which is higher than normal potassium levels in the blood
electrolyte problems even with a structurally normal heart
Several factors can increase the risk of developing VFib, including:
acidosis, which is increased acidity in the blood and body
alcohol use and other drug toxicities
electrolyte imbalances
family history of sudden cardiac death
history of other ventricular arrhythmias
hypoxemia, which is low oxygen concentration in the blood
lack of blood flow to the heart muscle
Researchers are also studying whether there is a genetic predisposition to VFib. They have identified the role of certain genes in VFib.
Doctors diagnose VFib using signs of cardiac arrest and an echocardiogram (ECG). On a normal ECG, the heartbeat has five waves: P, Q, R, S, and T. Each wave is distinct and occurs at regular intervals. A normal heart rate at rest ranges from 60–100 bpm.
There are three main findings that indicate VFib:
fibrillation waves, which are very fast, irregular, and chaotic lines on the ECG
heart rate as high as 500 bpm
unidentifiable P, Q, R, S, or T waves
People who survive VFib need a thorough diagnostic workup. This will include additional blood tests and cardiac tests.
VFib requires CPR, including defibrillation. If you are with someone who is having cardiac arrest:
call 911
check if the person is not breathing
start CPR immediately
use an automated external defibrillator (AED) if available
continue CPR until the person starts to breathe, or until emergency services arrive and take over
AEDs are devices that automatically analyze heart rhythms and deliver shocks to restore a normal rhythm.
Early CPR and defibrillation offer the best chance of survival. Ideally, defibrillation should take place within several minutes. CPR can keep blood flowing to vital organs. Defibrillation can restore a normal heart rhythm.
For those who survive VFib, doctors often recommend an implantable cardioverter defibrillator and antiarrhythmic drugs.
VFib is responsible for 70% of cardiac arrest cases. It has a high mortality rate, especially when it occurs outside of the hospital. Up to 40% of people survive VFib outside of the hospital when circumstances are ideal. However, survival goes down by 5–10% for each minute of delay to defibrillation. Resuscitations generally do not succeed after 10 minutes. Having AEDs widely available to the public can save lives.
In people who survive VFib, complications include:
arrhythmias
burns and other injuries from CPR and defibrillation
brain injury due to lack of oxygen
heart muscle damage
long-term disability
Here are some questions people commonly ask about VFib.
What is the difference between atrial fibrillation and ventricular fibrillation?
AFib is the most common heart arrhythmia. It affects the upper chambers and usually causes symptoms such as dizziness or shortness of breath. Unlike VFib, AFib itself is usually not deadly. However, it can lead to blood clots, stroke, and other life threatening complications.
Is ventricular fibrillation a heart attack?
VFib is not the same as a heart attack. A heart attack occurs when the heart muscle does not get enough blood flow. This lack of blood flow can trigger VFib. Up to 12% of people having a heart attack develop VFib.
Can you survive ventricular fibrillation?
It is possible to survive VFib with early high quality CPR and defibrillation. However, the survival rate is only about 40% under ideal circumstances. The likelihood of survival goes down for each minute these life-saving treatments are delayed.
What triggers ventricular fibrillation?
VFib is the result of abnormal electrical activity in the heart. Several things can trigger it, including other heart problems, lack of blood flow to the heart muscle, electrolyte problems, and toxins.
VFib is a potentially deadly heart rhythm disorder. It occurs when abnormal electrical signals affect the lower heart chambers. The ventricles quiver instead of beating normally. This stops blood from flowing.
VFib can be fatal within minutes. Treatment requires immediate CPR and defibrillation. The longer it takes to begin these treatments, the less likely survival becomes.
Was this helpful?