6 Reasons to See a Cardiologist
Was this helpful?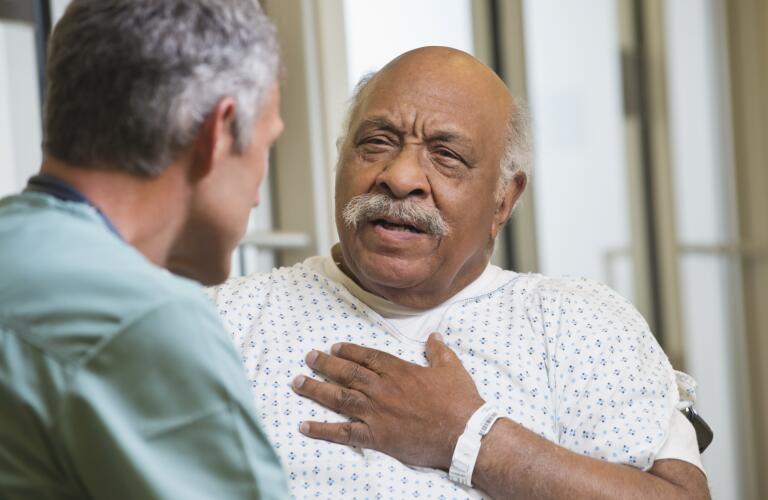 With cardiovascular disease responsible for one in three deaths in the United States, prioritizing your heart health is vitally important. Whether you have a family history of heart problems or a condition that has you thinking about your cardiovascular health, you may be wondering when it's appropriate to seek out a heart specialist. While your insurance may require you to get a referral from your primary doctor first, the following symptoms and conditions are good reasons to see a cardiologist.
Cardiologists are different than primary doctors, as they have specialized training that makes them experts when it comes to treating heart- and blood vessel-related issues. A cardiologist's job is to diagnose and treat conditions specifically related to your heart and blood vessels, which include heart attacks, heart palpitations, irregular heartbeat, fatigue, high blood pressure, and valve problems. They have specific expertise in diagnosing these conditions and coming up with a treatment plan individually fitted to your needs. Some cardiologists also have specialized training in particular areas of cardiology, like heart disease and pregnancy-related heart problems.
While your primary doctor is always a smart place to start, particularly if your insurance requires a referral before you see a specialist, the following are six reasons to see a cardiologist. If you're experiencing any of these, bring them up to your doctor immediately, as he or she will be able to help you determine appropriate next steps.
Concerning symptoms: These include chest pain and discomfort, fainting, fatigue, dizziness, difficulty swallowing, feelings of intense indigestion or heaviness in your chest, and shortness of breath, all of which can be signs of a cardiac event. A cardiologist can use specialized technology to figure out whether you're experiencing heart attack symptoms, and then use that information to create a treatment plan for you.

Family history of heart disease, heart attacks, or strokes: Having cardiovascular issues in your family means you have a higher risk of experiencing them, too. A cardiologist can evaluate your risk level given your family history and provide you a specialized care plan.

Related conditions: Certain conditions are associated with a higher risk of developing cardiovascular problems. Gum disease, for example, may be associated with a higher risk of heart disease, and there is also a strong correlation between diabetes and heart disease. Other conditions that make you more likely to experience heart problems include kidney disease and a history of smoking. Ask your doctor whether your condition warrants an evaluation by a cardiologist if you're unsure.

Taking up exercise: Becoming more physically active is a healthy choice, but—if you're over 40 and starting a new routine—check with your doctor first. Your provider will let you know if you need the support of a cardiologist to create a safe, heart-healthy exercise plan.

High blood pressure or cholesterol: Elevated lipid levels and hypertension are top causes of cardiovascular disease. While your primary doctor can help you keep these conditions under control with medication, a cardiologist can look a bit deeper, specifically at whether these conditions look like they're leading toward cardiovascular disease.

Preeclampsia during pregnancy: This condition, a pregnancy complication characterized by high blood pressure, can significantly increase your risk of developing hypertension and cardiovascular disease—perhaps even as much as smoking does. Since pregnancy is one of the two times that women are most likely to develop heart disease in their lives (the other is after menopause), a cardiologist can help keep your heart health under control during this high-risk time.
As cardiovascular disease continues to take the lives of so many Americans, the time is always right to be proactive when it comes to your heart. Heart conditions are chronic, meaning they don't go away, but need to be monitored throughout your whole life. Working with a cardiologist ensures you have an expert on your side leading the way.
Was this helpful?