Types of Heart Attack Symptoms: Neck Pain
Was this helpful?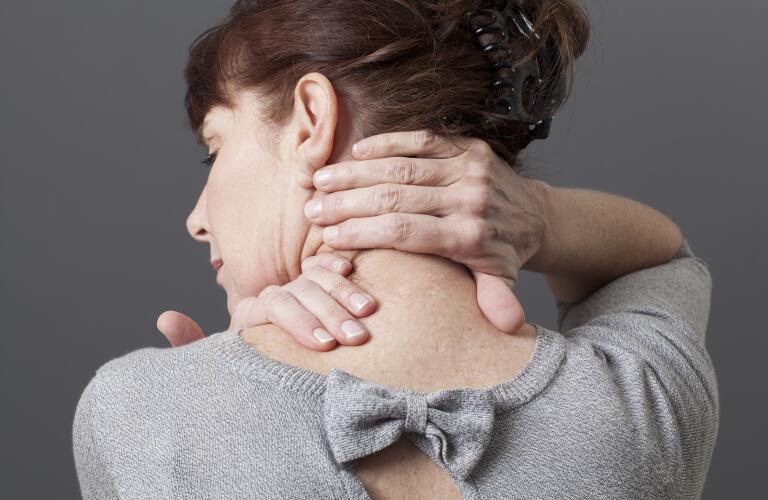 Most people have neck pain at some point in their life. It's usually due to neck muscle strain. But neck pain is also a common symptom of a heart attack. Protect your heart by recognizing when your neck pain is more than a temporary strain and might be due to a problem with your heart.
A heart attack (myocardial infarction) is most often due to a blood clot that blocks blood flow into the heart muscle. Most commonly, this causes a pressure, cramping or squeezing pain in your chest, but the pain can also spread to your neck. Your pain may also extend to your jaw, shoulder, back or arm because you may sense pain more easily in these areas. During a heart attack, your diaphragm (the sheet of muscle below your lungs and heart) and nearby accessory nerve can become irritated causing pain to refer elsewhere including your neck and shoulders. You can also feel pain, aching or discomfort in the neck and upper body without chest pain. Heart attack neck pain is more likely in women than in men.
Pain in your neck can be caused by a variety of problems, from arthritis to fatigue. Here is a partial list of potential diseases, disorders and conditions:
Arthritis of the neck, including osteoarthritis (wear and tear of the neck bones and joints) and rheumatoid arthritis (inflammation of the joints in the neck due to an abnormal immune response)

Fibromyalgia, a chronic pain disorder that causes muscle pain and tender areas in the front of your neck and other areas of the body

Meningitis, an infection of the lining of the brain and spinal cord

Neck muscle stress or strain caused by such activities as sleeping in an awkward position, spending long periods driving, or sitting at a computer

Ruptured cervical disc between the bones of your neck. A ruptured disc protrudes from its normal position, pressing on nerves and causing pain.

Spinal stenosis, a narrowing of the spinal canal. Stenosis also leads to nerve pain.
Contact your doctor if you have ongoing mild to moderate neck pain or stiffness. Call 911 if your neck pain is severe or sudden, or occurs after any type of trauma, such as a car accident or fall.
During a heart attack, people are known to have feelings of fear, panic, uneasiness, or a sense that something terrible is going to happen. Call 911 if have neck pain with these feelings or any of these other symptoms:
Any type of chest pain, pressure, tightness or discomfort

Pain expands from your neck to your shoulders, arms, back, teeth or jaw

Dizziness or passing out

Breaking out in a cold sweat or having very pale skin

Tiredness or weakness
You may be concerned about calling 911, especially if you are not sure that your neck pain is serious. But it is better to call 911 for a minor neck problem than ignore a possible heart attack. Every minute counts in a heart attack. As a precaution, on site and hospital emergency personnel will treat you as if you are having a heart attack until all your tests are complete.
Was this helpful?