PATIENT VOICES

Surviving the 'Widowmaker' Heart Attack

Was this helpful?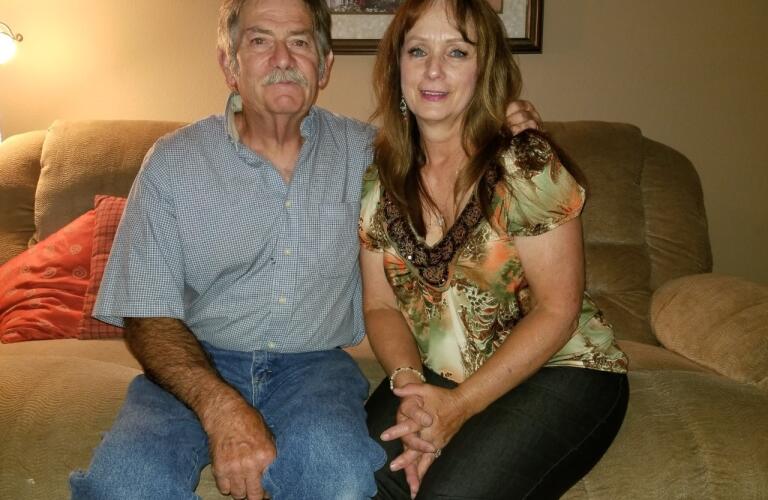 When I got the call, I was home with my right leg in a cast from toe surgery the previous week. My husband, Rick, was working 20 minutes away on one of his gardening accounts, and he called to tell me he didn't feel well. I always worried about his heart and something in my gut told me he was in serious trouble. But he refused to go to the ER, insistent on coming home instead. When he stumbled through the front door, his face was gray and extremely hot. Within minutes he had passed out on the couch, leaving me and my instincts in charge.
With my cast on a scooter, I raced over to unlock the front door, called 911, and wheeled back to the couch to give Rick chest compressions. His body was as hard as a tree. But I pumped his chest and screamed "Wake up!" for six minutes until the ambulance arrived.
The paramedics took over from there, adamant about taking him to Santa Teresa Community Hospital where the providers specialize in cardiac care. In transit, they had to shock Rick's heart at least seven times. At the hospital, the doctors soon realized the main artery supplying oxygen to his heart was blocked. They call this type of heart attack the "Widowmaker" because so few patients survive it. But we were among the lucky ones. Once doctors inserted a stent into his artery, Rick started to improve quickly.
After six days of recovery in the hospital, the worst of it was over. But a new journey toward full recovery was just beginning. Our two sons, Rick Jr. and Brian, put their personal and professional lives on hold. Thanks in large part to their help, our close-knit family managed to regain stability. And coming out of this, I felt empowered to support my husband's heart health based on more than my gut instinct.
The hospital referred Rick to South Bay Cardiovascular Center. I'd had my own appointments with the cardiologist there before, and I found her to be well-informed and effective. After also hearing friends from around town recommend her, choosing her for Rick's care was a no-brainer.
Rick has continued to see her every six months for the past two years, and I make sure to go to all the appointments too. Since I have more of a handle on medicine and health than he does, I've had to step in and act as his advocate. Rick relies on me heavily, which is scary because I have to be confident I'm making the right decisions. I need to do my homework. When a new medication comes up, I research it online to better understand it. Then I'll explain what I learn to Rick or print out papers for him to read.
Thankfully, our cardiologist is receptive and supportive in helping me manage his health. She knows I'll come in with my notes, and so we can jump right to my questions: Is it OK for Rick to be working hard outside in the heat? If his coloring isn't good, what does that mean? Her answers are always thorough. Between her expertise and my online research, I'm confident we're doing what's best for Rick's health.
Rick thought he was doing everything needed to guarantee a long life. He didn't drink or smoke. He didn't have any previous medical issues, and neither did his family. At first, he didn't understand why this happened to him.
But he was living in denial. Before his heart attack, he never saw the doctor. To him, there was no need. He wasn't overweight, and his gardening work kept him highly active. His family raised him to believe if you work hard, you can eat whatever you want. So he'd stop at the donut shop five days a week. He'd snack on beef jerky. After dinner, if he felt like having a bear claw with extra butter or a hot-fudge sundae, in his mind he'd earned it.
For at least 20 years, my sons and I have hounded him to clean up his diet. But it took having a heart attack for him to start listening. He tries to eat better now and has cut his workload in half to relieve stress.
From what I've read, having one heart attack increases your chances of a second. I've emphasized this to Rick, as well as the fact that medication alone can't guarantee full health. Lifestyle changes like healthy eating are just as crucial.
Rick beat all the odds in 2015. He went from zero—gone, heart stopped—to miraculously making a full recovery. But staying on top of his heart health going forward requires diligence. If he maintains healthy habits and continues to receive quality medical care, we can lower the likelihood of a second heart attack. My sons and I are with him in this; we'll do everything we can to keep his heart on a healthy track.
Was this helpful?