10 Keto-Friendly Fruits
Was this helpful?
The ketogenic diet is a low carb, high fat diet that shifts the body's metabolism from burning carbs to burning fat. Low carb fruits can help you stay on track and still get your daily recommended amounts of fiber and vitamins. The ketogenic diet normally allows up to 50 grams (g) or less of carbs daily. This makes fitting fruit into the diet a challenge that requires allotting your carbs responsibly.
This article explains what fruits are keto-friendly while still providing plenty of nutrients.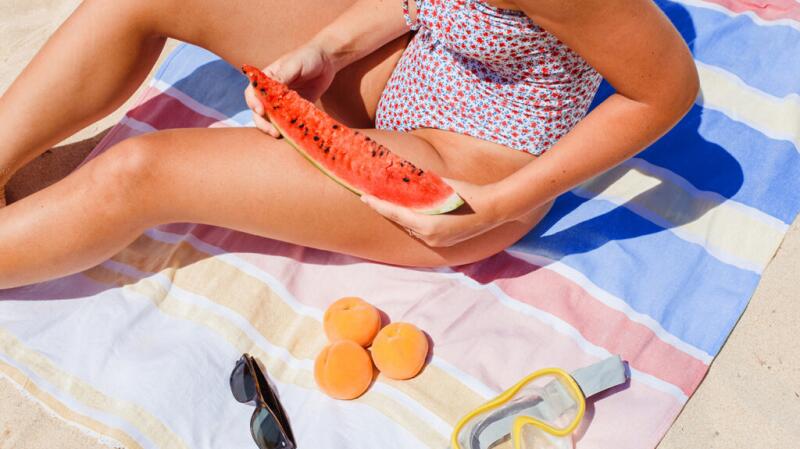 The ketogenic diet is a high fat, low carb diet. People following this diet can eat moderate amounts of protein. This diet mimics fasting by severely limiting the intake of carbohydrates, which are one of the body's main energy sources.
The ketogenic diet was originally designed to control epilepsy in children. It has since gained popularity among people who want to improve their health and lose weight.
The goal of the diet is encouraging your body to enter ketosis, a metabolic state in which your body burns more fat and less glucose for energy. By cutting your carb intake, you're encouraging your body to rely on its fat reserves for fuel.
Read more about the ketogenic diet.
Keto-friendly fruits are low in net carbs but contain plenty of fiber and nutrients.
A 100-g serving of watermelon contains 7.55 g of carbohydrates. While this still takes up quite a bit of your daily allotted carbs, it's nutrient-rich.
Watermelon is a good source of vitamins and minerals, including:
vitamin C
potassium
magnesium
lycopene, which is a powerful antioxidant
Watermelon is not as high in fiber as other fruits and vegetables, so make sure you still get enough in your diet if you use your carbs this way.
Read more about the benefits of watermelon.
Squeezing a touch of lemon juice into your water is a keto-friendly way to add the antioxidant vitamin C into your diet.
Plus, flavoring your water this way may encourage you to stay hydrated. One lemon wedge contains 0.407 g of carbohydrates and 2.28 milligrams (mg) of vitamin C.
Avocados are a good source of fat and fiber, which are important components of a balanced keto diet. Half of an avocado contains:
8.5 g of carbohydrates
6.75 g of fiber
2 g of protein
14.7 g of fat
Read more about the health benefits of avocado.
Strawberries are a filling-fruit option that you can have in moderation on the keto diet. They contain 7.96 grams of carbohydrates in one 100-g serving.
Strawberries are a good source of vitamin C, as well as manganese and folate. You can pair strawberries with unsweetened Greek yogurt or cottage cheese for a keto-approved snack.
With just 12.9 g of carbohydrates in 100 g, raspberries are another type of keto-friendly fruit. Raspberries are nutrient-dense, with 23 mg of vitamin C in the same serving size.
Blackberries contain even fewer carbs than raspberries, with just 9.61 g in a 100-g serving. These berries are also a good source of fiber and vitamin C.
You can use this flavor-packed fruit in keto-friendly recipes. Or, you can combine small portions of strawberries, raspberries, and blackberries together for a snack that will not make you fall out of ketosis.
Plums have just 11.4 g of carbohydrates in 100 g. With no prepping or packaging necessary, this fruit makes for a convenient on-the-go snack.
Plums are a good source of antioxidants and have anti-inflammatory properties.
Kiwis are another easy fruit to portion out on the keto diet. A 100-g serving contains 14 g of carbohydrates. This tropical fruit with a tangy taste is a responsible use of your daily allotted carbohydrates.
It can satisfy a sweet craving and help you load up on vitamins C, E, and K.
Sweet but easy on the carbs, peaches are a popular component of keto-friendly dessert recipes. They also pair well with savory snacks like cheese and prosciutto. A 100-g serving of peaches contains:
10.1 g carbohydrates
1.5 g of fiber
122 mg of potassium
Small servings of cantaloupe are keto-approved. A 100-g serving of cantaloupe contains around 8.69 g of carbohydrates. Like peaches, you can pair cantaloupe with savory keto-friendly foods for a well-rounded snack.
Cantaloupes contain mostly water, making them a hydrating fruit as well.
Research suggests the keto diet may have the following benefits:
Read more about food, nutrition, and diet.
The keto diet remains controversial since there are long-term and short-term risks.
Some people may experience flu-like symptoms, such as an upset stomach and fatigue, on a low calorie keto diet. If you do not consume enough fruits or vegetables, you may also experience constipation.
Long-term risks include vitamin and mineral deficiencies and health conditions, such as liver disease and kidney stones.
The Academy of Nutrition and Dietetics does not recommend the ketogenic diet if you have the following conditions:
pancreatic disease
liver conditions
thyroid conditions
gallbladder disease or a past gallbladder removal
To follow a well-rounded keto diet, it's important that you save your daily allotted carbs for fruits packed with health benefits. Keto-friendly fruits have fewer net carbs per serving than others.
Some examples of low carb fruits include watermelon, strawberries, plums, and blackberries. Other fruits are not necessarily off limits on the diet, but consuming them in moderation is necessary.
Was this helpful?