What to Expect With Eye Injections for Wet Age-Related Macular Degeneration
Was this helpful?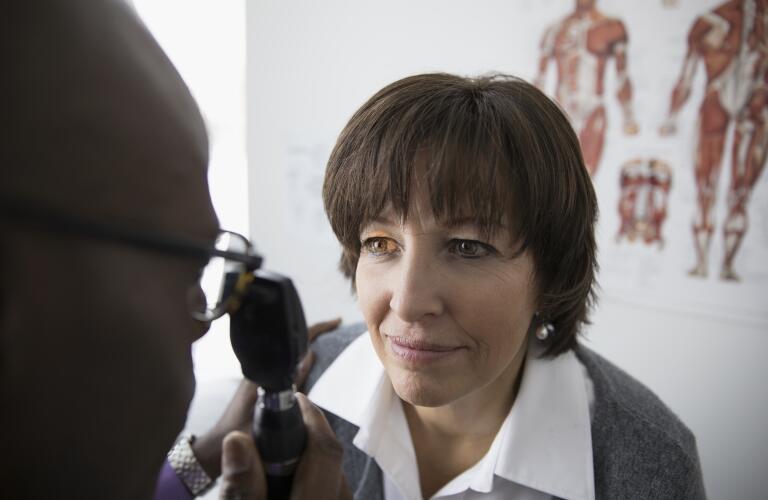 Wet age-related macular degeneration (AMD) is a chronic eye condition affecting people over 50 years old. Although there's currently no cure, major advances have been made in treating it over the last several years. According to the National Eye Institute, as recently as 10 years ago, two-thirds of people who developed wet AMD would be legally blind two years later. But the discovery of a new type of eye injection is improving the outlook for many of those diagnosed with this disease. If you have wet AMD, here are some important things for you to know.
Let's start with a quick review of the anatomy of your eye. Your retina is a layer of tissue on the back of your eye. It's made of cells that transmit signals from your eye to your optic nerve, so your brain can "translate" them into the images you see. In the center of your retina is a small, very sensitive area known as your macula. Your macula helps you see things in detail and is responsible for your most precise central vision. It allows you to do things like read, recognize faces, and drive.
As you get older, the cells of your macula can start to degenerate. There are two types of degeneration: "dry" and "wet" macular degeneration. Dry AMD accounts for most cases, but it can progress into wet AMD, which is more severe. With dry AMD, small deposits called drusen form beneath the macula, causing it to slowly break down. With wet AMD, abnormal blood vessels start to grow underneath and into your macula. These blood vessels can leak fluid and blood into your macula, causing it to swell and distort your vision. Things may look blurry or wavy. You may even notice dark or blind spots in the middle of your visual field as fluid or blood collects under the macula. Vision loss from wet age-related macular degeneration can occur rapidly.
Researchers now know a certain protein made by the eye, called vascular endothelial growth factor (VEGF), helps stimulate the growth of abnormal new blood vessels underneath your macula. New injectable medications block the action of VEGF, which is why they're called anti-VEGF therapies. Anti-VEGF injections reduce the development of new blood vessels and slow down the progression of wet age-related macular degeneration. In some cases, these injections even restore some sight to those with vision loss. Anti-VEGF injections have also been useful in the treatment of similar eye conditions that result in fluid in the macula, including diabetic macular edema.
There are currently three anti-VEGF injections commonly used:
Bevacizumab (Avastin)

Aflibercept (Eylea)

Ranibizumab (Lucentis)
Each drug works by a slightly different mechanism, and response can vary from person to person. Your eye doctor can help you determine which treatment might be right for you.
If you're like most people, your first thought may have been, "Do eye injections hurt?" While it's an understandable question, the shot is usually not considered painful. Prior to receiving the injection, your eye will be anesthetized so you don't feel anything. Your doctor will clean the eye with a special solution both before and after the injection to reduce the risk of infection. Once your eye is numb, a small, thin needle is used to inject the medication painlessly into the the outer white portion of your eye. The procedure only takes a few minutes.
Most people tolerate the injections very well. Shortly afterwards, mild discomfort or dryness is normal, but be careful not to rub your eyes. You may also see a few black spots or floaters in your vision post-injection, but these will go away within a few days. For some people, anti-VEGF injections can cause dry eyes, which can be relieved with lubricating eye drops. If you should develop any serious pain or changes to your vision, be sure to notify your doctor right away.
The injections are given about once a month initially, and maintenance injections are needed to continue their effectiveness. Your eye doctor will monitor your progress to develop your appropriate schedule.
While anti-VEGF injections have dramatically changed the outlook for those diagnosed with wet AMD, remember that the earlier you start treatment, the better. Yearly dilated eye exams are the best way to diagnose macular degeneration at its earliest stages, so add an annual exam to your calendar once you reach the age of 50.
Was this helpful?