Supplements to Slow Progression of Wet Age-Related Macular Degeneration
Was this helpful?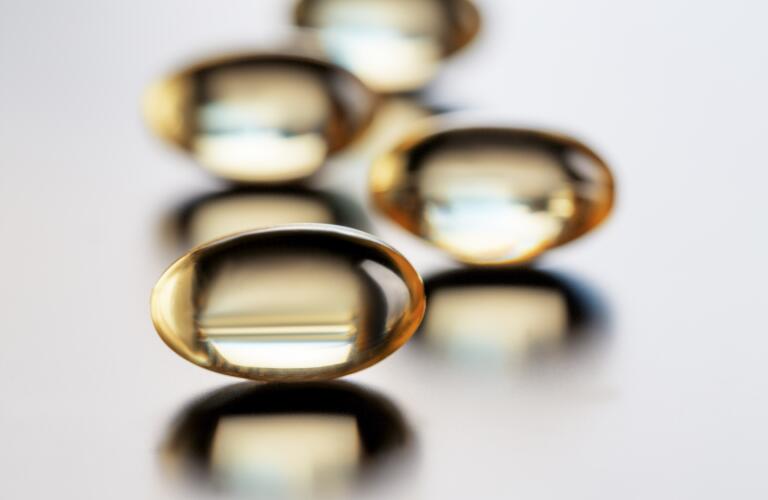 When people enter their 40s, their eyes often begin to change in a way that makes it harder to focus on items at close range. Normal age-related vision changes usually involve the purchase of a pair of reading glasses or, for people who already wear glasses for distance-viewing, a pair of bifocals.
But as you continue to age, you might also begin to develop a degenerative eye condition known as age-related macular degeneration. Age-related macular degeneration (AMD) affects about 1.8 million people over the age of 40 in the United States. If not addressed, it can progress and eventually cause vision loss. Could vitamins help? Maybe. Experts suggest adopting a very specific nutritional supplement routine might indeed help you stave off vision loss as a result of AMD.
There are two types of age-related macular degeneration: dry AMD and wet AMD. With dry AMD, metabolic waste products from the retina, small yellow deposits called drusen, begin to collect under the retina. Your retina is the sensory tissue at the back of your eye that takes in light and sends images to your brain. When drusen collect under the retina, they indicate damage to the cells beneath the macula, an area in the central part of your retina that helps you see clearly straight ahead. In the early stages of dry AMD, you might not notice any vision problems. But it can progress.
People with intermediate AMD are at risk for developing an advanced state of dry AMD, which can cause central vision loss. They're also at risk for developing wet AMD, in which vision loss can come on quite suddenly. Wet AMD occurs when small blood vessels begin to grow into the retina. These tiny blood vessels are extremely fragile, so they often rupture and leak blood. Combined with scarring of the retina, these leaks can also cause vision loss. Dry AMD often turns into wet AMD, so it's important to do all you can to slow disease progression.
Research indicates that taking certain nutritional supplements on a daily basis, along with eating a healthy diet and not smoking, can slow the progress of the intermediate form of the disease and potentially prevent vision loss. The recommended supplements are a combination of high doses of antioxidants and zinc.
Not everyone needs to take these nutritional supplements. If you don't have macular degeneration at all, or if you only have very early signs of this condition, the vitamins won't necessarily make any special impact. Those who will benefit most from taking the supplements are people at high risk for developing advanced age-related macular degeneration. They typically already meet one of these two conditions:
Intermediate AMD in one or both eyes

Advanced AMD in only one eye
But it's not enough just to take some vitamins or even just take normal doses of the right supplements. Doctors stress the importance of taking the right combination of nutritional supplements in the correct amounts. The best supplements for macular degeneration contain the following ingredients, per recommendations based on the results of two major clinical studies:
500 mg of vitamin C

400 IUs of vitamin E

10 mg of lutein

2 mg of zeaxanthin

80 mg of zinc oxide

2 mg of copper (also called cupric oxide)
In these clinical studies, sponsored by the National Eye Institute, people with intermediate or advanced AMD who took the above supplement combinations reduced their risk of AMD progression by 10 to 25%. The supplements are not a cure, and you do have to be careful. Some companies sell products that contain all the recommended vitamins for macular degeneration, but not in the recommended amounts–and it's not always easy to tell at first glance. Be vigilant when you're reading the labels on bottles of eye vitamins in the drugstore to make sure you're getting the right ones.
Another word of caution: early recommendations called for a combination of antioxidants and beta carotene. A few years later, experts began recommending replacing the beta carotene with lutein and zeaxanthin, which are also carotenoids. The reason: beta carotene in high amounts was determined to increase the risk of lung cancer for smokers or people who had recently quit smoking.
There are some other strategies that can help you in the fight to slow the progression of age-related macular degeneration. First, stop smoking. Second, start eating a healthy diet with lots of green, leafy vegetables. A healthy diet alone can't provide the high levels of antioxidants and zinc that you need to slow the progression of AMD, so you do still need to take the supplements to get the best results. But why not embrace all three strategies? Eating a healthy diet and not smoking will benefit your health in other ways, too. Lastly, there are several treatment options available to improve age-related macular degeneration, from laser therapies to new injectable medications. Talk to your eye doctor about the right path for you.
As with any type of dietary supplement, it's a good idea to run this by your doctor before you start taking these eye vitamins for macular degeneration. Discuss your overall health and make sure you're a good candidate for this particular treatment first. Let your doctor know if you smoke or have any other significant health conditions that might be a factor.
Was this helpful?