A Guide to Macular Edema
Was this helpful?
Macular edema occurs when fluid builds up in the macula, an area near the center of your eye's retina. This buildup can cause the central retina to thicken, resulting in a loss of vision. Many conditions can cause macular edema, including diabetic retinopathy, eye surgery, or age-related macular degeneration. In addition to vision loss, people with macular edema may notice that their ability to see colors is limited. The condition can affect one or both eyes and can lead to permanent vision loss without treatment.
Read on to learn more about the causes, diagnostic process, and treatments for macular edema.
Macular edema develops when damaged blood vessels leak fluid into the macula. Many conditions can lead to macular edema.
Diabetic retinopathy is a common cause of macular edema. People with diabetes may experience damaged retinal blood vessels resulting from chronic high blood sugar levels. When fluid leaks out of the damaged blood vessels, it can accumulate in the macula.
Macular edema that develops due to diabetic retinopathy is called diabetic macular edema (DME). In people with diabetic retinopathy, DME is the most common cause of vision loss.
Undergoing eye surgery may lead to macular edema. Experts estimate that 1–3% of people who have surgery to remove cataracts develop macular edema in the following weeks.
Retinal vein occlusion (RVO)
RVO occurs when the veins in the retina become blocked. This causes blood and other fluids to leak into different parts of the eye, including the macula.
Age-related macular degeneration (AMD)
The aging process can cause the macula to deteriorate, resulting in AMD. In this condition, blood vessels can grow into the retina from the area below the retina. In a subtype of AMD called "wet" macular degeneration, the blood vessels can leak and cause macular edema.
Retinitis pigmentosa (RP)
RP is a term for a group of eye diseases affecting the retina. When the cells in the retina break down, they can affect the blood-retina barrier and cause macular edema. Researchers estimate that 10–50% of people with RP may experience macular edema.
Other conditions can affect the eyes and cause macular edema, including:
Eales' disease
retinal necrosis, which results from a virus like herpes simplex
other retinopathies, including hypertensive retinopathy and radiation retinopathy
uveitis, a group of inflammatory disorders that can cause swelling and damage in the eye
People with macular edema may experience blurry or wavy vision around the center of their vision. This symptom may be mild or severe. If the edema occurs only in one eye, the loss of vision may not be noticeable until the condition is advanced.
In addition, some people may notice that colors appear faded. In some cases, macular edema may cause metamorphopsia, a condition where straight lines appear curved. According to the American Academy of Ophthalmology, the condition does not cause pain.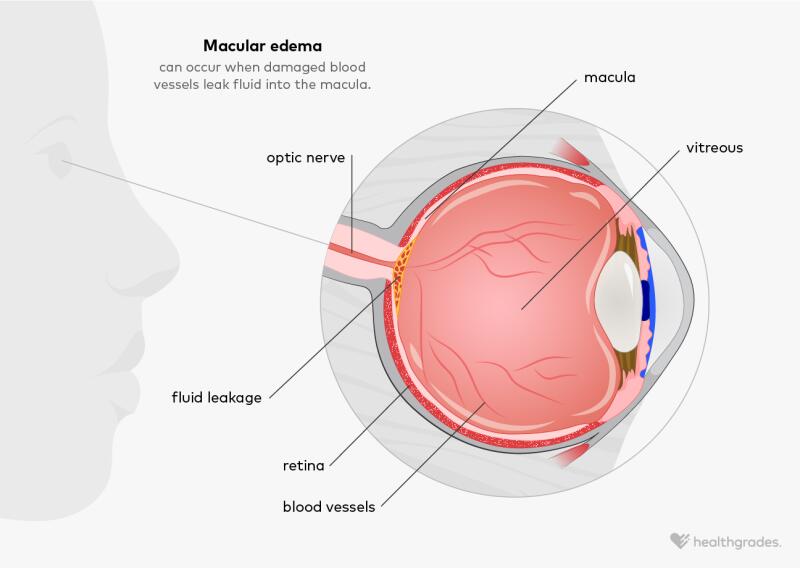 Doctors may ask you about your symptoms and medical history to diagnose macular edema. They also perform a visual examination with a slit-lamp and a visual acuity test.
An optical coherence tomography test can help doctors take cross-section images of your retina with reflected light. It is a noninvasive test and is currently the preferred method for diagnosing macular edema.
Doctors may also perform fundus fluorescein angiography, which uses fluorescent dye and a special camera to look at the blood vessels and other structures at the back of your eye.
Doctors will generally look for certain factors to aid in their diagnosis, including:
the extent of the fluid accumulation
where the fluid is accumulating
evidence that the blood-retina barrier is compromised
retinal thickness
In some cases, doctors may note that the fluid accumulates in cyst-like patterns, resulting in cystoid macular edema.
There are several methods doctors can use to treat macular edema.
To treat macular edema, doctors may give you injections of medication into the vitreous cavity, the space at the back of the eye. These medications can inhibit the activity of vascular endothelial growth factor (VEGF), which can become overactive and cause fragile blood vessels to grow.
These blood vessels are more likely to leak fluid into the eye. Anti-VEGF injections can keep damaged blood vessels from forming and slow the progression of macular edema.
Anti-inflammatory treatments
Your doctors may also recommend steroid treatments to reduce inflammation. These treatments may be pills, eye drops, or injections. You may need eye drops containing nonsteroidal anti-inflammatory drugs if steroid treatments are ineffective.
Laser treatments may be an option for some people with macular edema. These treatments focus on reducing the leaks in damaged blood vessels.
Some people may need vitrectomy, a surgery that removes fluid from the vitreous cavity to relieve pressure on the macula. Vitrectomy can prevent or restore vision loss.
People with macular edema may also need to treat underlying conditions, such as diabetic retinopathy or retinal vein occlusion. Talk with your doctor about proper treatment plans.
While the outlook for people with macular edema can depend on the underlying cause, newer intravitreal injections may improve outcomes. It is essential to contact your doctor if you are experiencing any vision loss to start treatment and prevent complications.
The main complication of macular edema is progressive vision loss. Depending on the underlying cause and how quickly doctors can treat it, vision loss may be permanent.
Some of the treatments for macular edema can also cause complications. Intravitreal injections, laser treatments, and surgery may lead to injuries or inflammation in the eye.
Here are a few other commonly asked questions about macular edema. Dr. Grace Zhang has reviewed the answers.
Is macular edema serious?
Macular edema can be a serious condition. Without treatment, it can cause permanent vision loss.
How do you know if you have macular edema?
Macular edema can cause blurred or hazy vision and may interfere with your ability to see colors. Your doctor can confirm a macular edema diagnosis by examining your eye and looking for signs of fluid accumulation or retinal thickening.
Macular edema is an eye condition that occurs when fluid leaks into the macula from damaged blood vessels. Symptoms include blurry or wavy vision, difficulty seeing colors, or metamorphopsia.
Doctors can treat macular edema with injectable medications, laser therapies, topical anti-inflammatory drugs, or surgery.
Contact your doctor immediately if you are experiencing vision loss or distortions.
Was this helpful?