How to Get the Most Out of a Virtual Doctor Visit for Wet AMD
Was this helpful?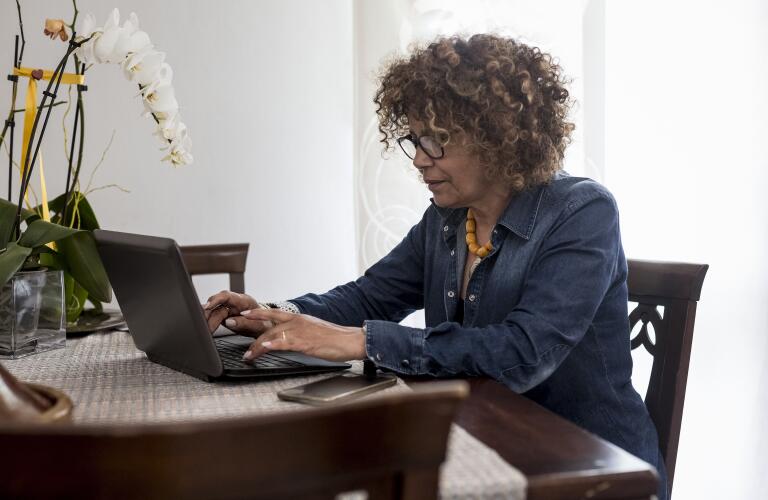 Age-related macular degeneration is the leading cause of permanent vision loss in people age 50 and older. Wet age-related macular degeneration (wet AMD) is the more advanced form of the disease, when vision loss develops. Regular eye check-ups and prompt treatment can slow the disease and protect your sight.
Telemedicine, or telehealth, can provide you access to your eye doctor from the comfort of your home, using a video or phone call. It isn't widely used for diagnosing or treating wet AMD, but it can be a more convenient way for your eye doctor to monitor your symptoms between office visits, and determine when you need to come in for follow-ups. During telehealth visits, you can meet with your doctor from the comfort and convenience of your home.
You'll get the most out of your telehealth visit if you do some planning in advance.
In the early, or dry, form of AMD, you might not have had any symptoms. But in wet macular degeneration, as abnormal blood vessels in your eyes leak, they can cause increasingly blurry vision. Write down any blurriness or other symptoms you've had, so you can tell your doctor about them during your telemedicine visit.
Telemedicine visits are often done through videoconferencing services on your phone or computer. Find out which of these technologies your doctor will use, and whether you will need to download an app before your visit.
If you're new to these programs, do a test call ahead of time to make sure your audio and video are set up properly and are ready to go. That way you won't waste time during your appointment. You can ask your doctor's office staff to walk you through the process.
Make sure your Internet connection is strong enough to avoid cutting out during your visit. Spend some time checking your connection and learning how to use the telemedicine software. Also make sure your phone or computer is either fully charged or plugged in.
Medicare and many private insurance companies will cover the cost of telehealth visits. Still, you may be responsible for a deductible and coinsurance. Call your insurance company before your appointment and ask how much you'll have to pay, so you won't have any unexpected bills after your visit.
Your eye doctor's office can also explain your coverage options for telemedicine. Remember to have your insurance card handy during your telehealth appointment.
Find a place in your home where you won't be disturbed. Make sure the area has good lighting, so your doctor can see you clearly. They may want to examine or photograph your eyes.
Have your eyeglass or contact lens prescription near your computer or phone to share with your doctor. Also have a list of prescription and over-the-counter medicines you take, both to treat your vision and other health conditions.
A wet AMD telehealth visit will be very similar to in-office visit. Since you'll have a limited amount of time with your doctor, have a list of questions ready to ask. Put the most important questions at the top of the list, in case you don't have time to get through your whole list during the visit.
Here are some questions to get you started:
How much has my wet macular degeneration progressed?
Is the treatment I'm on helping?
If not, should I change to a different treatment?
What other treatments do you recommend?
How can I monitor my symptoms between visits?
When should I see you in person?
What else can I do to preserve my sight?
A virtual eye doctor visit doesn't replace in-office appointments for managing wet age-related macular degeneration. But between visits, it's a way for your eye doctor to check in with you and catch potential problems early enough to treat. Being well-prepared for each virtual visit will ensure you get the most out of the time you have to spend with your doctor.
Was this helpful?