How Telehealth Can Help People with Diabetic Macular Edema
Was this helpful?
Staying on top of your vision with virtual doctor visits could help you manage diabetic macular edema.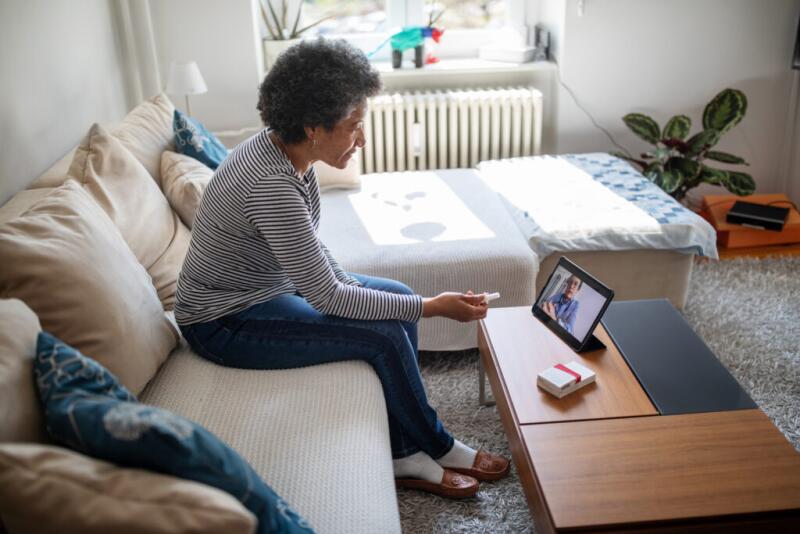 Uncontrolled high blood sugar from diabetes damages blood vessels all over the body. Diabetic macular edema is a complication of diabetes that's caused by damage to blood vessels in the eye. If you don't treat this condition early, it can cause vision loss, or even blindness.
Good blood sugar control and vision screenings are crucial to protecting your sight if you have diabetes. Telehealth, also called telemedicine, lets you visit your eye doctor and diabetes specialist from home or another convenient location using a computer, smartphone, or other technologies. It can make it easier to stay on top of your blood sugar control and vision care.
Diabetic macular edema is a complication of longstanding poorly controlled diabetes. Chronic high blood sugar levels can cause changes that narrow and eventually weaken the smallest blood vessels in your retina — the light-sensitive layer of tissue in the back of your eye. The name for this condition is diabetic retinopathy.
Over time, fluid that leaks from those blood vessels can get into the macula — the part of your eye that gives you sharp central vision. Fluid makes the macula swell up. It can swell so much that vision becomes blurred and distorted, which is diabetic macular edema.
About 1 in 10 people with diabetes will develop diabetic macular edema. The longer you've lived with diabetes, the higher your risk becomes.
Here are a few ways that telehealth can help you manage diabetic eye disease.
Diabetic retinopathy and diabetic macular edema develop because of consistently high blood sugar levels. Almost half of people with type 2 diabetes don't keep their blood sugar levels under good control.
Telehealth allows your diabetes doctor or nurse to check in with you more often through virtual visits, text messages, and phone calls. They can keep tabs on your blood sugar, and, if it's high, offer advice on how to bring your levels into a healthy range. Maintaining low blood sugar levels can not only prevent diabetic eye disease, but can also lessen the symptoms. If caught early, you may be able to reverse your diabetic macular edema by lowering your blood sugar levels. Checking in with your healthcare team regularly can help.
Your doctor can also get real-time updates on your blood sugar, blood pressure, and other health measurements through a diabetes mobile app or your blood glucose monitor.
Research indicates that telehealth improves blood sugar control and leads to better treatment results in people with diabetes. In one study, people who took part in a telemedicine program had improved A1C levels compared to those who didn't use telemedicine.
Diet, exercise, regular blood sugar monitoring, and medication are all important for managing blood sugar. Telehealth gives your doctor a window into your day-to-day life. They can see what you've been doing, and let you know whether any adjustments to your daily routine could help you gain more control over your blood sugar.
Diabetic retinopathy often doesn't cause any symptoms until it progresses to the macular edema stage. By then, you may have already lost vision.
Regular eye exams can catch retinopathy before damage happens. Even though treating diabetic retinopathy early can reduce the risk of severe vision loss by 94%, nearly 40% of people with diabetes don't get regular eye screenings.
The American Diabetes Association recommends getting a dilated eye exam when you're first diagnosed with diabetes. If you have signs of diabetic retinopathy, you'll need eye exams at least once a year, if not more often. During these exams, your eye doctor may examine your eye with a microscope and bright light (slit-lamp exam) and take a photo of your retina.
Normally you would visit your eye doctor's office for these exams. However, if you live in a rural area where you don't have access to an ophthalmologist, your primary care doctor may be able to do the eye exam through telehealth so that you don't have to travel.
Your local doctor can take a special digital photo of your retina and send it to an ophthalmologist or retina specialist in another part of the state or country. That specialist can then determine whether you're at risk for diabetic macular edema and need to see a specialist in person, or if your eyes are healthy. If you have received a diagnosis of diabetic macular edema, getting these virtual eye exams on a regular basis can show your doctor how your condition is progressing and help inform their treatment decisions.
Some eye doctors are starting to offer telehealth visits, although there is a limit to what they can do virtually. Your ophthalmologist can check your vision by having you read an eye chart and ask about your symptoms, but they will need to see you in person to fully examine your retina and to provide certain treatments.
Telehealth is a convenient way for you to see your diabetes specialist and eye doctor more often, so you can catch problems early and monitor how your diabetic macular edema is progressing. Remote visits offer the convenience and cost-savings of not having to travel.
Keep in mind that telehealth should be an add-on, not a substitute for your regular diabetes and vision care. Many parts of diabetes and vision exams have to be done in person. For example, you'll need to see an eye doctor for regular dilated eye exams, and visit your diabetes doctor for blood sugar tests.
Was this helpful?