6 Tips for Hispanic People Living with Wet AMD
Was this helpful?
Compared with the general public, Hispanic people in the United States experience more obstacles when seeking treatment for wet AMD. Learning all they can about the condition and finding a culturally competent doctor can make a difference in their lifestyle and well-being.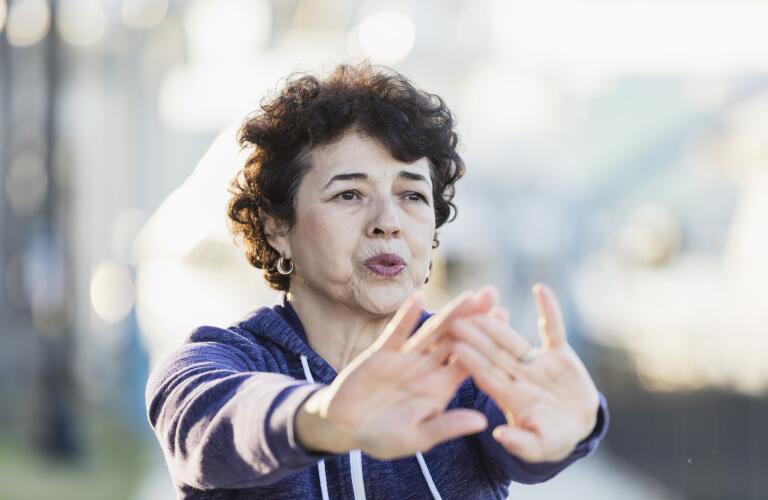 Age-related macular degeneration (AMD) is one of the leading causes of vision loss worldwide, and it develops in one of two forms: wet or dry. Wet AMD is less common but more aggressive. A 2016 study suggests wet AMD in the Hispanic community is associated with lower vision-specific quality of life than it is among white adults with the same condition.
While treatment options for dry AMD are limited, treatments for wet AMD are available and can help slow down vision loss and improve eyesight. However, according to the Centers for Disease Control and Prevention (CDC), access to these treatments and other eye care services tends to be lower among Hispanic people compared with the general population. Connecting with the right doctor, taking a proactive approach to eye health, committing to lifestyle changes, and using a variety of low vision aids can help Hispanic people manage wet AMD and improve their quality of life.
Wet AMD occurs when abnormal blood vessels grow within the macula — the center portion of the retina. As a result, central vision worsens and fine details grow blurry. An ophthalmologist or an optometrist can diagnose wet AMD, but you may need a specialist known as a retinologist, or vitreoretinal surgeon, to manage your treatment.
Because wet AMD is usually treated with eye injections or laser therapy, finding a doctor you trust is essential. A culturally competent doctor will have received training in the nuances of how one's racial and cultural background impacts their health and their experience in the healthcare system. Finding a culturally competent doctor can help you feel confident about asking questions, making treatment decisions, and learning about lifestyle changes. A doctor who understands your cultural traditions and any barriers you may be facing accessing healthcare or low vision products can make a remarkable difference in your treatment and your quality of life moving forward.
To find a culturally competent eye specialist, turn to resources like the American Academy of Ophthalmology's Spanish-language website, Ojos Sanos, or directories like huedco.com. You may also call your health insurer to inquire about Hispanic or Spanish-speaking physicians in your area. Friends, family, and neighbors may also be able to recommend physicians.
You can easily search online for an ophthalmologist or optometrist who speaks Spanish. Try using the language filtering feature on Healthgrades.com, which can be found on the search results page within "All Filters."
The most common treatments for wet AMD are injections with anti-vascular endothelial growth factor (VEGF) drugs, which slow or stop the formation of abnormal vessels in the macula.
However, anti-VEGF therapy isn't the only treatment option. Others include:
photodynamic therapy, which bathes the retina with a special light frequency that activates a drug previously injected into your bloodstream to close off blood vessels in the macula
laser therapy, also known as photocoagulation, which uses a high energy laser to seal blood vessels in the macula and inhibit vessel regrowth
low vision rehabilitation, which doesn't address the changes in your eye, but does help you develop strategies to rely on your peripheral vision as your central vision diminishes
It's important to talk about these and any other treatment or rehabilitation options with your doctor. Consider all factors, including the cost, the time required for multiple treatments, and your overall health. You can make a list of specific questions to bring to the appointment – and since some medical terminology can be complicated to understand, feel free to request an interpreter during your visit to make sure your questions and concerns are addressed.
Changes in vision can occur rapidly with wet AMD, so it's helpful to pay close attention to changing symptoms between eye appointments. Informing your doctor's office of new or worsening wet AMD symptoms may help you receive more aggressive treatment to help preserve your vision.
Likewise, reporting improvements can let your doctor know your treatment is effective. If symptoms aren't improving, you may need to change the course of your treatment.
As with most chronic conditions, healthy lifestyle habits can both reduce wet AMD risk and slow the progress of wet AMD symptoms. The National Eye Institute recommends:
quitting smoking
exercising regularly, especially with aerobic activity
keeping your blood pressure and cholesterol within healthy ranges
following a diet that includes fish, whole grains, and plenty of colorful vegetables
A diet high in saturated fat is considered a risk factor for wet AMD. A 2021 study of Hispanic women and men suggests that men tend to consume a lower quality diet than women, though women tend to have a larger body mass index (BMI) than men. A greater focus on learning to integrate healthy foods into your diet and prioritize weight management (which can greatly affect blood pressure) may help reduce the burden of wet AMD and other medical conditions.
Partial vision loss due to wet AMD can sometimes be compensated for with the use of special lights and magnifying glasses. Computer devices that feature displays with sharper contrasts and brighter backgrounds are helpful, as are large-print books, clocks, and other lifestyle products.
If you are unsure where and how to start, ask your doctor about where to find low vision aids and informational materials. Your local public health department may be another good resource for information about products and services.
The non-profit organization Vision Aware provides information on eye health, tips for everyday living, and a helpful guide to living with low vision available in both English and Spanish.
It's possible that racial disparities in healthcare can make Hispanic people living with wet AMD feel isolated – but it's important to know you're not alone. One way to be proactive about finding a community is joining an online or in-person support group. Ask your eye doctor, inquire at your local healthcare center, or contact your insurance provider for additional information. If there are no groups available in your community, the National Eye Health Education Program offers a comprehensive source of eye health resources for the Hispanic community.
Although living with wet AMD can be difficult for any person, due to racial disparities in healthcare, Hispanic people can experience additional barriers when seeking treatment. Finding a culturally competent doctor, making lifestyle changes, finding support, and using low vision aids are some helpful tips to ensure your well-being.
Was this helpful?