What Is Abdominal Epilepsy? Everything You Need to Know
Was this helpful?
Abdominal epilepsy causes seizures that affect the stomach. It is common in children and rare in adults. However, research provides insight into its diagnosis and treatment. According to a 2016 case report, abdominal epilepsy is a type of temporal lobe epilepsy, which happens when atypical electrical activity occurs in the temporal lobes of the brain.
As per its name, abdominal epilepsy causes abdominal symptoms, which may include pain and nausea, along with other features of epilepsy. Initial treatment may involve medications and lifestyle changes.
This article discusses abdominal epilepsy, including its symptoms, causes, and diagnosis. It also explains the treatment and outlook for the condition.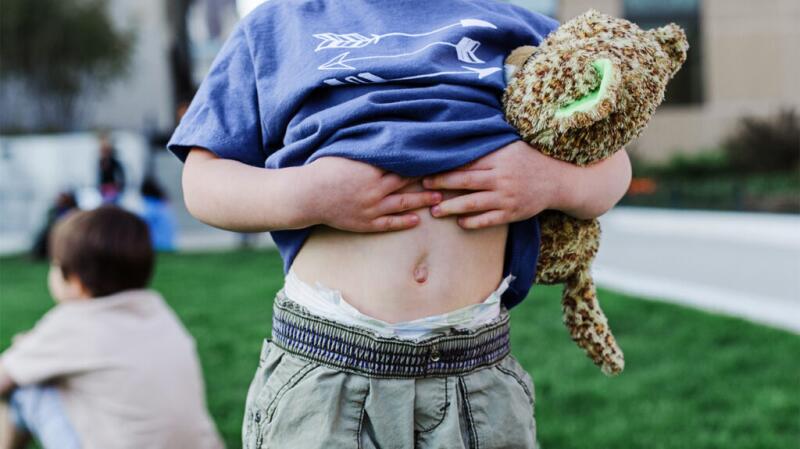 Abdominal epilepsy symptoms may initially resemble the symptoms of some gastrointestinal conditions.
However, symptoms of abdominal epilepsy typically include at least one neurological symptom in addition to symptoms affecting the abdomen or stomach.
Symptoms of abdominal epilepsy include:
nausea
episodes of vomiting
diarrhea
convulsions
body stiffening or posturing
confusion
changes in consciousness or fainting
difficulty speaking afterward
These symptoms may occur long-term, periodically causing episodes. Case reports of abdominal seizures showed that participants had pain or seizures that lasted from 1 minute to 15 minutes, with repeated episodes in 1 day.
Abdominal seizures can happen during sleep, which can make symptoms hard to notice. However, you may notice symptoms upon waking.
As abdominal epilepsy can be a type of temporal lobe epilepsy, it may also present other symptoms related to temporal lobe seizures. These symptoms can include fear or anxiety, and aura, unusual sensations that occur before a seizure.
Read more about temporal lobe seizures and their symptoms.
Call 911 for changes in consciousness and abdominal symptoms
Get emergency care or call 911 for anyone experiencing any of the following:
severe symptoms, such as pain
changes in consciousness
Call 911 for any seizure symptoms that last longer than 5 minutes.
Learn more about symptoms of pain in seizures.
Abdominal epilepsy occurs most frequently in children, but it does rarely occur in adolescents and adults.
Abdominal epilepsy symptoms in adults and children may be similar.
However, due to its rarity and abdominal symptoms, some doctors may misdiagnose adults experiencing abdominal epilepsy with psychological or gastrointestinal conditions.
Abdominal epilepsy is a type of epilepsy that occurs in the temporal lobe of the brain, also known as temporal lobe epilepsy.
A 2016 study also suggested that abdominal epilepsy may relate to either generalized or focal epilepsy syndromes. Generalized epilepsy causes seizures that affect both sides of the brain. By contrast, focal epilepsy, which includes temporal lobe epilepsy, are seizures that take place in only one part of the brain.
Like all other types of epilepsy, abdominal epilepsy may develop due to a brain injury or structural and functional differences in the brain. This can cause atypical electrical activity to occur in the brain, leading to seizures as a result.
Causes of epilepsy include:
a brain injury, infection, or trauma, such as a stroke
brain structural or functional differences from birth
drug or alcohol misuse
a prolonged or febrile seizure
However, clinicians and researchers are still not sure why some people's epilepsy manifests as abdominal seizures and pain.
Learn more about the causes and triggers of seizures, including epilepsy seizures.
The symptoms of abdominal epilepsy can be similar to those of other physical and psychological conditions, such as abdominal migraine or a conversion disorder. This can make it more difficult to know the underlying cause of your symptoms.
However, doctors can check certain criteria when diagnosing your symptoms that may indicate abdominal epilepsy. These criteria can include:
an atypical EEG result
additional neurological symptoms, such as confusion or fainting
an improvement or stop to symptoms after taking antiseizure medications
no symptom improvement when taking treatment for other conditions
If these and other characteristics are present, the doctor may suspect abdominal epilepsy. However, a doctor may still order additional tests to rule out other possible causes of abdominal pain.
Medical tests a doctor may order include:
blood tests
abdominal ultrasounds
MR scans, CT scans, or other imaging scans
endoscopy or laparoscopy of the digestive system tract
After diagnosing abdominal epilepsy, doctors may first prescribe you an antiseizure medication to treat your seizures. Antiseizure medications can be effective in treating abdominal epilepsy and lead to a positive response. Speak with your doctor before taking any medications or supplements while taking antiseizure medications.
Other approaches may support treatment with antiseizure medications or provide alternatives if antiseizure medications are ineffective. These treatment approaches can include:
a ketogenic diet
neurostimulation, such as vagus nerve stimulation
surgery
Read more about neurostimulation and surgery for epilepsy.
Abdominal epilepsy can cause severe symptoms or symptoms that may impact your quality of life. However, the outlook for abdominal epilepsy can be positive, with many people responding well to antiseizure medications.
In fact, the World Health Organization estimates that as much as 70% of people with epilepsy can live seizure-free with effective treatment.
Some people may need to take medications consistently to manage seizures. Others may be able to reduce their medication gradually with support from a doctor if they do not experience a seizure for several years.
However, be sure to get direct guidance from your doctor before you stop taking antiseizure medications or another prescription treatment.
Doctors more commonly diagnose abdominal epilepsy in children, but the condition can also occur in adults. It can cause abdominal pain, nausea, and diarrhea, along with neurological symptoms. Neurological symptoms may include confusion or changes in consciousness.
As abdominal symptoms are common in other health conditions, people with abdominal epilepsy may be at risk of experiencing misdiagnosis. However, doctors will use some tests to rule out other medical conditions.
Antiseizure medications can be effective in treating abdominal epilepsy. Contact your doctor if your treatment for seizures or any other abdominal symptoms is ineffective.
Was this helpful?