9 Tips for Coping With Polycystic Ovary Syndrome
Was this helpful?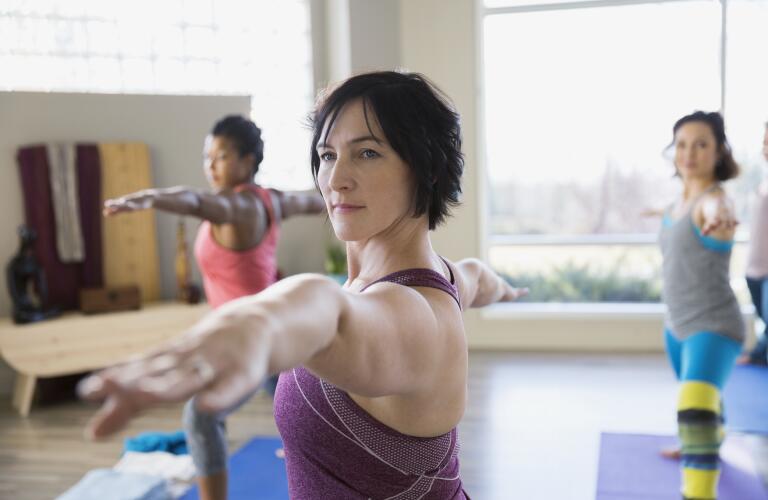 PCOS (polycystic ovary syndrome) is a hormone imbalance affecting up to 1 in 10 American teens and women. PCOS causes a variety of symptoms, including ovarian cysts, irregular or heavy periods, pimples, weight gain (especially around the waist), irregular hair growth or hair loss, infertility, high cholesterol, and high blood pressure. Having PCOS also carries a higher risk of diabetes and cardiovascular disease. PCOS does not yet have a cure. But fortunately, there are several ways to treat—and cope with—the symptoms.
There are different combinations of treatments for PCOS, including medications and lifestyle changes. And PCOS symptoms can show up differently from one woman to the next. Your doctor will need to carefully review your symptoms and lab tests, and tailor a unique treatment plan for you. A doctor experienced with treating PCOS will be most equipped to do this. Ask your primary care doctor for a recommendation or referral to a good PCOS doctor. This may be an endocrinologist, another primary care doctor, or an Ob/Gyn. You also can search Healthgrades.com for a doctor in your area who treats PCOS.
What works well for your PCOS treatment now may change later, in terms of your PCOS treatment. It's important to talk regularly with your PCOS doctor about your symptoms and any changes to them. Regular visits to your doctor will help catch developing complications—such as diabetes and heart disease—while they are easier to treat. Those visits can also reassure you that you're doing all you can to combat the risks of PCOS.
The hormone imbalance of PCOS may not be in your control, but you can take steps to feel better about your appearance. Visit a dermatologist for help with acne. Visit the salon or drugstore for regular hair removal treatments. Buy clothes that fit and feel good. What you're going through with PCOS is not easy—and you deserve to feel as much like your beautiful self as possible.
Smoking raises the levels of androgens—the hormones responsible for some PCOS symptoms. Stopping smoking can lower your androgen levels and help reduce your symptoms. Stopping smoking has many other health benefits as well. It lowers your risk of lung cancer, cardiovascular disease, oral cancers, and other harmful conditions.
A diet low in refined carbohydrates—less white bread and more brown rice, for example—can help you lose weight and lessen PCOS symptoms. Women with PCOS often have higher insulin levels, which can raise levels of androgen. Eating more whole-grain carbs, along with lean proteins—such as fish and chicken—and lots of vegetables can lower your insulin levels and help you lose weight. If you need help finding the right mix of foods for PCOS, visit with a dietitian. Ask your PCOS doctor for a recommendation.
Exercise, like a healthy diet, can help regulate insulin and blood sugar levels—decreasing PCOS symptoms—and help you lose weight. Exercising can also give you energy and a sense of accomplishment. It helps to mix up different types of exercise so you don't get bored—such as alternating walking with hiking and workout classes. Exercising with friends can be motivating too. Another benefit of physical activity is that it's a known stress reducer.
In a room of 20 women, 1 to 2 of them probably have PCOS. So you're not alone. Talk with other women who have PCOS about their symptoms, and how they cope. They may have new ideas for you—or it may just feel good to talk with someone who understands.
For some women, their symptoms may make them feel hopeless and less like themselves. With time, these negative feelings can turn into depression. The earlier you seek help for symptoms of depression—such as sadness, irritability, trouble sleeping, or not enjoying things like you used to—the better. You can talk with your PCOS doctor, or find a therapist. They may recommend counseling or depression medication, or a combination of the two.
If you have PCOS, it may be more difficult to become pregnant. Up to 1 in 5 women with infertility have PCOS—but many go on to conceive and have healthy pregnancies and births. There are options for help in getting pregnant with PCOS. Weight loss often leads to successful conception. Fertility medications, such as clomiphene (Clomid or Serophene), and fertility procedures, such as in vitro fertilization, can also help. Talk with your doctor if you're trying to become pregnant and learn about your options.
Was this helpful?