Why Does Eczema Disproportionately Affect Black Americans?
Was this helpful?
Black people in the United States are more likely to have eczema than white people, and they may have difficulties with diagnosis and treatment. Eczema may be more common and severe in Black people because of particular genetic mutations passed on from generation to generation. Also, its prevalence is associated with certain environmental allergens that Black people are more likely to interact with.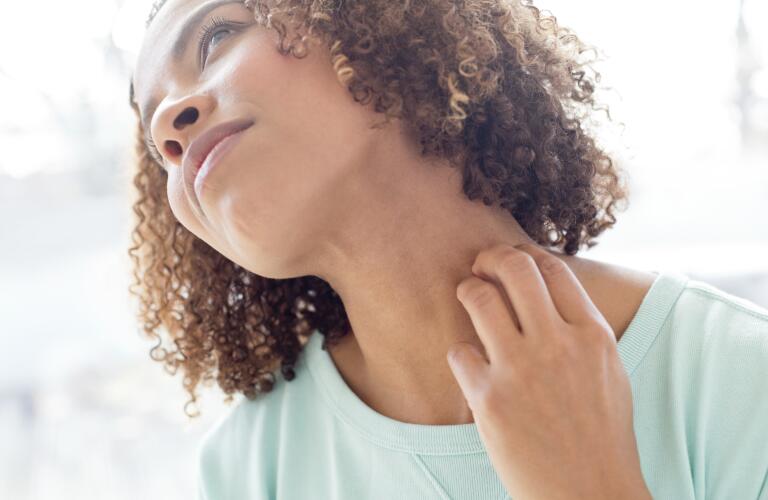 Eczema is an inflammatory skin condition, causing itchy, dry, and irritated skin. People of all races can develop eczema, but research indicates it may be more prevalent and severe in Black Americans. This article will explore what may contribute to these findings.
According to the National Eczema Association, 20.2% of African American children in the U.S. are reported to have atopic dermatitis, a common form of eczema, compared with 13% of Asian children, 13% of Native American children, 12.1% of white children, and 10.7% of Hispanic children. The exact reason eczema affects more African American children is unknown, but experts believe it to be a combination of genetics and the environment.
Mutations, or changes, in certain genes can affect your skin's protective barrier. When the barrier is disrupted, your skin is more susceptible to irritants and allergens in the environment. Your body then mounts an immune response, which can cause eczema symptoms to flare.
In a 2018 study, researchers analyzed the skin at a molecular level, focusing on African Americans and white Americans (whom the study categorized as European Americans) with eczema. They discovered that different gene mutations and immune system proteins were involved in the development of eczema between the two groups. They also found that African Americans developed more inflammation than people of European descent. These differences may explain why it is more challenging to treat eczema in the Black population and why higher doses of medication may be needed to manage symptoms.
Black people are also less likely than white people to go to the doctor for their eczema. This is due to a variety of reasons, from lack of access to healthcare professionals to mistrust of the medical system based on historical abuses and discrimination. However, those who do seek medical attention tend to require more appointments, need more prescriptions, and have a greater likelihood of being referred to a dermatologist. All of this may indicate more severe disease.
Eczema is often described as a red and scaly rash, but it can look different when it affects Black people and other People of Color. Black people with eczema may develop:
rashes that are brown, purple, or gray
dry and intensely itchy skin
thickened skin
small bumps on the chest, back, arms, and legs, called papular eczema
bumps around hair follicles that look like goosebumps
dark circles around the eyes
darker or lighter patches of skin in areas where eczema has healed
Compared with people who have lighter skin, Black people may be more prone to developing eczema on the front surfaces of their arms or legs versus the insides of their elbows or knees.
Doctors in the U.S. have historically lacked education on how eczema and other skin conditions manifest in Black people. This is changing, but it is still common for Black individuals with eczema to receive a misdiagnosis or a delayed diagnosis. This can contribute to more severe and harder-to-treat disease by the time it is accurately recognized as eczema.
It is important to understand that the causes and symptoms of eczema can vary between people of different races and ethnic groups. Not only can these differences impact the severity of disease, but they can impact how individuals respond to treatment.
Further research is needed to specifically identify these genetic and molecular differences so that scientists can develop more effective treatments for eczema in Black people. Increased diversity training for medical professionals can boost the recognition of eczema in People of Color as well.
If you are a Black person with eczema, there are ways you can overcome common obstacles. First, find a dermatologist you trust, as these skin specialists have the experience needed to identify and treat eczema effectively.
You may want to find a doctor trained in cultural competence, which means they will understand how eczema affects your life as a Black person and which treatments may work best for you and your needs. You can connect with a culturally competent dermatologist by searching for ethnic skin centers in your area, asking for referrals from friends, calling your health insurance provider, or searching on the American Academy of Dermatology's "Find a Dermatologist" directory, where you can filter by "skin of color."
Finally, remember that you are not alone. Finding the right doctor is the first step you can take to manage symptoms and improve your quality of life.
Was this helpful?