What to Do When Topicals Don't Ease Eczema
Was this helpful?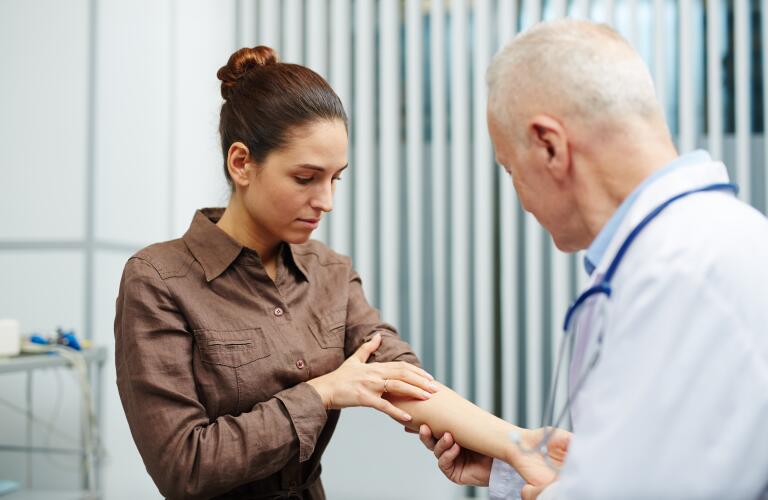 Doctors usually use topical medications as a front-line therapy for eczema, a skin condition that causes symptoms such as itching, redness, and dryness. For many, topicals work well—for a while. Unfortunately, these drugs can lose effectiveness for people living with moderate to severe cases of eczema. This typically occurs months or years after someone starts topical medication therapy.
If your topical eczema treatment isn't working, you still have options to help you manage symptoms and promote skin healing. Other medications and treatments, such as light therapy, can help manage discomfort from symptoms and even prevent flare-ups. If you're interested in a new eczema treatment, ask your doctor about which ones could help you best.
If your topical eczema medication isn't working, your doctor may first suggest trying an oral medication to help manage your symptoms. Antihistamines and anti-inflammatory medications are often prescribed for eczema symptoms.
Your doctor may prescribe an antihistamine if you're having trouble sleeping as a result of your skin condition. There is limited evidence that antihistamines work on the skin condition itself, but they may help reduce itching in addition to helping you sleep better.
Systemic anti-inflammatory medications, such as oral steroid drugs, are often prescribed for people who have tried several different topical medications with no success. These drugs are usually only recommended for short periods of time. They can help manage symptoms and control eczema flares while you transition to another treatment, like other oral medications or phototherapy.
If your doctor prescribes an oral steroid medication, it's important to stick to your follow-up schedule. While these medications are helpful, they may also cause serious side effects or prevent your immune system from working at its best.
If your skin is prone to frequent infections, oral antibiotic medications can help, too.
Also known as phototherapy, ultraviolet (UV) light therapy can help reduce inflammation when topical medications don't. During phototherapy, your skin is exposed to controlled amounts of UV light. In most cases, this occurs through exposure to natural sunlight. However, some people prefer to use artificial sources that produce ultraviolet A (UVA) and narrow band ultraviolet B (UVB).
Treatment with UVA or UVB usually occurs three times each week under your doctor's supervision. For most, treatment lasts over a period of several months—it isn't a quick fix for eczema.
These treatments are effective, but they can cause unwanted side effects like increased itchiness or sunburn. And any type of phototherapy may increase your risk for skin cancer if used long-term. It's best to ask your doctor to help you plan a treatment schedule if you'd like to explore ultraviolet light therapy.
Biologics have also shown promise in managing eczema. These drugs are produced in laboratories from cells that make certain types of proteins called monoclonal antibodies. They work by targeting other proteins and preventing them from acting on body cells. In this case, those proteins are responsible for eczema symptoms and flare-ups. Today, one biologic is approved to treat moderate to severe eczema: dupilumab (Dupixent). However, there are over 25 novel biologic medications in development for the treatment of eczema, so new options will likely be available soon.
Ongoing medical research shows promise for the development of new eczema treatments. A new class of drugs, called JAK inhibitors, work to prevent the actions of a type of protein known as cytokines. These cytokines promote inflammation and have been shown to play a role in abnormal immune system functioning.
JAK inhibitors help block the cytokines that help to "turn on" eczema symptoms. These drugs may soon be available in both oral and topical forms, but they are still in the end stages of clinical trials. However, evidence already shows that JAK inhibitors help reduce the severity of eczema and lead to clear or almost clear skin.
It can be frustrating when your topical eczema treatment stops working, but there are still options to help you feel better. And while some of these newer treatments aren't yet available commercially, they may be in the near future. If you're interested in a new treatment, ask your doctor about other options that could help.
Was this helpful?