What Eczema Looks and Feels Like On Skin of Color
Was this helpful?
If you live with eczema, you know it can be extremely uncomfortable and distracting. For People of Color with eczema, differing symptoms may make it difficult to get a diagnosis and relief. By recognizing the signs, you can receive a diagnosis and appropriate care.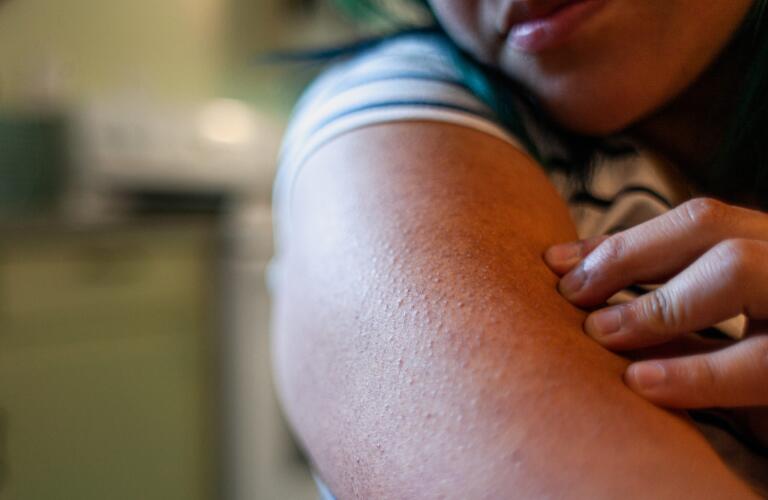 It's hard to find dermatology materials that include examples and protocols pertaining to People of Color. In fact, less than 5% of medical textbook images portray darker skin tones. This can result in misdiagnosis of skin conditions in People of Color by doctors who may be unprepared to evaluate darker skin tones. While the symptoms may differ slightly, the overall pathology of skin conditions like eczema remain the same as for people with lighter skin.
Black people and Asian people experience eczema at a higher frequency than white people. Despite this, many doctors seem to be more familiar with eczema symptoms in lighter skin tones than darker ones. In part, this is due to the lack of representation and inclusion of People of Color in medical textbooks. As a result, People of Color have the responsibility of choosing a doctor who is familiar with their skin type.
Diagnosing eczema in People of Color is much easier when you know what to look for. And it's also easier to advocate for yourself as a patient when you know the signs and symptoms. The most common symptoms of eczema include:
inflammation
dry skin
itching
small bumps
skin changes
While some of these symptoms overlap with eczema on white skin, they often carry different characteristics. For example, inflammation on white skin tends to be red or pink, which can be recognized easily. In darker skin, inflammation often causes skin darkening instead. You may also notice that the skin is thicker in these areas, with bumps that resemble goosebumps.
Eczema is also extremely itchy, due in part to dry skin. Dry skin from eczema in People of Color may cause the skin to become ashy or purple instead of red. No matter how itchy your eczema is, you should avoid scratching it to avoid breaking the skin or infection. It may help to keep your fingernails trimmed.
Eczema treatment depends on the root cause. Some people experience flare-ups when they're exposed to allergens or other irritants, while others react to stress. You may even notice that your eczema flares up when you're exposed to very cold or very hot and dry conditions.
Whatever the cause of your eczema, you should be able to ease some of your discomfort by keeping your skin clean and moisturized. Try to use products that don't have a fragrance or scent, as that's a well known trigger. Depending on how sensitive your skin is, you might even need to avoid scented laundry detergents.
If your eczema is really severe with cracks and scabs, you may be at risk for secondary skin infections. It's important to see a doctor who is familiar with eczema in darker skin tones for treatment to avoid this. Prescription medications, creams, lotions, and ointments may help relieve symptoms and prevent future flare-ups.
Finding the right dermatologist is key when it comes to managing eczema. Connecting with a culturally competent doctor who is experienced in treating eczema in People of Color can help you receive the care you need. Resources like the Skin of Color Society may be a good first step. They spread knowledge about skin conditions in darker skin tones and make it easy for People of Color to find doctors who are familiar with their skin type. Your friends, family, and insurance provider can also point you in the right direction when it comes to finding a dermatologist you trust.
Was this helpful?