Treatment Options for Eczema
(Atopic Dermatitis)
Was this helpful?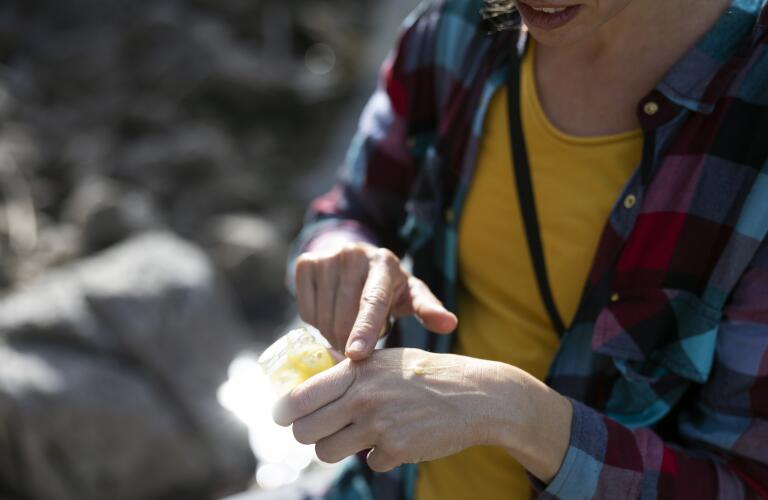 Eczema, a condition that periodically gives you a scaly rash and makes your skin red and itchy, is sometimes called atopic dermatitis. It can range from mildly annoying to severe eczema—enough rashes and other symptoms to affect your daily life. Doctors can't cure eczema, but there are effective treatments and some lifestyle changes to keep this common condition under control. Eczema treatment can stop the incessant itching and help prevent outbreaks so you can get comfortable in your own skin.
Treatment for eczema ranges from simple at-home routines to high-tech targeted therapies. Depending on the severity and extent of your eczema, your doctor can advise you on the best way to treat the condition and minimize flares. If you find one treatment doesn't work, tell your provider so they can suggest a different approach to relieve your symptoms.
Options for treating eczema:
Over-the-counter topicals: If your eczema is mild, look for hydrocortisone creams, medicated shampoos if you have scalp itch, and moisturizers, such as ointments or creams that contain a lot of oil. You can also try products containing coal tar, which help keep moisture in.

Prescription topicals: Your doctor can prescribe steroid-based eczema creams and lotions of varying strengths, which are effective but may thin the skin over time. Newer drugs called TCIs (topical calcineurin inhibitors) including tacrolimus ointment (Protopic) and pimecrolimus cream (Elidel), work by inhibiting your overactive immune system and don't have the long-term side effects of steroids. In 2016, the U.S. Food and Drug Administration approved another kind of topical, crisaborole (Eucrisa), which works by reducing inflammation.

Oral medications: If your eczema is severe and doesn't respond to topicals, your doctor may prescribe one of several medications in pill form. These medicines, including cyclosporine and methotrexate, stop your immune system from overreacting. Typically, you will take the medication until your atopic dermatitis is under control and gradually switch over to topicals.

Biologics: These are the most recent development in treating moderate-to-severe eczema. This class of drugs targets specific parts of the immune system that trigger atopic dermatitis. Dupilumab (Dupixent), which is given by injection, was the first on the market. It's been followed by upadacitinib (Rinvoq), taken as a pill, and tralokinumab (Adbry), given via infusion. Doctors also prescribe other biologics that were not developed for eczema but can still treat it, and there are new biologics in the pipeline as well.

Light therapy: In a series of treatments, the affected parts of your skin are exposed to short periods of UVB light. Light therapy can take longer to work than other treatments, but it is effective for many people. It calms the skin and reduces itching. It also increases vitamin D production and the ability to fight bacteria. Some people continue to benefit from light therapy for months after they stop treatment.

You can take steps at home to prevent or minimize eczema flare-ups. Learn what makes your eczema worse, such as food or seasonal allergies, perhaps wool clothing, and avoid those triggers. Abrupt temperature extremes, can also make eczema much worse. Take warm—not hot—baths or showers. Some people add oatmeal, baking soda, vinegar or bleach to the bath, which can help calm the skin.
People with eczema have dry skin, so moisturizing is one of the most important things you can do. Apply a moisturizer that contains a lot of oil, such as a cream or ointment, within three minutes after you take a bath or shower when your skin absorbs best. If you have a prescription cream, put it on before you moisturize. You can also try skin barrier creams, which act as a shield to protect the skin from irritants.
Barrier creams contain water insoluble ingredients to reduce water loss and/or humectants to increase water retention. Some of these moisturizers also contain emollients, which help the skin hold water. Water insoluble ingredients include petroleum jelly, dimethicone, and zinc oxide. Humectants include glycerine, sorbitol, and hyaluronic acid, among others. Emollients include ceramides and fatty acids.
The itching and rashes of eczema can be frustrating, but with many treatment options available, most people find a way to minimize the discomfort of this common condition.

Was this helpful?