The Importance of Participating in Eczema Clinical Trials: My Experience
Was this helpful?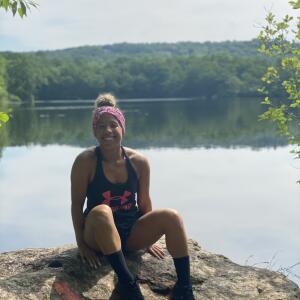 More than ever before, there are treatments in the pipeline for eczema, a condition I've lived with since childhood. This wouldn't be the case without the support of volunteers from our very own eczema community participating in clinical trials.
For many, the phrase "clinical trial" can sound scary, especially when you're living with a chronic condition that already brings an overwhelming amount of uncertainty. I get it. Participating in a clinical trial for eczema was scary for me, too, but in the end it was worthwhile – not just for myself, but for the community at large.
My experience in a clinical trial
Clinical trials are essential for drug development and approval. Through them, researchers are able to learn if a new treatment is safe and effective in people. They can also support other aspects of care, such as improving the quality of life for those living with chronic illnesses.
In late 2015, I was one of five individuals accepted into a Los Angeles-based clinical trial for a new eczema medication. Although I had originally gone in for an opportunity to join an asthma clinical trial, the doctor took one look at me and said, "I think you'll be better for another trial for those living with moderate-to-severe eczema." Immediately, I was interested in learning more about it.
At the time, I was going through topical steroids withdrawal syndrome (TSW) and experiencing one of the worst physical and mental challenges of my adult life. I was desperate for healing. I'd turned to topical steroids as my primary eczema treatment until that point, when TSW developed and caused a terrible flare-up of my eczema along with other symptoms. In less than one year, I had lost half of my hair and eyebrows, and my skin looked like it had been severely burned.
I was hesitant to say yes right away given my lack of awareness and knowledge about clinical trials, and also due to their historical reputation in the skin of color community. In the past, researchers involved in a variety of now-infamous clinical trials and studies mistreated and harmed participants of color, and it was hard to trust that history wouldn't repeat itself. Fortunately, my brother, who is a doctor, helped me understand everything I needed to know about joining the clinical trial. He said, "It's safe, Sis. This drug is showing promising results." That was all the confirmation I needed to join.
Although I was nervous to participate in the beginning, my excitement about the possibility of finding a treatment that would help me heal overcame any fears or doubts I had. I knew that whether or not this treatment worked for me, researchers ultimately needed the data to understand its effects on the whole eczema community.
I kept this same level of excitement even when I experienced mild side effects like conjunctivitis and cold sores during the trial. Why? Because the reward was greater than the risks. My skin was clearing up in ways that I could have never imagined. I had "normal" skin for the first time in my life and I was able to sleep peacefully at night – results I never experienced with existing treatments for eczema.
Participating in the clinical trial was a life-changing experience for me. Although the entire experience wasn't perfect – I dealt with minor side effects – I learned so much about what it takes on the back-end to approve a drug that can ultimately be a groundbreaking treatment for an entire community.
That's why your participation matters. Your experience will provide more data and allow researchers to better understand different perspectives of the community being studied. And the more diversely represented clinical trials are, the more meaningful the results will be for real-world care and treatment.
Participating in a clinical trial doesn't have to be scary. With proper education, support, and information, you can feel confident taking your health and our eczema community to the next level. Here are some ways to get started:
Speak to your doctor: Let your doctor know you're interested in joining a clinical trial. They can give you the proper guidance about what to do next and what will work best given your current state of health.
Do your research: The National Eczema Association has a great search engine on their website where you can look up clinical studies happening in your area. If there aren't any around you, ask your doctor for guidance or weigh out the pros and cons of traveling to a distant clinical trial site.
Ask questions: There are no right or wrong questions when it comes to your health. Before you enroll in a trial, ask: What are the risks? Will I be compensated for my time and travel? What happens if I have an adverse reaction during the trial? All of your questions should be answered. Don't be afraid to ask questions that will give you the confidence you need to join a clinical trial.
Being a part of a clinical trial is not something you "have to do," it's something you "get to do." You get to be part of something that is bigger than you. The drug studied in my clinical trial has since been approved by the Food and Drug Administration (FDA) and now, many people have been able to feel what I felt – freedom from eczema symptoms. My participation in its clinical trial made that a reality and I feel grateful for and proud of what healthcare professionals and researchers are doing within and for our community. You, too, can be a part of that reality.
Was this helpful?