My Eczema Journey: Taking Back My Power
Was this helpful?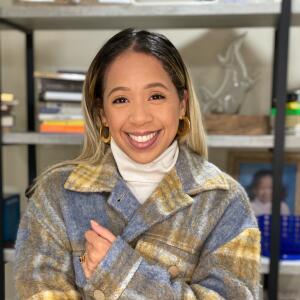 My journey living with atopic dermatitis (AD), the most common form of eczema, has been anything but linear. This chronic condition, which I was "supposed" to grow out of during my adolescence, has now been a part of my life for almost 30 years. Let's just say there has been a lot of forgiving, accepting, and embracing amongst immense frustration, discomfort, and fear.
For more than 20 years, I'll admit I was pretty passive when it came to managing my eczema. I didn't know any better. I mean, how could I, when every doctor's appointment was the same — one treatment option, zero resources, and the continued feeling of hopelessness. My doctor prescribed me topical steroids to manage eczema flare-ups, and even though they weren't a perfect fix, I didn't know there were other solutions out there. Instead of passionately working to heal and seeking different treatment options, I settled for normalizing my eczema to the point that I numbed myself from the suffering and the toxic hold it had on my everyday life.
Bruise-colored rashes, extreme dryness, and itchiness were just some of the physical eczema symptoms I experienced on a daily basis. Growing up, I never saw anyone who looked like me. I honestly thought I had a rare condition that I simply had to live with forever. As a result, choosing what I could do, wear, and even who I could hang out with depended on how my eczema was doing at that moment. I limited myself to avoid my eczema triggers, staying away from animals and other irritants. Not being able to go to my childhood best friend's house because she had a dog and carpet was normal for me. Holding back on playing the sport I liked or missing out on birthday gatherings and sleepovers because of the fear of skin irritation or discomfort was normal for me.
I lived my life from a space of "what could happen?" The uncertainty of every moment often made me anxious, vulnerable, and fearful of what could take place. Limiting myself in order to "protect" myself left me feeling inexperienced and incapable of building deep relationships compared to my peers.
This is how I lived my life until I was 22 years old.
It wasn't until 2014 that I experienced a much needed rude awakening. This experience ended up catapulting my healing forward in unimaginable ways, and I later found it was so similar to the stories of my fellow eczema warriors.
The one treatment option I had depended on all of my life – topical steroids – stopped working.
At the time, I was going through one of the worst full-body eczema flare-ups in my adult life due to being around dogs and carpets. Yes, something that I tried to avoid at all costs growing up was actually the cause of the greatest turning point of my life.
To fight the flare-up, I went through the usual routine of applying topical steroids to my inflamed skin — something I had been doing for the past 20 years. But this time, the topical steroids didn't help. I tried applying them again. Nothing.
With my heart pumping out of my chest and my mind trying to make sense of the situation, my body went into full panic! I began asking questions like, "Why isn't this working? What is happening? What do I do now?"
Out of desperation, I took matters into my own hands and for the first time in my whole life I Googled "eczema." Yup, that's right. When in doubt, ask Google!
Little did I know this one action of Googling was going to bring all of the limited beliefs I held about eczema crashing down.
One of the top links that popped up in my search results was the National Eczema Association's (NEA) website. It was the first time I learned that there were over 30 million Americans living with eczema. 30 million! For someone who had thought she was the only one with this condition, my first reaction was, "where the heck are these people and why haven't I met any of them!?" This one fact disproved my limited belief that I was alone in living with this condition and that no one understood what I was going through.
Then I came across the International Topical Steroid Awareness Network (ITSAN) and learned about topical steroid withdrawal (TSW) syndrome and how many people like me shared a similar storyline: we'd had eczema since childhood, used topical steroids for years, and our topical steroids stopped working all of a sudden. What's more, people with TSW syndrome experience red, itchy, burning skin, often mistaken for an eczema flare-up. Reading about people's journeys through TSW syndrome and learning how they healed shattered the limited belief that I couldn't live a normal life without topical steroids. There were other ways to treat my eczema; I didn't need the steroids as I always thought I did.
Lastly, I came upon various information on the importance of overall health, eating well, and exercising. I learned about the foods that would better serve my gut health — fruits, vegetables, unprocessed foods — and how these diet choices support healing eczema from the inside out. This broke my limited belief that only medicine could heal me and that there was nothing I could personally do to improve my eczema symptoms.
This complete shattering of beliefs I held around eczema opened up a new worldview for me. Instead of taking the back seat and allowing my eczema to be the driver of my life, I chose to get behind the wheel and redirect my route with a newfound purpose in mind: healing.
I began taking action and standing up for my health. I found a new doctor who made me feel seen and heard. I started trying different treatments and mindfulness practices like meditation and journaling. I began playing around with my diet choices and trying smoothies and veganism. I became my own guinea pig, experimenting and seeing what works and doesn't work for me.
Although I can't capture all of my 30-year journey living with eczema in this one article, my greatest lessons have been:
Healing is a journey, not a destination. I am healing each and every day, and it never looks the same.
Healing beyond eczema is possible. I've never felt so 'free' in my life knowing that I am the one who controls my life, not my eczema.
I am responsible for my health. If it's to be, it's up to me. If I want to heal, it's up to me to take action to bring forth the healing.
My eczema and I are one. How I see 'her' is how I see myself and how I treat 'her' is how I treat myself. I've learned to love my eczema unconditionally because I am worthy of that love.
For 22 years, eczema was the dictator of my life. It encompassed my whole identity until I realized it didn't have to. Now I'm in the driver's seat and wow, does it feel empowering!
Was this helpful?