SOCIAL VOICES

Life With Eczema: How I Protect My Skin From Dirty Devices

Was this helpful?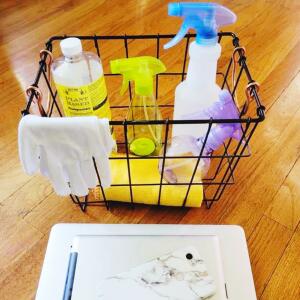 If you're like me, the last thing on your mind is cleaning your electronic devices. I have a busy schedule which leaves a small window for tackling household chores, let alone properly cleaning each device I own. I'll admit my track record of being glued to my phone isn't the best habit. But until recently, it never occurred to me that this could be contributing to my eczema flare-ups.
Germs and bacteria love to call our screens home. This leads to problems like irritated skin and even infection. People with eczema are especially at risk of infection because our dry, sensitive skin doesn't always provide a strong enough barrier to keep out intruders. I've experienced firsthand just how problematic it is to my skin. I'm constantly placing my phone and laptop on dirty surfaces only to transfer these accumulated germs onto my face and hands–not to mention all the times I've scratched my skin while holding my phone and working on my laptop.
5 Things You Didn't Know About Stubborn Eczema
Research reveals that harmful bacteria are crawling on most of our phones–one study found an average of 68% of smartphones were hosting bacteria from E. coli to staphylococcus aureus, known as "staph." Personally, my skin is highly prone to staph infections, so learning this was enough for me to make a drastic change.
Thankfully, there are solutions to prevent our phones, tablets, and laptops from aggravating our skin. Here's how I created a new routine to ward off the dreaded eczema flare-ups and infections from dirty devices.
It was long overdue, but I adjusted my poor habits of carrying my devices everywhere. I'll admit, I'm guilty of bringing my phone and laptop into the bathroom sometimes. This is a huge no-no, since the bathroom is a bacteria hotspot, and I've made sure to stop cold turkey.
Additionally, I realized I underestimated how often I place my devices down on dirty surfaces. The other day I went out to brunch with a friend and didn't think twice about plopping my phone down on the table and then shoving it back into my purse afterward. Now, I make sure to carry antiseptic wipes everywhere I go so I can wipe down surfaces before placing my phone on them.
With healthy skin in mind, I'm trying to keep to a schedule of regularly cleaning my devices–I even created periodic alerts on my phone to let me know it's time for another sanitization session. I follow instructions from my device's manufacturers, so check with yours before you start to scrub. Some cleaning chemicals can wear away at protective screen coating, and you have to be careful if your device can't get wet.
First, I turn off each device and remove its case. Next, I use a microfiber cloth that's specifically made for cleaning electronics. This helps remove any excess dirt and fingerprints. After that, I repeatedly tap any crevices, like my phone's speakers, with tape to grab any dirt stuck inside. Then, I create a solution of two parts rubbing alcohol and one part water (70% isopropyl alcohol disinfecting wipes will work, too). I lightly dip my microfiber cloth into the solution, wring it out so it's just a little damp, and rub it onto each device. I never spray liquid directly onto the surface and avoid getting liquid into any openings or ports. And I follow these steps to make sure my phone case is clean, as well.
Since I've started this routine, I feel so much better knowing my devices are free of germs that could make my eczema symptoms worse or cause infection. While we don't have the power to control everything, it's important to do what we can to keep our eczema managed. Now that I know how dirty devices could potentially lead to eczema flare-ups, I've vowed to keep them clean, and I challenge you to do the same!
Was this helpful?