SOCIAL VOICES

I Found My Eczema Community Through Advocacy Work. Here's How You Can Do It, Too.

Was this helpful?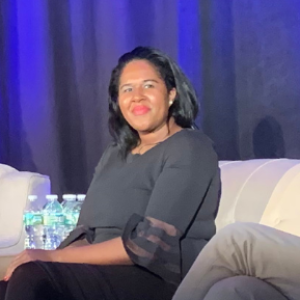 When I decided to become an eczema patient advocate, I did so with a purpose. I was in my mid-twenties and felt completely powerless and alone dealing with my eczema. I wanted to get involved, meet people in similar situations, spread awareness, and learn more about managing my condition, but there was only one problem. I wasn't exactly sure how to go about doing so.
Determined to join the movement, I spent weekends mapping out a plan, deciding what to focus on, and making connections. I found it was easy to get swept up in all the advocacy opportunities on social media and in real life. Taking on a cause like supporting eczema awareness and research requires intention and prioritization. But six years after starting to pursue a role in this community, I feel empowered and I know I'm making a difference.
Being an advocate is tough, but extremely rewarding. If you are considering eczema advocacy work, here are the methods I used to help you achieve it.
Advocacy is a huge responsibility. It requires a lot of passion and drive–not to mention time and effort. To keep up the fight, you will have to be cognizant of what motivates you.
5 Things You Didn't Know About Stubborn Eczema
When I first started, I asked myself: what do I believe in? I wrote down three specific goals for my venture into advocacy work: support efforts to find a cure and help prevent eczema altogether, spread awareness about the misconceptions of eczema, and help promote mental wellness and coping mechanisms. I've since added new goals, such as addressing challenges faced by people of color with eczema when it comes to accessing healthcare.
I'm a visualizer, so as I began this project, I decided to create a personalized eczema vision board. On my board, I used the word "community" as a focal point and expanded from there. I gathered pictures of different community events, committees, and parties. Moving forward with my advocacy and involvement, I think frequently of my vision board; it motivates me to keep working to support the greater eczema community.
Jumping into the world of advocacy is intimidating! Nothing prepared me for what it would feel like putting my personal story out there, speaking in front of huge crowds, and navigating different opinions from peers, medical experts, and strangers. But even though there's discomfort in trying something new, it can also be exhilarating and rewarding.
Although I'd never done anything like it before, in my first step towards eczema advocacy, I decided to begin writing a blog about my experiences. It didn't take long for me to connect to well-established advocacy groups like the National Eczema Association, the International Topical Steroid Awareness Network (ITSAN), and the Allergies & Asthma Network to explain my mission of helping patients with eczema. Connecting with them showed me that what I was doing was working; I was joining and supporting the community. It ignited a fire in me and motivated me to do even more–to really be a part of something big.
I knew I had to work on my social media presence and reach out to others within the online community to build a rapport. I created an Instagram account to promote my blog, make connections, and post my thoughts about my daily life with eczema. I gained followers and found others sharing their stories in the same way. This new network gave me confidence to thrive in my advocacy work, and I began receiving requests to participate in speaking engagements, health summits, and expos. Sharing my story with this wider audience helped establish my voice in the eczema community. I'm proud to say my vision board has come to life.
Today, I like to keep my options open by working with different organizations and brands; I'm careful to not pigeonhole myself and I want to continuously evolve. Sometimes it's a tightrope walk, as some brands and organizations are competitors. But I've done my best to stand for what I believe in, while making sure my social media content is organic and serving my community.
And when it comes to the community, there's nothing that we can't do. The amount of sheer passion, dedication, commitment, and persistence within us is unmatched. More importantly, we've triumphed together through our storytelling. We understand each other so well–maybe even more so than our other friends and family–as our skin bonds us together.
Becoming an advocate is easier said than done. But understand that there isn't one particular path to advocacy. Remember to be open to new challenges, get out of your comfort zone, and stay grounded in your goals. I believe it's wise to start small, but everyone has their own magical way of doing things.
As long as you get started, you can't go wrong. You'll surprise yourself with your ability to change your world and the lives of others around you.
Was this helpful?